Dallas IFF 2012 Dispatch: A Dashing Friday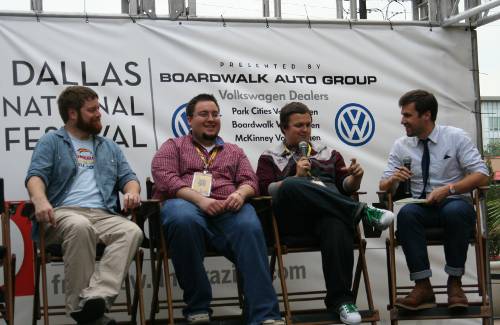 I hadn't been to the Dallas International Film Festival since 2007, the fest's inaugural year, when it was AFI Dallas and I roomed with Kim Voynar, both of us covering the event for Cinematical. Five years later and I'm back in Dallas to see Austin and Texas movies for Slackerwood.
I had a late start leaving Austin Friday morning -- in fact it was Friday afternoon by the time I got onto I-35. If you know me, this is not surprising. I told myself that the first film I wanted to see, at 4:30 pm, would also screen Saturday and it would be okay if I missed it, but then I remembered hearing the press office closed at 4 pm and I was paranoid that I wouldn't be able to get my credentials. Aw, hell. I floored it (which for granny-driver me means woo, 7 miles an hour above the speed limit) all the way up I-35 and pulled my car in front of the press office at 3:30 pm.
The press office was next to my hotel, and my plan was to grab my badge, check in at the hotel, not bother dropping off luggage, and jump back in the car to speed to the Magnolia Theatre by 4:30. I'd picked the official fest hotel (the Palomar) because even though it was pricey, it was across the street from one of the venues (the Angelika), and I figured that made it worthwhile. I'm not an experienced Dallas driver.
The hotel choice turned out to be even luckier because I found out Dallas IFF runs a shuttle between the two theaters. So I tossed my bags in my room, zipped downstairs, waved hello to Austin filmmaker Bob Byington (his film Somebody Up There Likes Me screened at the fest), dodged crazy traffic crossing Mockingbird Lane on foot ("lane" my ass), and eventually got to the front of the Angelika, where a shuttle driver skillfully maneuvered Friday afternoon traffic to get me to the Magnolia juuust in time for the movie I wanted to see.
Cinema Six (wr/dir Mark Potts, Cole Selix)
It seemed appropriate that the first movie I'd see at Dallas IFF would be shot in Central Texas with Austinites among the cast and crew, and written and directed by filmmakers I'd met via Austin Film Festival. Jenn and I even paid them a visit on their movie-theater set in Lockhart last year.
Cinema Six is about three longtime small-town movie theater employees who know they're in a dead-end situation but can't seem to move anywhere better. Mason (John Merriman) is unofficially in charge of the theater crew after the manager (Chris Doubek) walks off the job. Mason's wife wants him to grow up a little and take more responsibility for his family. But he has his hands full trying to be responsible for his friends Gabe (Mark Potts), a projectionist who's increasingly reluctant to leave his booth and mix with the world, and Dennis (Brand Rackley), who can't get over his recent failed relationship.
The movie is chock-full of delightful comic moments, most of which would earn an R rating (or worse) if the MPAA ever got its hands on the film. You may never view movie concessions in quite the same way again. Veteran character actor Barry Corbin appears in one sequence that is both sweet and surprisingly funny. A couple of other well-known funny people caused the audience to nearly howl with laughter (I won't spoil it and mention their names, but if you were at AFF 2010, think about where you saw Merriman, Potts and actress Madi Goff together.)
Despite a lot of language that would appall my mom, Cinema Six is more gentle and sweet than Potts and Selix's earlier films. I'm so pleased I got to the theater in time. Afterwards, Potts, Selix and Merriman were interviewed on a stage outside the theater, as you can see from the photo at top.
Austin connections: Prolific local actors Merriman and Doubek, last seen together in the SXSW 2012 bumpers, appear together in the opening scene. Other current and former Texas acting talent includes Madi Goff, Byron Brown, Kevin Brennan, Todd Berger and Kerri Lendo; and let's not forget Fort Worth resident Barry Corbin. Kelly Williams produced, Clay Liford was DP, Don Swaynos edited, and Lyman Hardy of Stuck On On composed the film's original music. And if you see a lot of Texas indie films, you might get a kick out of the movie posters in the lobby.
Most of the cast and crew were in Dallas for a lively Q&A after the film -- this was its world premiere. Mark Potts gave out a laserdisc to the audience member asking the first question.
The Brooklyn Brothers Beat the Best (wr/dir Ryan O'Nan)
Oh, the joys of walking into a film completely cold that turns out to be wonderful. All I knew about The Brooklyn Brothers Beat the Best is that Ryan O'Nan, whom I'd last seen starring in The Dry Land, was the film's writer and director. And that music might be somehow involved in the storyline.
If I'd read a plot summary I might not have seen the movie: a road-trip film about two musicians performing together, one rather reluctantly along for the ride and pining for his ex-girlfriend. Maybe if I'd heard that one of the musicians performed on Fisher-Price toy instruments I might have been slightly interested, but the story does sound like a Standard Indie Film Plot when I describe it.
The lead actors are charming and work beautifully together, both in their roles and as musicians. O'Nan is Alex, melancholy singer-songwriter who can't make his New York life work. He's persuaded on the road trip by the quirky and strange toy-instrument player Jim, played by charactor actor Michael Weston. You're surely seen Weston before, on House (the private detective) or Six Feet Under (the crazy kidnapper) or inevitably, an episode of Burn Notice.
They're backed up with some great supporting performances from Arielle Kebble, Andrew McCarthy, Jason Ritter, Wilbur Valderrama and Melissa Leo (very briefly). I was most impressed with young actor Jake Miller as Alex's nephew Jackson.
Oscilloscope will release The Brooklyn Brothers Beat the Best will have a theatrical release in September, with the soundtrack likely released beforehand. The music itself is lovely and I'm looking forward to buying the soundtrack at some point.
Austin connections: Local producer and UT alum Caroline Connor is also producing the Austin film Pictures of Superheroes (directed by Cinema Six editor Don Swaynos), and has worked as production coordinator on a number of local films, including Machete and When Angels Sing.
One of the things that surprised me before The Brooklyn Brothers started was the audience. I'm used to Austin-area film festivals, where attendees tend to wear t-shirts and shorts or jeans. Maybe the filmmakers dress up a bit for their premiere. And the Cinema Six screening was in the afternoon, with a significant number of Austin filmgoers or casually dressed Dallas-area filmmakers/crew.
But for The Brooklyn Brothers, the Magnolia audience was dressed for a smart Friday night on the town -- women in sleek black dresses and high heels, men in dressy shirts and even ties. A lot of people were drinking wine. It was more like the audiences I see for live performances at the Paramount Theatre, people planning an evening around the movie with drinks beforehand and dinner afterward, or vice versa, as opposed to five-movies-a-day festival regulars. I actually felt underdressed, and bear in mind I dressed slightly more nicely for this film festival (capris, nice tops) than I would in Austin.
I'd planned to see the documentary Vito after The Brooklyn Brothers, but the Q&A with O'Nan and Weston ran late and was so much fun that I just couldn't bring myself to leave. So I walked to the corner outside the Magnolia and grabbed another shuttle -- this time, a new and fancy SUV -- back to the hotel, and called it a night.
[Photo credit: Jette Kernion]