Film on Tap: Where to Drink at SXSW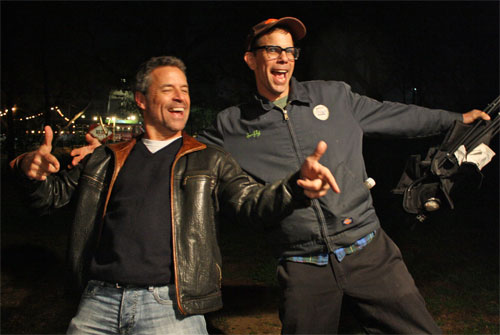 Every year we feature a "How to Drink Like an Austinite" guide for Fantastic Fest with recommendations on the favorite watering holes near film venues. SXSW Film Festival attendees looking for a change of pace from the "Miller Lite Taste Nation" will definitely want to venture out to bars offering craft beers beyond American light lager and great spirits. You can find award-winning beers from local breweries and brewpubs that will be sure to please any hophead or malt bomb lovers, as well as margaritas and great Texas wines from local wineries.
What is the best way to find great local beer in Austin? Arm yourself with information from Taplister as well the Austin Beer Guide. This collaborative effort between Beertown Austin and Craft Austin features information on craft breweries in Central Texas and where to find it -- unlike other states, in Texas it has been illegal for the breweries themselves to promote their retail locations although a recent lawsuit has changed that policy. The Austin Beer Guide maps are extremely useful to anyone not familiar with downtown and south Austin. Also follow the SXSW beer-drinking action on beer mobile apps including BrewskiMe, Untappd, and Tap Hunter -- if you are a beer geek with a SXSW Gold or Platinum badge, be sure to check out the SXSW Interactive Panel "Social + Location + Mobile = The Perfect Beer".
Rather than just share my own recommendations, this year I've asked local experts, i.e., beer bloggers as well as a couple seasoned SXSW volunteers to share their favorite bars and tips on drinking during SXSW. Find out after the jump where they think you should be enjoying fine craft beer and libations.
Unfortunately beer blogger Lee Nichols of I Love Beer wasn't able to contribute in time for this publication, but I'll venture a guess that his top recommendations would include alternate mode of transportation for enjoying the best of Austin craft beer scene -- his infamous No. 3 Bus Pub Crawl and the people-powered PubCrawler of Austin. If I am wrong, I'll buy him a beer! In the meantime, here's what other Austin beer bloggers had to say about drinking in Austin:
Xavier Alesmith, Exalted Archbishop of Zymurology of The Church of Zymurology:
Most venues are downtown -- unfortunately most quality beer establishments and brewpubs these days are north of downtown with few exceptions. In the immediate downtown area close to the Paramount Theatre, the Ginger Man Austin (301 Lavaca) will have the best selection and probably one of the most well maintained tap systems. Lovejoy's Tap Room (604 Neches Street) is the only brewpub option, although they also carry an interesting tap and bottle selections as well as liquor. Folks venturing to the Paramount Theatre or Alamo Ritz will want to try the Driskill Bar (604 Brazos Street) for classy atmosphere, and Lovejoy's for great beer and the opposite atmosphere. SXSW Film venue Violet Crown Cinema (434 West 2nd) has a tap selection of almost exclusively Texas taps. The Longbranch Inn (1133 East 11th) -- a bit northeast of the Austin Convention Center -- is good for beer and cocktails and a short distance from the Carver Museum.
On the south side of Lady Bird Lake, you can find Uncle Billy's Brew & Que (1530 Barton Springs Rd), which is close to both the Canon Theater at the Long Center and Alamo Drafthouse S. Lamar (Brewmaster Brian Peters seen hamming it up with NXNW's Davis Tucker above). Uncle Billy's is well worth the trip given the high-quality award-winning beer that they make. Zax's Restaurant and Bar (312 Barton Springs Rd) carries a good selection of both local and import brews and serves high quality food.
Otherwise an outing on the Capitol Metro #3 bus route up to North Burnet will take people to The Draught House Pub and Brewery, one of the best local brewpubs with a large quality tap selection. The Flying Saucer Austin (815 W 47th St #103) is an easy walk east from there and another bus going north could conceivably take you to Black Star Co-op Pub and Brewery (7020 Easy Wind Drive) roughly 25 blocks away (very long blocks) -- but close to the Alamo Village SXsatellite Venue.
Chris Troutman, Founder and Editor of Beertown Austin:
Just because it's free doesn't mean it's worth losing your sobriety. "Save yourself" for the good stuff -- practice bad beer abstinence.
90% of the time, the local option will be better than the national. We have a great craft beer scene in Austin, and you'll know what you're drinking is fresh.
Take advantage of the Cap Metro. Nearly every great drinking spot is on a convenient bus route.
Aaron Haley, Beertown Austin and longtime SXSW volunteer: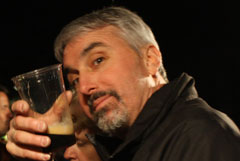 Off the beaten path I would really add...
Hopfields (3110 Guadalupe St #400) -- North of downtown and near the 40 Acres in the land of the co-eds and fratboys you'll find a French inspired oasis of food and craft beer. From local favorites such as (512) Brewing and Real Ale Brewing -- Brewmaster Tim Schwartz seen at right -- to national craft beers like Avery and Oskar Blues, to international awesomeness like Cuvee Des Jacobins Rouge and Blanche De Bruxelles. Enjoy these tasty beers with a steak frites or a jambon beurre sandwich!!
Black Star Co-Op -- For an out of the way visit hit up this north Austin favorite and the nation's first co-op brew pub. Good music, great food, and wonderful beer! Enjoy their AMAZING chips (fries) and one of any awesome house beers or something off their always impressive rotating guest

tap

wall. If you order food from Nicole take her advice and just "add an egg

on

it!"
Runners up: North by Northwest Restaurant & Brewery (10010 North Capital of Texas Highway) is the best local brewpub, Billy's

on

Burnet (2105 Hancock Drive) is the best beer dive bar, and Red's Porch (3508 S. Lamar) is the best South Austin joint -- and still north of the Alamo Slaughter SXsatellite Venue.
Trevor Weede, local craft beer enthusiast and longtime SXSW volunteer:
Besides the Austin Ginger Man (of course) and now Easy Tiger Bake Shop and Beer Garden (709 East Sixth Street), the best downtown beer drinking experience isn't a bar or a pub at all -- it is the Royal Blue Grocery (three locations on Congress @ 6th, 3rd Street around the corner from the Ginger Man, and on Nueces by La Zona Rosa). They have a decent selection of good bottle beer and cider that you can drink street-side at the tables provided outside. They'll even provide you with glasses to share a bomber or 750 ml. It is just the thing for killing time before a film starts at the Violet Crown or Paramount or before a music showcase starts at La Zona Rosa or Austin Music Hall, giving you the chance to rest your feet, drink some fine brew, and see the Austin scene passing by.

In case these recommendations from beer bloggers aren't enough, here are a few more local favorites where you can enjoy great beers and cocktails:
Downtown/North of the River
Barton Springs Road
Baby A's (1628 Barton Springs Rd) -- Be wary of the infamous Purple Margarita, rumoured to contain 190-proof Everclear.
Chuy's (1728 Barton Springs Rd) -- Home of the "swirl" margarita.
South Lamar
Remember that moderation is the best cure for a hangover. As with any film festival and the socializing that accompanies it -- it's a marathon, not a sprint! Local breweries such as Circle Brewing, Jester King Craft Brewing and others will be having special events throughout SXSW as well as Saint Patrick's Day celebrations at local bars including Fado's Irish Pub (214 West 4th Street). On Sunday, March 11, from 11 am - 3 pm, Texas' oldest craft brewery Saint Arnold Brewing is hosting their 3rd Annual Bacon Takedown, at Shangri-La (1016 East 6th St) -- yes, this is a bacon cook-off with plenty of Texas beer to enjoy.
Any recommendations from our fellow Austinites or seasoned SXSW visitors? Leave a comment and we'll add it to the guide.
[Full disclosure: Debbie is currently employed part-time by NXNW Restaurant & Brewery, and supports as many local breweries and brewpubs as her liver allows. She also contributes periodically to Beertown Austin and as the Austin Beer Examiner. Find out what she REALLY thinks about different beers by following her on Untappd.]
[Photo credits: "Davis Tucker of NXNW and Brian Peters of Uncle Billy's," "Tim Schwartz of Real Ale Brewing," by Debbie Cerda; "2010 Opal's Divine Mary Mix" by John M. P. Knox, on Flickr. Used with permission.]