Insider's Guide: Giving the Gift of Membership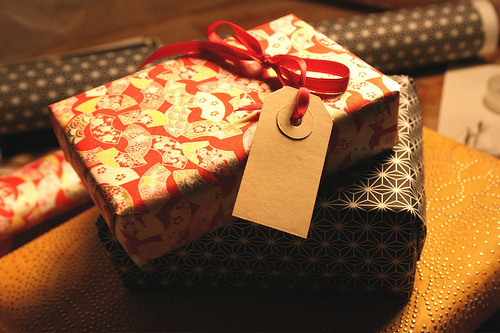 Wondering what to give the cinephiles in your life? Tired of buying them DVDs they've already got in their film library, or resisting the urge to give a generic gift certificate? Then consider the gift of membership to any of several deserving film organizations in Austin.
You'll not only give a refreshingly different gift that has year round benefits, you'll be supporting the local film community. Most membership programs are tiered and cumulative; each level of membership also includes the benefits of all the previous levels in most cases (not to mention it's usually tax deductible).
Austin Film Festival -- AFF hosts a number of sneak-peek screenings throughout the year as well as the Made in Texas and Family Film Series. The writers on your list will appreciate the discounts on the screenplay coverage and Final Draft, and all film fans will appreciate the two free rentals at Vulcan Video. Higher levels of membership include discounts on badges for AFF, and one (or more) free passes to AFF as well.
Austin Gay and Lesbian International Film Festival -- Membership includes festival badges, and higher levels include a ticket to their annual Red Carpet Gala (the one that happens in February on the same day of the biggest film awards event of the year, hint hint), and other events.
Austin Film Society -- Basic membership gets you some swag and discounted access to most AFS film series (Essential Cinema, Doc Nights, Best of the Fests, Avant Cinema and Moviemaker Dialogues) not to mention the occasional sneak-peek screening. The Filmmaker level of membership (which doesn't require any filmmaker credentials) gets you access to "Work in Progress" screenings, where you can see films that are not yet finished, and provide feedback to the filmmakers. The benefits are diverse, so check out the full details on the AFS website. And if your budget is still tight, there's a swag shop with flat-rate shipping; I love the fact they have a "guest pass" available for a regular film series screening.
Austin Jewish Film Festival -- Sponsor, or member? Pretty much synonymous with the AJFF, with the lowest sponsorship level being slightly more than a pass for the 2012 festival, but also includes a couple of additional benefits.
Cine Las Americas -- The festival has no formal membership program, and they do show free movies throughout the year. So in the spirit of honorable mention, this is really a gift to Cine Las Americas, via the American Airlines Business ExtrAA program. If you fly AA, then think about adding the ExtrAA program code to your reservation.
Lights. Camera. Help. -- No, this is not a membership. But Lights. Camera. Help. is dedicated to encouraging cause-driven organizations to use film and video to tell their stories, so how can we not mention them?
Paramount Film Fan Club -- What better place to watch classic films than in the historic Paramount. It gets better when you get reserved seating, free popcorn, discounts, and even from free admissions. And that's just the lowest level of club membership!
Polish Film Festival -- The Polish Film Festival can be supported through the Austin Polish Society. Membership benefits are minimal, but it's also the lowest cost of membership. The APS also hosts a free monthly series through Austin Public Library, so it's an inexpensive way to support that program.
Reel Women -- While membership is open to everyone, there are resources available only to female members, including equipment and mentorships. The site is currently being reconstructed, so email the address on the site for more information.
Texas Motion Picture Alliance -- TXMPA is an advocacy organization that was instrumental in getting the film incentives passed in Texas, bringing more productions to the state. While membership has fewer personal benefits than some of the others listed above, it helps support the media arts in a fundamental way. Membership is open to the public, so if you or your loved one is an active or aspiring filmmaker, or you just want to support film, do consider it.
[Photo credit: "happy christmas everybody!" by allerleirau. Found on Flickr, used under Creative Commons license.]