AFF 2011 Guide: Film Festival Venues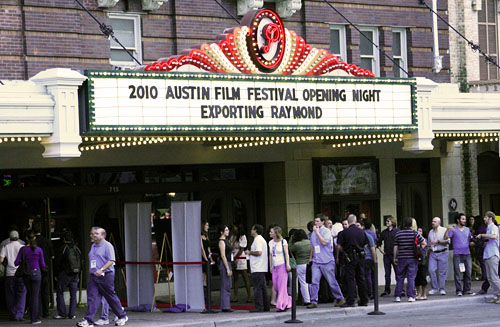 Austin Film Festival offers a wide range of theaters for its 2011 screenings, from south of the river to the Hwy 183/360 area. Some are an easy walk from the Driskill (conference HQ), like the Paramount, Hideout, ACC and Alamo Drafthouse at the Ritz; a couple might be considered walking distance if you are fond of hiking, like the Texas Spirit Theater and the Rollins Studio Theatre at the Long Center; and some absolutely necessitate finding a car or sharing a taxi, like the Arbor.
A few notes about AFF programming at various venues:
The Paramount is the biggest theater of the bunch, with seating for nearly 1200 people, and you'll find red carpets and the occasional surprise celebrity at the marquee screenings held there.
Alamo Ritz, used during the first part of the fest, is one of the smaller and yet more popular venues -- it's often difficult to get into movies even with a conference badge, much less a film pass. Arrive early.
AFF's many and varied shorts programs screen at The Hideout, which also can brew you a mighty fine cup of coffee.
The Rollins Theatre at the Long Center is focusing on programming Austin and Texas movies (our favorites) during most of the fest.
Alamo Drafthouse on South Lamar will host a couple of screenings on Sunday, primarily Puss in Boots, which is in 3D.
Austin Convention Center will be the home for two film venues during the first part of Austin Film Festival. We don't know much about the specific spaces being used, but ACC is usually an underappreciated venue.
Bear in mind that AFF discourages audiences from taking photos during screenings and panels, so when you're visiting these venues during the festival, you may want to leave your camera at home (or stash it away carefully). This is an especially smart idea for big screenings of studio-distributed movies that haven't yet been released, where sometimes security guards may prohibit cameras entirely.
Click the theater names below for more information, including bus routes and nearby places to grab a bite to eat or a drink. If we've left out anything helpful about these venues, please leave a comment.