Austin Convention Center (ACC) Theater at AFF
Address:
500 E. Cesar Chavez, Austin, TX 78701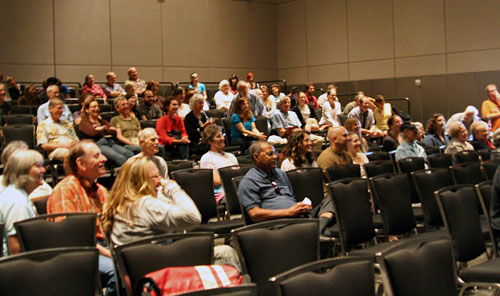 Austin Film Festival's two theaters at Austin Convention Center (ACC) are a temporary setup. They are not in the same location as the ACC theater that is set up during SXSW. One theater is located in Meeting Room 18, the other in Ballroom E. We don't know the seating capacity at this time, but they usually seat from 175-300 people.
Pros: The theaters are large, so they're a good bet for passholders and people who want to buy tickets. The theaters almost never sell out, and the seats are pretty comfy. The location is excellent -- a short walk from the heart of downtown, with plenty of bars and restaurants nearby.
Cons: Since it's a temporary setup, sometimes the picture and sound quality are not ideal. Also, get to ACC early your first time if you don't know how to find the room -- it's a big venue.
Parking: Pay to park in the garage next to the convention center, which is usually more economical than other parking garages in the area. In fact, the ACC garage may be an affordable option for keeping your car downtown all day during the conference.
Distance: You can walk to the Paramount and Alamo Ritz, and to the conference venues. Texas Spirit Theater is a little far for a walk; Rollins Theatre at the Long Center is manageable if you're not in a hurry.
Food and Beverages: Skip the convention center itself unless you're seriously dying of hunger or in need of coffee. Outside, you'll find some good, affordable spots like Iron Works, PF Chang's, and Mongolian BBQ. Cedar Door is a nice place for a Mexican martini. These places can be swamped at lunchtime, so you might want to walk a few blocks more and explore Austin's many downtown lunch options.
Wireless: Probably unavailable. You may need to find a nearby coffeehouse or restaurant.