Insider's Guide: Austin Film Festival 2011
It's the last big film festival of the year in Austin, are you ready? Austin Film Festival has a distinctly different vibe from the other fests in town. It's chiller, for one thing, in part because it's winding down the festival season, if not actually cooler temps. Whether you're a local or visitor, if it's your first time at a film festival, check out our Festival Survival Tips for the basics (and then some). But there are things to know specifically for AFF, and for this year.
Dressing for the Occasion. Austin is a very casual town, so unless you're going to the Film and Food Gala, no need to get decked out. Just remember to layer and don't complain about any rain as we desperately need it. Check Weather Underground for the latest forecasts. On a related note, if you're a smoker you better police your butts and don't even think of throwing one out of a car window, or on the ground during the barbecue on Friday (fire danger is a serious problem in Texas these days).
Exercise Your Social Skills. A lot of people come to fests and AFF in particular to network, but not everyone does it well. As much as I love AFF, I know that I'm less likely to make line buddies at AFF compared to other festivals. It's rather disconcerting when people keep walking off after they find out you aren't a producer when you have a Producer's Badge. Take the time for idle chat in line, in lobbies, at the Driskill bar and everywhere you go, and not worry whether you think they're a mover and shaker (Austin has quite a few of the unassuming sort whose knowledge is invaluable). You never know how those newly formed friendships can payoff in the future (and I don't mean financially).
Go Small. There are a lot of marquee films with big names, but like other fests in town, this is a great showcase for up and coming talent. And I can personally promise you there are some real gems screening like You Hurt My Feelings and Harold's Going Stiff. I'm sure there are more.
Dining Options

As tempting as it is to focus on the panels, parties and films, you need to eat. We at Slackerwood love the local, so we must encourage you to get off the beaten path between venues and try some local fare, especially in the Second Street District, South Congress ("SoCo") as well as South First and Lamar (on both sides of Lady Bird Lake).
Congress Avenue. Sadly, some of the places you may be familiar with are now closed (Little City, Hickory Street Grill, Marrakesh) making Congress a bit of a wasteland outside of Roaring Fork, Annie's Cafe and a couple chain places near the Paramount. But just off Congress there are still options; for example, Thai Passion is never crowded, has good food, and decent prices. Jette was recently at Athenian Bar & Grill and enjoyed the food (and if you have a crowd they have big tables). If you enjoy dogs or sausages, there's Frank over on Colorado (although it can get quite loud, it's got a solid brunch).
Barbecue. Three places in town are changing the barbecue landscape, all worthy of your consideration. Franklin, Live Oak, JMueller BBQ. All are worthy, but Franklin was earning accolades long before the others opened and before it become a brick and mortar joint; it still sells out of meat by 1pm so if you're going there, get there early.
Groceries. Royal Blue Grocery has three locations in the downtown area, including one on Congress close to the Paramount the Hideout, and the Driskill. They have some fine breakfast and lunch fare and are open until midnight. You can also check out Whole Foods flagship store over at 6th and Lamar, and has some great speciality food counters inside (including some decent barbecue, especially the smoked chicken). The downsides are it's pricey and it's easy to get disoriented from the sheer magnitude of the place. If you're looking to pack up a fridge for frugal eating, the HEB supermarkets are inexpensive and the one up on South Congress is open 24 hours (and advice -- it's pronounced as the letters, not as something similar to an ethnic slur).
Tacos and Trailers. The trailer food movement is alive and very well in Austin, including some of the best meals you may ever have, and they're located in just about every nook and cranny particularly in downtown. East Side King food truck is co-owned by Uchiko's Paul Qui who is a contestant on Top Chef Texas. Just know that Saturday there is a Gypsy Picnic down at Auditorium Shores (near the Rollins Theater) so there may be a noticeable absence of trailers on day three of the fest. Also know there is a great guide to Taco joints in town over at Taco Journalism.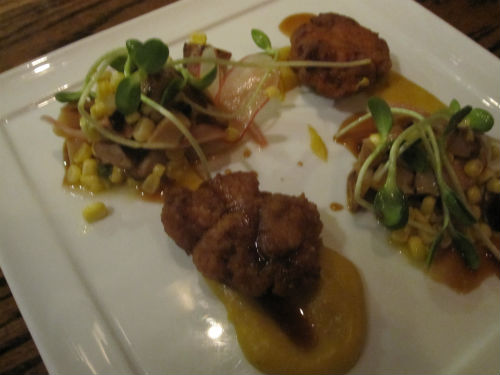 Fine Dining. Parkside is only a couple blocks from the Driskill on the way to ACC. Uchi and its renowned sushi is across from Alamo South Lamar. If you really want to go all out there is Congress at the Austonian. Barley Swine has been wooing over foodies since it opened earlier this year with its adventurous small-plate offerings (their sweetbreads are pictured above), but go early as they don't take reservations. You can also check out their trailer Odd Duck. I also highly recommend Olivia, especially for a great brunch.
Open All Night. Three options that don't involve convenience stores and questionable burritos that have nothing to do with Texas food: Kerbey Lane, Magnolia Cafe, and 24 Diner at 6th and Lamar. If you need motivation to go, chef Drew Curren at 24 Diner is a contestant on the Texas edition of Top Chef that premieres in November.
Vegetarian and Vegan. The Austin American-Statesman has a new piece on eating veg in Austin, although not all places are nearby. Also check out the VegAustin guide to local restaurants.
Dietary Restrictions. You probably already know what to ask about when ordering in restaurants. But if you see a screening at either Alamo Drafthouse location, the menu includes a guide to dietary restrictions, and a well-informed team of waitstaff.
Transportation Alternatives
If you need a taxi, there are four cab services in town. The two that have websites that allow you to reserve a cab in advance are Yellow Cab (512) 452-9999 and Lone Star Cab (512) 836-4900. You can also call Austin Cab (512) 478-2222 or Roy's Taxi (512) 482-0000. Keep in mind if you're planning on cabbing it between all venues that the Arbor is over 10 miles from the Driskill, and the cab fare will set you back nearly $30 one way before tip.
Capital Metro buses can get you between most of the venues (although Paramount, Hideout, and Austin Convention Center are easily within walking distance). If you've been to Austin before and used Cap Metro, keep in mind that the #3 route northbound is on long-term detour and can be picked up on Congress. Just don't expect to get on a bus at 6th and Congress; in it's finite wisdom they closed the northbound stops at 6th and 7th, and the southbound stops and 8th and 7th. Fares are now $1 for a single bus, and $2 for a 24hr pass. If you're going to the Rollins, you can take the #5 or #30.
During the week Cap Metro may be the best bet for getting to and from the venue. Just know that they are less frequent on Saturday, even less so on Sunday, and service ends early Sunday night. The #3 can take you to the Alamo South Lamar for the two screenings there. And if you're going to see films at the Arbor during the day you can take the #982 or #983 northbound ($2.75 one way), although they stop running early evening (the #3 can also bring you there and back, but it's a long trip).
Heads-up on parking. For those of you driving into AFF this year, remember the extended hours on downtown parking meters. If you are headed near the Paramount on Saturday or Sunday, the Texas Book Festival is also going on, so part of Congress Ave might be closed and parking may be tight. Also on Saturday, the "Gypsy Picnic" food-trailer fest is happening down at Auditorium Shores, so the free parking near Rollins Theater at the Long Center might be scarce. The City website has a list of special events and their accompanying road closures. Consider budgeting for parking garages during the first part of AFF.