SXSW Review: Where Soldiers Come From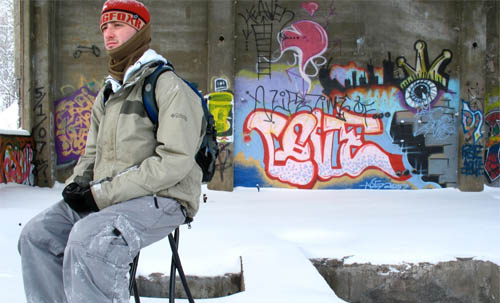 The most moving documentary I saw at SXSW this year is from Austinite Heather Courtney, although it's primarily shot in her hometown, in Michigan's Upper Peninsula: Where Soldiers Come From. I had more or less decided after The Messenger that I'd had enough of war-related features and documentaries, but I don't regret seeing this movie, not for a minute. The film had its world premiere at SXSW 2011.
Where Soldiers Come From follows three young men from their decision to enroll in the National Guard after high school, through their deployment overseas, and what happens post-deployment. Dom is an artist, and we see a lot of his graffiti-like art on the walls of an abandoned building in his hometown, before he leaves. He hangs out with his friends Cole and Bodi, and they all end up in the same National Guard unit, sent to Afghanistan to find IEDs (improvised explosive devices; aka bombs).
Courtney obviously was able to develop a trusting relationship with these guys and their families over several years. The documentary not only spends time with the soldiers while they're overseas -- and cameras are in their vehicles so we don't miss much -- but also in Michigan with their parents and friends. Communication with soldiers has come a long way -- the young men use Skype to communicate with their families (and Dom with his girlfriend), and Courtney often has cameras of her own on both sides of these conversations.
With all these camera sources, editing is key, and the editing in Where Soldiers Come From is notably elegant -- some lovely transitions, without being in-your-face about it. One such transition cuts from a scene where the young men are at home, diving off a water tower into a pool, to an exploding bomb during a test in their weekend National Guard training. Courtney, Tom Haneke and former Austin filmmaker Kyle Henry won a well-deserved SXSW award for the editing on this documentary.
One minute, the soldiers are arguing over movies, the next minute ... a bomb has exploded. The parents are all hoping, in 2008, that Obama is elected so he can end the war in Afghanistan. The soldiers who return home don't know how to fit in, and find that IED duty has caused them medical issues that could eventually kill them. Where Soldiers Come From portrays these young men's lives realistically, without flinching, and with warmth that doesn't slop over into sentimentality. The personal takes precedent over the political. Don't think of this as "yet another war doc" -- this movie is worth your attention.
Austin connections: Filmmaker Heather Courtney is based in Austin, and the documentary's producers are also local: Megan Gilbride (Lovers of Hate) and David Hartstein (The Happy Poet). Editor Kyle Henry recently moved from Austin to the Chicago area.