2010 in Review: Don's Top 10 and Other Lists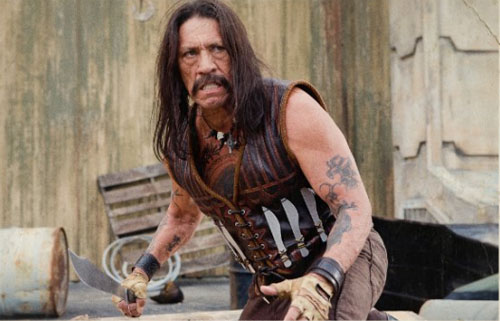 Here are my top 10 and other notable films from last year. To be eligible for my list, a movie had to release in 2010 and screen in Austin in 2010 also. (Some well reviewed 2010 releases, such as Blue Valentine, have not yet been released in Austin.)
1. The Social Network
No matter how you feel about Facebook (I love it enough to marry it), this flawlessly crafted yarn about the birth of the world's largest social network is the must-see film of 2010. With its snappy, snarky Aaron Sorkin script and zippy David Fincher direction, The Social Network is a razor-sharp blend of legal thriller, dark comedy, cautionary tale and social commentary. In a crowded field of strong contenders for best film, I give The Social Network the nod because of its relevance to our increasingly hyperconnected times. (Jette's review)
How to see it? Still playing at Regal Metropolitan this week. Will be available on Blu-ray
and DVD
on January 11.
2. Black Swan
A harrowing psychothriller about artistic rivalry and obsession with perfection, Black Swan is the year's most visually stunning film. Natalie Portman gives the best performance of her career as the neurotic ballerina Nina Sayers, the most memorable cinematic psychochick in many years. Mila Kunis is also captivating as Nina's frenemy and rival, Lily. (Let the record show that while Black Swan's schwangerrific ballerina-on-ballerina action definitely got the attention of my inner heterosexual guy, it in no way influenced my overall opinion of the film. Black Swan is a terrific piece of cinema in every way.) (Jenn's review)
How to see it? Still playing in Austin theaters.
3. 127 Hours
Director Danny Boyle's unmistakable style and James Franco's cringe-inducing, soul-searching performance as trapped mountain climber Aron Ralston make 127 Hours a gripping and yet lyrical tale of survival. It's also one of the year's most inspirational and thought-provoking films, reminding us to keep all things in perspective. Think you've got problems? Ralston would tell you that things could be much worse. (My review)
How to see it? Still playing in Austin theaters.
4. The Fighter
Christian Bale is getting most of The Fighter's buzz for completely inhabiting the character of washed-up boxer turned crack addict Dicky Eklund. But everything else about this film is just as memorable. Universally terrific performances elevate The Fighter far beyond its conventional dreams-of-glory story line (yes, think Rocky), and the film's grimy, rusty working-class patina gives it added poignancy. Amy Adams is especially good as the tough, beaten-down Charlene Fleming; The Fighter just might make her the star she deserves to be. (Jette's review)
How to see it? Still playing in Austin theaters.
5. The King's Speech
Betting on the Oscars? The safe money for best actor is on Colin Firth for his stellar portrayal of the stuttering King George VI in The King's Speech. Firth's take on the troubled monarch and Geoffrey Rush's equally strong performance as speech therapist Lionel Logue turn a potentially somnambulant period piece into a rousing and often hilarious film that humanizes the British royals in ways that are sometimes painful to watch. (Elizabeth's review)
How to see it? Still playing in Austin theaters.
6. True Grit
Rather than remaking the 1969 version, the Coen brothers wisely returned to Charles Portis' novel as the source material for this rollicking horse opera. The result is a spectacular and often spectacularly funny film, a surprise box office hit that will please traditional Western fans and Coen brothers fans alike. Jeff Bridges is deliciously crotchety as the grizzled, boozing Rooster Cogburn; I would argue that Bridges' Cogburn is much better than John Wayne's. (Take that, fans of The Duke.) The film's most pleasant surprise is 14-year-old Hailee Steinfeld. As the heroically no-nonsense Mattie Ross, she often steals scenes from the likes of Bridges, Matt Damon, and Josh Brolin. (Mike's review)
How to see it? Still playing in Austin theaters.
7. Exit Through the Gift Shop
The jury's still out on exactly what Exit Through the Gift Shop is, but does it really matter? Whether it's a documentary about graffiti artists, mockumentary sendup of the art world, or complete prank on the part of artist Banksy, Exit Through the Gift Shop is so clever and hysterically funny that its veracity is irrelevant. A darling of the indie circuit, it's by far the year's most creative film -- and also the most confounding. (And I so want one of those Warhol-style portraits of Leonard Nimoy.) (Debbie's review)
How to see it? Available on Netflix Watch Instantly. Available on Blu-ray
on March 8.
8. Toy Story 3
Pixar, how do you do it? How do you produce a mainstream animated family film -- the third in a franchise, no less -- that does deservedly boffo box office and warms the snooty and cynical hearts of critics like me? Whatever Pixar's secret, let's hope they bless us with more cinematic magic like Toy Story 3. It's the all-too-rare film that pleases almost everyone (even critics!), at once heartwarming, brilliant, poignant and hilarious. (If you'll admit that the ending of Toy Story 3 makes you slightly weepy, I'll admit it, too.) (Elizabeth's review)
How to see it? Available on Blu-ray
and DVD
.
9. Winter's Bone
An unflinching story about an unflinching Ozark Mountain teen who hunts down her drug-dealing father while trying to keep her desperately poor family intact, Winter's Bone is one of the year's most powerful films. It's a gut-punchingly honest portrait of poverty in America, and Jennifer Lawrence's ferocious performance as the fearless Ree Dolly is not to be missed.
How to see it? Available on Blu-ray
and DVD
.
10. Restrepo
One of this year's most brutal and relevant documentaries, Restrepo is an intimate look at a year in the life of a platoon in Afghanistan's deadly Korengal Valley. With sharp editing, uncommon candor and raw, riveting imagery, it brilliantly captures the reality -- and more importantly, the surreality -- of war. (My DVD review)
How to see it? Available on Netflix Watch Instantly. Also on DVD
, Blu-ray
and VOD
.
Films That Would Have Made My Top 10 List If It Were a Top 20 List
Cyrus
Four Lions
The Girl with the Dragon Tattoo
I Am Love
Inside Job
The Kids Are All Right
Micmacs
Monsters
Please Give
Scott Pilgrim vs. the World
Honorable Mentions
Machete
Robert Rodriguez's rowdy and rebellious homage to '70s exploitation films kicks ass in all the right ways. And Michelle Rodriguez, your heavily armed, halter-topped fu made my year at the movies; for this, I welcome you to my exclusive circle of fantasy friends with benefits. (Jette's review)
How to see it? Available on Blu-ray
and DVD
.
Winnebago Man – The hilarious and artfully profane rants of Jack Rebney (a.k.a. The Angriest Man in the World) can make anyone feel better after a bad day. Winnebago Man is an interesting and often surprising portrait of the man behind the viral video F-bombs. (My review)
How to see it? Available on DVD
and VOD
.
Four Hours of My Life That I Want Back
The Last Airbender
If this sloppily crafted and unbearably cheesy bore of a film is the best M. Night Shyamalan can do these days, perhaps he should consider a new career in long-haul trucking or insurance sales. (My review)
Grown Ups
I don't know which makes me angrier -- that this howlingly vile exercise in cinematic stupidity is also so blatantly misogynistic and mean spirited, or that our nation's great philistine hordes wasted $162 million to see it. As they say, this is why America can't have nice things. (My review)
Please Watch These Wonderful Austin-Related Films

Boxing Gym -- Not yet available on DVD.
The Dry Land -- Available on Blu-ray
and DVD.
Faith of the Abomination -- Doesn't have distribution at this time.
The Happy Poet -- Doesn't have distribution at this time.
Films That Didn't Make Any of the Above Lists, But You Really Should See Them Anyway
Animal Kingdom, Casino Jack and the United States of Money, Catfish, Easy A, Get Low, The Ghost Writer, It's Kind of a Funny Story, Let Me In, Rare Exports: A Christmas Tale, Waiting for "Superman"