Who Wants to Watch 'Buried' While Buried?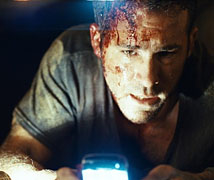 TO: Fearless Slackerwood Contributors
FROM: Most Fabulous Editor
SUBJECT: Newly announced Fantastic Fest 2010 opportunities
Folks, we've just received a press release from Fantastic Fest about another movie they've added to the lineup -- Buried, which stars Ryan Reynolds as a guy who wakes one morning to find himself, well, buried, and has to figure out where and why and how to get out. Reynolds and director Rodrigo Cortes will be in attendance at the screening, which will take place on opening night at the Paramount after Let Me In. Of course a couple of us will cover the red carpet, and I'm looking for especially good photos of Ryan Reynolds ... and yes, this is one of those occasions where you can send the best close-ups directly to me. Especially if he's a bit sweaty in the Texas heat. Ahem. Okay.
But that's not why I'm contacting you right now. In addition to the splashy gala screening during Fantastic Fest, Rolling Roadshow is holding a special screening of Buried in Austin on Saturday, September 18 called "Rolling Roadshow for One." I'd like it if you all would immediately head over to the Facebook invitation page for this event and sign up, even though only four people will be selected for the screening. I figure if all of you sign up, we have a good chance of someone being picked, and then we can get a review posted right on time for this movie as well as a fascinating feature about this unique Rolling Roadshow event.
Oh, did I mention that if you're picked for the special screening, you will be buried underground somewhere to watch the film by yourself? No big deal. They'll have emergency medical personnel monitoring you, so there's no need to worry. I'm sure the Alamo Drafthouse staff will pick a spot that isn't very damp and won't have many bugs or other pests. I suspect that you won't need to bring a camera, at least not during the actual burial, so I won't expect photos for the feature story. I'll even throw in a free Slackerwood t-shirt to any contributor who is picked for the burial screening, in case your clothes get a bit dirty. And if you survive the screening, you'll get to walk the red carpet for the Fantastic Fest screening of Buried right there with Reynolds and Cortes. Remind me to give you a little note from me to pass to Ryan Reynolds. We'll talk about that later.
Me? No, I'm not signing up for the buried Buried screening. I'd love to, but I have a prior commitment that night. Of some sort. Which I can't quite remember what it is right now. And I couldn't dream of denying any of you the opportunity. (The fact that I freak out enough during MRIs, and they are not feature-length or underground, is immaterial.) But you all have fun without me! I'll see you at the red carpet event instead.