A Peek at the New Gold Class Cinemas in The Domain
Last week I took a tour of the new Gold Class Cinemas, a movie theater in The Domain that officially opens this weekend. In addition, Jenn Brown and I went back to the theater this week for "mock service" -- as part of the process for training the theater staff, we watched Shutter Island (it actually improves on a second viewing) and ordered some of the menu items the theater offers.
Like the Alamo Drafthouse chain, Gold Class does have a menu -- it also has a full bar. In fact, it's an especially nice bar that could have fit perfectly in The Domain as a stand-alone. But Gold Class strikes me as unlikely to compete directly with Alamo, as it is a very different experience.
First of all, the point that everyone is discussing: the tickets for Gold Class are pricey. A full-price ticket costs $29, and no, that doesn't include any food or drinks. Hearing that a ticket for a regular first-run movie costs over $20 sounds shocking at first, and it's off-putting to many people I know, no matter what they learn about the theater afterward. This is the biggest hurdle that Gold Class has to overcome in Austin.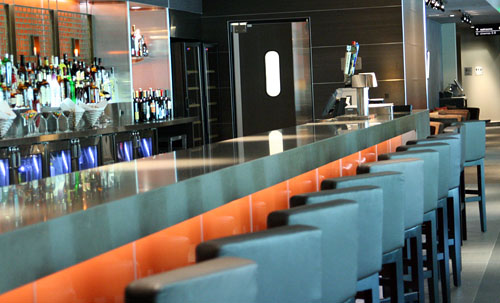 However, tickets aren't $29 all the time. If you sign up for their "club" for free, the ticket price automatically goes down to $22. The theater also has two-for-one nights and other promotions to knock the admission down a bit at times. Go see a 3D movie on two-for-one night and you're not paying any more than you would at another theater -- Gold Class doesn't add a surcharge for 3D films.
So what are you getting for your $29 (or $22)? First of all, the theaters are small in capacity -- most hold 40 seats, and one or two hold 25 seats. And take a look at the seats -- they are recliners in some material that feels like suede. They felt very comfortable, although I wasn't used to sitting in such a seat during Shutter Island and it took a little getting used to. (Shutter Island runs over two hours, however, and no seat is comfortable by the end.) All seats are reserved -- you pick your seat when you buy your tickets. Between each pair of seats is a small table for food and drinks, and a call button to summon waitstaff.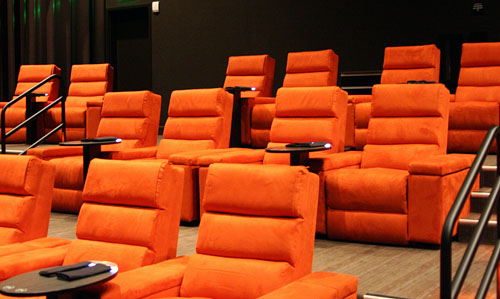 What Gold Class is offering here, however, isn't just a chance to watch a new movie in a fancy recliner. I mean, you could wait three months and do that at home with friends. They are trying to promote not a good movie experience but an entire evening out in a single location, a location that incidentally has lots of easy nearby parking (unlike downtown). The entire theater is decorated in a way that Jenn said reminded her of the W. Hotel, probably not coincidentally.
They recommend that you get to the theater 30 minutes early, and they have a lot of very attractive lobby seating where you can have a drink. You also can order whatever food you want to enjoy in the theater. You also can order food and drinks in the theater itself (although they didn't have menus in the theater when we were there, nor any light to read the menus). And afterwards, if you want to argue over the ridiculous ending of the movie you saw, you can sit down in the lobby again and order coffee and dessert. This is a place made for date nights -- many of the theater seats are even in pairs.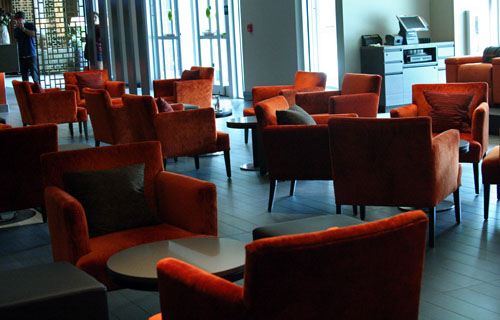 The food tends to be of the snacky sort, although you can have a nice sandwich or pizza meal if you want. I had a tour of the kitchen as well, and saw pizza dough being rolled out and salads constructed and so forth. Most of their food is made from scratch, and they buy their breads from New World Bakery. They try to make most of the food as easy to eat in a theater as possible -- the Caesar salad is made of stalks of romaine that stand up in a bowl containing dressing, with tall croutons that stand up as well, so you could eat it easily with your fingers. The dessert I had during mock service, however, required a spoon -- a combination of angel cake, strawberries and cream.
The food I sampled on both visits is good, but can be pricey. Jenn's steak sandwich is listed as $19 on the menu, and she felt she had not really eaten a $19 sandwich. (I am not sure what sandwich would feel like value for money at $19, but I'm a bit of a prole at times.) The appetizers seem like a better value for money. The theater also offers a number of movie candies -- served in martini and other glasses -- and some fancy popcorn, like the "s'more" flavored popcorn I enjoyed, caramel corn topped with white and dark chocolate. Again, there are happy hour specials and so forth to occasionally lower the prices.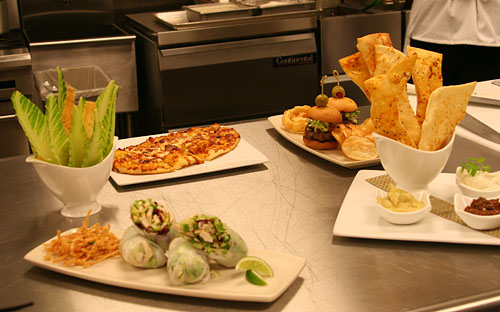 All the theaters use digital projection, although Gold Class says they have a film projector that can be used if necessary -- you can rent out the theaters for parties and so forth. I'll be interested to watch a movie there once the theater opens, not during mock service, to see how the picture and sound quality are. Everything looked and sounded fine to me during mock service, but Jenn thought she noticed a flaw in the projection. The theater staff told me that they do not show commercials before the movies, only trailers.
I'll be very interested to see how Gold Class does in Austin. I think it will be a good date night venue. It's also a good place for people with money to see first-run movies without having to deal with crowds and lines and rowdy theaters. On the other hand, I like being part of a large and non-obnoxiously responsive audience, and I wonder if a theater full of 40 people in recliners can feel like a real audience. I realize, also, that Gold Class has to urge patrons to get to the theater 30 minutes early -- their seats are reserved. In theory, you could show up 5 minutes beforehand and grab your seat, which would lose the theater part of the opportunity to sell you food and drink. (This is why Alamo doesn't have reserved seats.)
Finally, here's why I don't think Gold Class is competing with Alamo Drafthouse. Alamo is focusing on a moviegoing experience -- the movie is first, and they offer a variety of first-run movies and classics and obscure exploitation films, among other things. Most people go to Alamo to enjoy a specific movie, which is adorned by a feast, an Action Pack event, special guests, or whatnot. Gold Class, on the other hand, is focusing on a night out -- I heard about their "wide and varied selection" and then realized they were talking about drinks, not movies. The movie is meant to be just one part of an entertaining evening. And if they can successfully convince Austinites that $22 isn't too much to spend as part of that evening -- after all, we go to shows at the Paramount and concerts at various venues that easily cost twice that -- then their model should work well.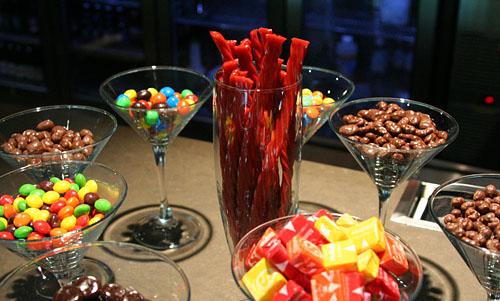 [All photos are mine. Check out my Flickr set for a more complete look at Gold Class Cinemas.]