My Own (Slightly Flaky) Film Festival Secrets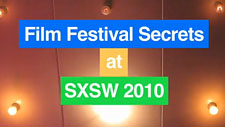 On the Friday that SXSW 2010 got underway, I spent the afternoon in a sports bar with a bunch of Cinematical reporters, supposedly to talk about our assignments but in actuality to eat junk food and argue about Kick Ass and Dogtooth and to tease our editors. Occasional Slackerwood reporter and Film Festival Secrets author Chris Holland was also in the bar with filmmaker Mark Potts, whose comedy Simmons on Vinyl I reviewed at Austin Film Festival last year.
Chris and Mark asked me if I would step outside with them for a moment so they could interview me on camera. I was hopped up on sugar and fried food and didn't actually ask what they were going to interview me about, but was thrilled that someone wanted to shoot video with me in it. We all stood out on a downtown sidewalk and Chris interviewed me while Mark shot video.
This is the result of that interview. I would like to say that I would have been slightly less ditzy if I'd thought about the questions beforehand ... but maybe not. If you've heard the Slackerwood podcasts, you know that I am like that all the time.
My thoughtful advice for filmmakers at festivals would fill at least one long article and involves things like not spamming me with too many emails beforehand, making sure you have a website with stills that press can download, not being stingy with screeners and getting an IMDb entry for your film as soon as you can. Also, I like cool buttons like the ones Mark Potts gave out for Simmons on Vinyl at AFF, and funky business cards like many that I got at SXSW (Clay Liford's was best ... it revealed that he despises mayonnaise, which created an instant bond moment with me). Really, promoting your film boils down to amusing me without annoying the crap out of me ... and of course, once you get me into the movie, it should be very very good.
But the advice I gave Chris and Mark, some of which was completely stolen from Jenn Brown's SXSW Survival Guide, is still not bad. I've embedded the video below.