Contest: Win the 'Stingray Sam' Soundtrack and DVD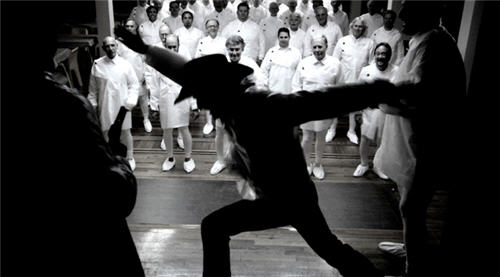 The soundtrack to Stingray Sam, the Fantastic Fest fave that had people singing for days afterwards, is now on sale. Written and performed by director Cory McAbee and co-produced with Robert Lurie, it's full of delightful absurd and often deconstructed songs like "Lullaby" or the progeny naming song "Fredward."
The episodic interplanetary adventure musical is still on the festival circuit, wowing crowds with its old-school serial wrapped in Western sensibilities. Both the soundtrack and the movie itself are available for purchase online at corymcabee.com, as digital media downloads or as discs.
To celebrate, we're giving away DVDs and soundtrack CDs. Find out how to win after the jump.
We'll have three winners total: one for the DVD and one for the soundtrack to people who answer questions 1 and 2 correctly. The lucky third winner, who must also answer the bonus question correctly, will win both. And to make it even easier, the first two answers are easily found on corymcabee.com. The third win will require a little more effort, or a good memory from seeing Stingray Sam.
1. Who is Stingray Sam's accomplice?
2. What company sponsors Stingray Sam?
Bonus: Where is Stingray Sam from?
To win, DM your answers to @slackerwood on Twitter by no later than 11:59 pm on Wednesday, February 17 (Central time). Winners will be chosen randomly from all correct answers, and announced Thursday.
Update: If you can't DM, submit a comment with a valid email address.
Winners: @tateenglish (DVD & Soundtrack) @macbezz (soundtrack) @catdirt (DVD). Please DM @slackerwood with your mailing addresses so the prizes can be sent out.
Thanks to Sneak Attack Media and Stingray Sam for providing the prizes. Congratulations to our winners!