Start blogging now for Monday's Alamo Blog-a-Thon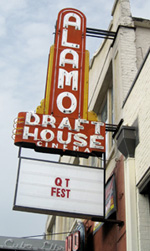 I've already received a couple of links and an entry to post here for Monday's Alamo Downtown Blog-a-Thon. You don't actually have t­o write or even post your entry on Monday; you've got all weekend to think of your best stories about Alamo Drafthouse Downtown. I've got nearly 10 years worth of stories, from the first time I went to Alamo to that weird night with Russ Meyer to my first date with my husband ... and tons of p­hotos, which I could post here all summer long. (I may do that. Hmmm.)

You can post an entry for the blog-a-thon to your own blog and email me with the link (jette [at] celluloideyes [dot] com), or post the link in the comments section of the Alamo Blog-a-Thon entry when I open it for comments on Monday. Or if you have no blog, send me an email message with your story (and your name) and I'll post it here on Monday. If you've got photos, you can post them to Flickr and tag them with "alamoblogathon" and I'll link to that too.
I'm looking forward to reading and sharing lots of Alamo Downtown stories on Monday. If you can't wait until then, our local papers have some articles you can enjoy. Austin360 (the Statesman's website) has an article by John DeFore about the history of Alamo and plans for the new location at the Ritz; check out the sidebar for links to some other cool material, including a bunch of old in-house trailers that Matthew Odam has found (including the Ann Richards one, which I adore). Over at the Austin Chronicle, Marc Savlov shares some great Alamo anecdotes. (Thanks to Matt Dentler for the links.)
One more link for today: If you're looking for a really big chunk of memorabilia from Alamo that's also useful, check out the Alamo Downtown Kitchen Garage Sale. Now's the chance to get that kegerator you've always wanted.