Adventures in Red Carpet: Grindhouse at the Paramount (Part 1)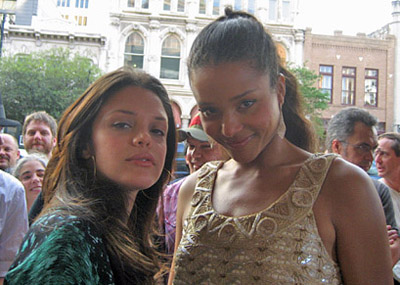 I've waited so long to write about the Grindhouse red carpet here (not to mention that I wrote the above phrase a whole month ago -- I'm such a procrastinator) that the film has its allure ... however, what goes around comes around. With the upcoming premiere at Cannes of Quentin Tarantino's segment Death Proof as a stand-alone film, perhaps people will be interested in seeing the film's celebrities all glitzed-out at the Paramount back in late March. As a tribute to the original double-feature cut of Grindhouse, I've split this entry into two parts. (Or maybe because the entry was too long.)

First, you should read my Cinematical article about the Austin red carpet to see the best photos I took, including a fabulous one of Tarantino. He finally stood still long enough for me to take a photo that didn't look like a blur! I was thrilled. However, I took so many photos that I have plenty to share here too.
I hadn't done a big red carpet event since the Clerks 2 premiere at Paramount last summer with Kevin Smith. I figured this event would be along the same lines. This time, I put my stuff in an unattractive but practical bag that fit around my waist and I brought a big bottle of water along. I thought I made good time but when I got there, there was already a crowd of media squeezing into the space allotted for press. The setup was slightly different than for Kevin Smith: The media were lined up against the side of the Paramount, with the red carpet running parallel, and a big crowd forming on the other side of the red carpet. Here's a good example -- in the following photo, the media are on the right, spectators on the left, and that's Danny Trejo on the red carpet.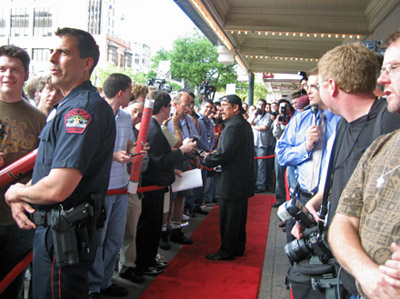 There were even fans across the street on a balcony, sacrificing a close-up look at the celebrities for the comforts of a nice private patio with drinks and convenient air-conditioning and bathrooms. At times I was a little envious:
­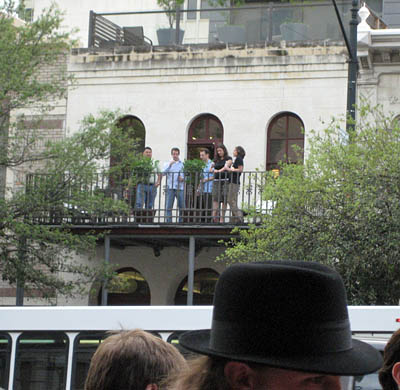 ­
­
I found a space next to some TV cameras, and eventually Paste magazine reporter Tim Basham set up his stuff next to me. You might remember that I stood next to him at the Kevin Smith red carpet and he was extremely helpful. Another camera crew squashed in on the left and we had a friendly woman with a video camera from Austin360 on the right. I felt very short and definitely outclassed in the camera department, but I don't regret buying a camera that fits in my purse and therefore is available whenever I want it.
The major difference between the Grindhouse red carpet and the one for Clerks 2 was that for the latter, we only had Kevin Smith to interview, and so we did our couple of minutes with him and were done. The Grindhouse red carpet had 15 people or thereabouts who all walked down the red carpet, with time between each one to catch our breath and find out who was next. The first cast members on the red carpet were Elise and Electra Isabel Avellan, who played the twins in Planet Terror, and Mary Elizabeth Winstead, who played the actress dressed as a cheerleader in Death Proof. The sun was right behind them and I wasn't quite ready for them yet, which is why this picture isn't very good:
Next was Danny Trejo, as shown in an earlier photo. He was the star of the Machete trailer that played at the beginning of Grindhouse. Trejo was so nice to all the fans on the other side of the red carpet and waved, hugged, signed things, and posed for photos. He told us that he hopes Rodriguez does make a full-length movie out of Machete, that he's in the best shape of his life, and would love to play the title role [update: Trejo says that the Weinsteins have green-lit the project, so be prepared]. He was followed by Vanessa Ferlito and Sydney Tamiia Portier, shown in the photo at the top of this entry, who played Arlene/Butterfly and Jungle Julia in Death Proof.

The next photo is of Marley Shelton, whom you've probably seen on one of the Grindhouse posters holding a scary syringe. She pl­ays Dr. Dakota Block in both features. I wish I'd managed to snap a better photo of her than I did (she wore a gorgeous dress):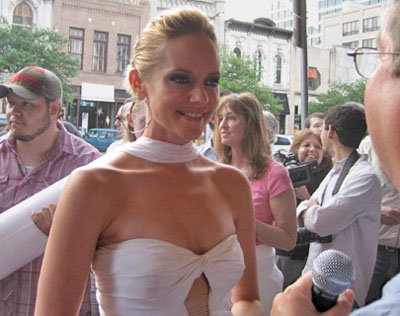 ­
That's Tim Basham with the microphone on the far right, interviewing Shelton. I like that I can see downtown Austin buildings in the background of these photos, but the crowds were a little distracting at times. I realize now why so many red-carpet events take place in front of those event-specific backdrops. (Check out these AFS photos from the recent Wendell Baker Story red carpet -- the Alamo South Lamar's lobby mural made a snazzy backdrop.)

Tarantino showed up next, and the fans on the other side of the red carpet went bananas. Again, you should look at my Cinematical article for the best photo I took of him, which I probably will not ever be able to top. This one isn't flattering but it's full of personality: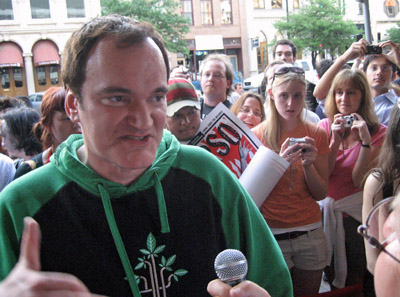 I forgot to ask him which clothing designer he was wearing.­ Tarantino was losing his voice, probably from all the recent interviews and the long red carpet, but still managed to answer Tim's questions clearly. I asked him what film he'd select to accompany Grindhouse if he were showing it as two-thirds of a traditional grindhouse triple-feature, but he said he couldn't pick just one.
That's it for Part 1 -- head over to Part 2 for more fabulous Grindhouse red-carpet photos, including Zoe Bell, Kurt Russell, Rose McGowan, and Robert Rodriguez.