Alamo Downtown, meet the Ritz Theater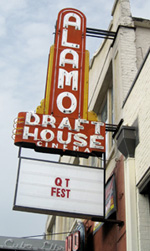 I'm still surprised by the news, which was posted to Alamo Drafthouse's blog this morning: Alamo Downtown will move into the old Ritz Theater building this summer. This will ease all our worries about what would happen to the theater when its lease was up -- rumors abounded that it would be prohibitively expensive for the theater to remain in the now-trendy warehouse district, and that perhaps it would have to close entirely, with its programming moving to Alamo on South Lamar.
I've only been to the Ritz once, about 8 years ago. I worked on a short Super 8 film called Cold Turkey, written and directed by my friend Tom Chamberlain, that was a Thanksgiving-themed Tarantino-esque scene shot with hand puppets. (We were doing gory Thanksgiving before Eli Roth ever thought of such a thing.) So I have nothing but fond memories of the Ritz. As Tim Trentham points out on Metroblogging Austin, the Ritz has its own long history in Austin -- it's been around since 1929 -- and I'm happy that it will be able to remain open as a theater. In its original incarnation, the theater could seat nearly 800 people, so there's plenty of room for Alamo there.
My one concern is that the Ritz is on Sixth Street. You know, Sixth Street, where the drunken frat boys love to party. I haven't felt unsafe walking alone from Alamo Downtown to a parking spot after a late movie, but Sixth Street is another matter entirely. I've never been comfortable around Sixth Street alone at night, and of course it's insane down there on weekend nights. However, if I have to start bugging various guys to walk me to my car, it's a small price to pay to keep an Alamo Downtown.
I'll miss the old Alamo Downtown -- I've been going there for nearly 10 years. My first movie there was the first Austin Powers movie (that would have been June 2007), and I was delighted that I could watch a movie and have a beer for the price of watching the movie at night at a multiplex. I'm looking forward to seeing the new combination of the Ritz and the Alamo.
Updated, 5:30 pm: The entry on Alamo's blog has been removed. Was it intended to be posted later this month ... or even April 1? But it's not outrageous enough for April Fool's. If you've got some light to shed on this mystery (Tim League, are you out there?), feel free to post a comment.
Update #2, March 21: The Alamo blog entry is live again. Apparently it wasn't supposed to be published until today. AICN has more details on the new theater sizes, etc.
Update #3, March 21: Check out Micah's photo at Reel Distraction showing what the Alamo Ritz might look like.