Borat scaled back - where to see it in Austin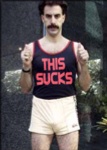 If you've been champing at the bit to see Sacha Baron Cohen's Borat: Cultural Learnings of America for Make Benefit Glorious Nation of Kazakhstan, you probably bought advance tickets to one of the Alamo Drafthouse's screenings. You will also need to get a refund for those tickets from the Drafthouse South Lamar and Village.
Due to an unexpected rollback from Borat's distributor, Twentieth Century Fox, screenings all over Austin were cancelled as the film's release at some venues has been postponed until next week. Included are Austin's cinema mainstays like the Alamo Lamar and Village though not, apparently, the Alamo Lake Creek. (I assume this is because the Lake Creek Alamo is under different ownership and management than the others, though why Fox would choose to keep the screenings at the Lake Creek and not the others is a complete mystery.)
The Village and Lamar theaters promise "a stellar preshow of rare and imported Borat clips" if you hold out to see the film there next week while the Lake Creek seems to have acquired a liquor sponsor. They advertise that customers 21 and over will receive a free shot of Austin's own Tito's Vodka at the 7 o'clock shows this Friday and Saturday.
If the Drafthouse isn't your thing, screenings of Borat are still listed on Google movies this weekend at the Regal Gateway 16, Cinemark Tinseltown USA Pflugerville, Cinemark Barton Creek Cinema, and Regal Metropolitan 14. Call ahead to make sure those screenings actually exist.