Review: Extract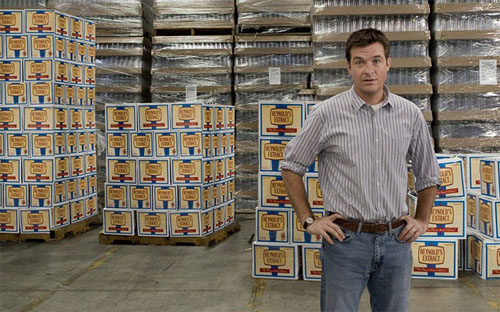 Austin has a special place in its collective heart for Office Space, and no surprise -- not only was it filmed in town, there are plenty of cube farms were every character is represented, where TPS reports line the cube walls, and people know the mere mention of a stapler will invoke a quote-athon. Ten years later, Mike Judge's latest is the ultimate companion film about the other side of the desk, Extract.
Jason Bateman plays Joel, who's considering selling the flavor extract business he started from the ground up, but a freak accident and some bad judgment put his life into a tailspin. Joel suddenly finds himself battling lawyers, lotharios, the world's most annoying neighbor and a con artist, when all he really wants is some quality time with his wife.
Bateman, whose comic genius lies in his uncanny "straight man" abilities, is made for the role of the hapless Joel. But what makes him shine is the supporting cast, including Kristen Wiig (Adventureland), Beth Grant (No Country for Old Men, Jericho), J.K. Simmons (Juno, Spider-Man), and Clifton Collins Jr. (Sunshine Cleaning, Star Trek). Every one of them you'll recognize, both as outstanding performers and the characters they play, including an uncredited performance by Judge himself. Ben Affleck again proves he's not just a pretty face, but one that does best in snarky comedy.
The most outstanding scene with the uncanny David Koechner as Nathan, the world's most persistent, oblivious neighbor you never want to know. Koechner is at risk for being the most recognizable actor in the "that guy" category; he's got 25 credits in the past two years alone, not including in production credits, including The Office (U.S.) and Get Smart, as well as Thank You for Smoking and The 40 Year Old Virgin. Every time, the guy has the timing and delivery that elevates even the most mundane comedy; in Extract, he's unstoppable. Literally.
Perhaps the weakest part of the film is Joel himself. The character has so little spine he can't say no to anyone, which gets irritating, especially towards the end. Then again, Judge likes his characters lovingly flawed, and that certainly fits Joel. None of the characters are villainous, even the criminal.
It's unclear if Extract will surpass Office Space in the box office, but it's just as worthy, with memorable characters from your own life. It certainly surpasses most of the comedies of recent memory.