TFPF Grants Provide a Sneak Peek into Austin Film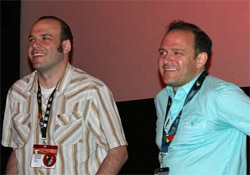 Austin Film Society has just released the list of grant recipients for the Texas Filmmakers Production Fund grants this year. The total amount to be awarded in grant money and products/services is $102,000, with an additional $10,000 in travel grants for Texas filmmakers who travel to major film festivals.
The list includes a number of familiar names on the list as well as some interesting new filmmakers. And the really cool thing about this list? It's a tantalizing sneak peek at what we might be seeing from Texas filmmakers in the next year or two. For example, I've been wondering what Kyle Henry's been doing after his film Room, which premiered at Sundance in 2005, and now I know he's working on Fourplay, a four-shorts-in-one feature ... for which he received a $7,000 grant.
Zombie Girl: The Movie, the documentary about young filmmaker Emily Hagins, is available on SnagFilms for free this week ... and the doc's co-director Eric Mauck just received a $7K grant for his next film, The Road to Livingston, about family members visiting death-row inmates. He and Chelsea Hernandez are co-directing The Road to Livingston and received the award together.
The two largest grants were for $10,000, one of which went to David Modigliani for his documentary in progress, 61 Bullets. Modigliani's previous film, Crawford, premiered at SXSW 2008 and is also available on SnagFilms. I grew up in Louisiana and worked in the state Capitol building, so I'm extremely interested this movie about attempts by Carl Weiss's son to clear his father's name in the assassination of Huey P. Long.
Berndt Mader, whose documentary The Road to Tlacotepec played Austin Film Festival 2008, won the other $10,000 grant for his upcoming narrative feature Five Time Champion. The film was shot in Smithville and the cast includes Friday Night Lights actress Dana Wheeler-Nicholson, who has been a very public champion of Texas film incentives in the past year.
Local filmmakers/brothers David and Nathan Zellner, pictured above (Goliath, The Overbrook Brothers) received an $8,000 grant plus film stock for their next feature, Pardon My Downfall. It's described as a mockumentary about a touring country band, which sounds perfect for the Zellners' raucous brand of humor.
Filmmaker/editor Sandra Guardado, whom I went to film school at UT with back in the day (hi Sandra!), received a $3,000 grant for Two Trinities, a documentary she's working on. And PJ Raval, who co-directed the documentary Trinidad and has worked as cinematographer on a number of excellent films, received a $5,000 grant plus film stock and lab services for a film listed as Untitled Gay Retiree Documentary. Intriguing.
Also intriguing is The Yogurt Shop Murders, the winner of a $4,000 grant ... Austinites can easily guess the subject matter. The filmmaker is Claire Huie, who worked with Rene Pinnell on the documentary The King of Texas.
The grant recipients weren't only from Austin, of course, but filmmakers from around the state. A full list is available on the Austin Film Society website. I'm sure we'll be seeing some of these films at local film festivals within the next year ... and perhaps at a few larger festivals, too.