Review: Bandslam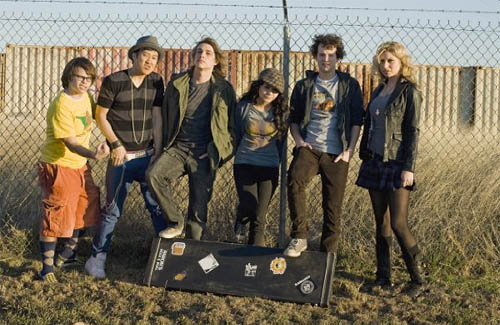 At first glance, Bandslam might appear to be just another "new kid in school trying to fit in," but it's far from the stereotypical outcast story. Will Burton (Gaelan Connell) is a high school who just wants to be left alone. Instead he attracts others to him, including emo girl Sa5m ("the 5 is silent"), played by Vanessa Hudgens in a departure from her High School Musical feature roles, and former cheerleader Charlotte (Aly Michalka) who's intent on forming a new band. Turns out there's a high-school battle of the bands competition, Bandslam, that's "Texas high school football big."
Although not as candy-coated as High School Musical, there's still something slightly odd about the minimal presence of teachers in a high school in New Jersey, not to mention the absence of drug and gang activity. However, serious issues are addressed in a realistic manner once it is revealed why Will welcomes the opportunity to change schools.
The presence of strong female roles is refreshing, especially that of Will's protective mother portrayed beautifully by Lisa Kudrow (Jette is convinced she was channeling Teri Garr). Personally I was pleased that music featured prominently in this film –- check out our Slackerwood Podcast #10: 'Bandslam' and Sounds Under Radio for more on this topic -– and included ska as well as rock classics such as David Bowie, Cheap Trick and Velvet Underground. David Bowie is a fan of director/writer Todd Graff's previous film, Camp, and appears in a cameo role in Bandslam.
The humor and most of the music transcends the generation gap. Bandslam is wholesome and funny enough for both teens and their parents to enjoy, and a pleasant film to close out summer break.
Austin Connection: The movie began principal photography around Austin in February 2008 and continued through the South by Southwest Music Festival. Local bands Joker and The Daze as well as hip hoppers Zeale and Phranchyze are featured in the Bandslam competition. Also appearing in the film is local DJ Bobby Bones of the 96.7 KISS FM morning program, "The Bobby Bones Show."
Notable Austin Locations: The high-school scenes were shot at McCallum High School and Austin School for the Deaf, and the battle of the bands competition was located in Hogg Auditorium at The University of Texas. Filming also took place at Austin Studios.