Movies This Week: May 22-28, 2015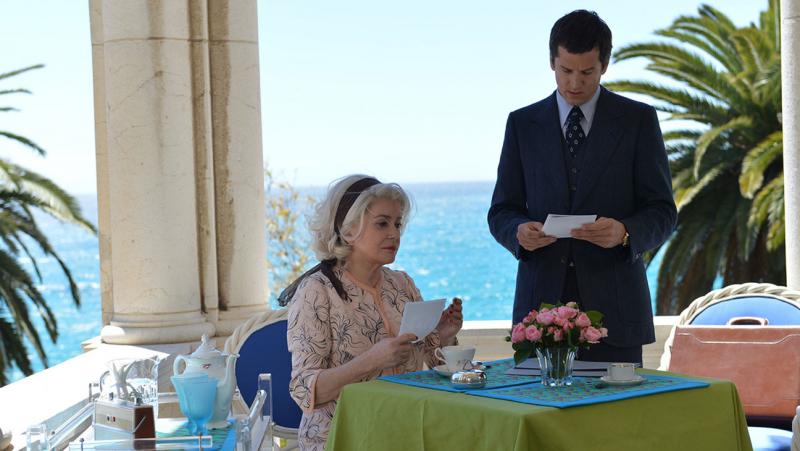 It's time for my final Movies This Week post here at Slackerwood. I just want to thank Jette for bringing me on to contribute to this site over the last two years. I've really had a great time covering the local repertory scene and highlighting each week's new releases here in Austin. I've got one last review that will run over the weekend and then next week this site will cease publishing new material. I hope that you've found this a valuable resource and I'm going to leave you with a new one.
My good friend Zack McGhee is one of the biggest cinephiles I know. We met many years ago when we both lived in the Dayton, Ohio area and he worked not only for the Dayton Daily News, but also was a projectionist at the Little Art Theatre. Somehow, both of our jobs brought us here and we've been loving the film scene in Austin for years now. Not only does Zack host the My Favorite Movie podcast (on which Jette was a recent guest), but he also just launched the Austin Rep Calendar online. If you bookmark his site, I guarantee you that it will make your moviegoing life in Austin a more enjoyable experience, especially since it allows you to sort by screenings projected on film and gives you three weeks of listings so you can plan ahead.
A cursory glance at the calendar shows that there is plenty to be excited about, this week and beyond. The Paramount Summer Classic Film Series is, of course, kicking off another season tonight. Casablanca and Manhattan both screen in 35mm this evening and everything screening at the Paramount itself is projected on film (the Stateside screenings, however, are all digital). Tomorrow afternoon, they've got Brad Bird's The Iron Giant as a preview of their Family Film Festival and then evening shows of Sunset Boulevard and Chinatown for Saturday and Sunday.
Austin Film Society has more Jess Franco on deck with 1971's She Killed In Ecstasy tonight and again on Sunday afternoon and another chance to see Vampyros Lesbos on Sunday as well. The AFS site notes that these presentations are for a mature audience. Richard Linklater returns on Wednesday night for his "Jewels In The Wasteland II" series with Eric Rohmer's Summer (Le Rayon Vert). This incredible series is going to wrap up next week, but I have it on good authority that Mr. Linklater is already preparing for the third installment of the series for next year and will be focusing on films from 1987-1989 at that time.
As always, there's a wide variety of specialty titles across the Alamo Drafthouse locations this week. Alamo South Lamar has Tommy Wiseau coming in for multiple 35mm screenings of his cult classic The Room from tonight through Sunday. The theater is also screening The Sandlot in 35mm on Saturday and Sunday, and gives you several chances to catch The French Connection on the big screen for free if you're a Victory member. Plus, you can catch some late-night showings of a new vampire film called The Unwanted over the next week.
The Alamo Ritz continues its Orson Welles retrospective with Falstaff (aka Chimes At Midnight) and some collections of his unfinished films playing on Saturday and Sunday. Girlie Night is showing Pretty In Pink on Tuesday night, followed by a 35mm print of Stuart Gordon's From Beyond for Terror Tuesday this week. On Wednesday night, Andy Warhol's Chelsea Girls will be presented in a 16mm double projection format for Experimental Response Cinema. Alamo Lakeline also has the new 4K DCP restoration of Grey Gardens on Saturday and Sunday for Afternoon Tea.
Those are the highlights over the next week. After Slackerwood shuts down, I plan to continue freelancing for Austin 360 and Paste Magazine and who knows where else I might pop up. Hopefully we'll cross paths at the movies soon, thanks for reading!
Movies We've Seen
In The Name Of My Daughter (pictured above) - The latest feature film from French auteur Andre Techine (Wild Reeds, Changing Times) reunites him with Catherine Denueve, who portrays Renee Le Roux, a casino magnate whose daughter disappeared in late 1977. While this is a fictionalized account of the actual events, it sticks closely to the real "casino wars" that occured on the French Riveria where mafia members attempted to launder money and, ultimately, try to take over and run the casinos themselves. Despite the fact that the film is a little overlong and totally switches gears to become a courtroom drama in the last 20 minutes, this is worth watching for the terrific performances and stunning cinematography. I'll be back with a full review this weekend. (Regal Arbor)
Poltergeist (2015) - There are so few original ideas left in Hollywood anymore, it's no surprise to see Tobe Hooper's 80s horror classic rebooted for a new generation. It's even less appealing to me knowing that the screenwriter of Oz, The Great And Powerful and Rise Of The Guardians adapted the screenplay, but the cast (including Sam Rockwell and Rosemarie DeWitt) is pretty hard to dispute. Variety calls it "generally entertaining yet fundamentally unnecessary," which is what I deduced from the previews. Come back this weekend to see what Mike thinks of the movie in his review. (wide, available in 2D and 3D)
Tomorrowland - Director Brad Bird has proven his strength with animated features like The Iron Giant (playing this weekend at the Paramount) and Pixar's The Incredibles and successfully made the leap to feature films with Mission: Impossible - Ghost Protocol. Bird co-wrote the script for this futuristic adventure flick with Lost's Damon Lindelof, getting inspiration from Walt Disney's theme park. George Clooney and Hugh Laurie lead the cast for this PG-rated adventure that should gain a fair amount of box office from being one of the few family-friendly titles in the marketplace. It certainly hasn't won over critics, though, with a pre-release score of just 52% on Rotten Tomatoes. Jette reports in her review that it's "often a breathtakingly gorgeous movie with charming performances, but the ending is so unabashedly lesson-driven and heavy-handed that it's difficult to remember anything but its flaws and missteps." (wide, also available in digital IMAX)
Also Opening in Austin
5 Flights Up - British director Richard Loncraine (Richard III, Wimbledon) directs Diane Keaton and Morgan Freeman in this indie, as they portray old married couple. Over at the A.V. Club, Mike D'Angelo's review says, "...if 5 Flights Up is worth seeing, it's primarily for the pleasure of Keaton and Freeman's company, plus maybe for some tips on buying and selling an apartment." (Southwest Theaters - Lake Creek, also available on VOD)
Drunk Wedding - Another Paramount Insurge title that is part of an exclusive deal with the Alamo Drafthouse, this is the story of a destination wedding gone wrong. It's yet another film that wrapped production back in 2011 and has been sitting on a shelf waiting for somebody to care about it. I sure hope that, along with Area 51 last week, the Alamo got something really good from Paramount for partnering up to give some dedicated screen time to a couple of otherwise straight-to-DVD turds. (screening once a day at all Alamo locations, also available on VOD)
Saint Laurent - Fashion maverick Yves Saint Laurent has been the subject of a documentary and a previous feature film (that was sanctioned by his estate) in the last few years. I'm not sure that American audiences were really clamouring for another movie about his life and times, but Sony Classics must have thought differently. This time around, director Bertrand Bonello focuses on his life from 1967 to 1976, when he was at his creative peak. The movie itself is suffering from very mixed reviews, sitting at just 55% on Rotten Tomatoes. (Regal Arbor)
Slow West - Michael Fassbender and Kodi Smit-McPhee star in this Western, which is receiving a combined limited theatrical and VOD release from A24. Over at the Austin Chronicle, William Goss praises the movie in his review, calling it "a folksy fable defined equally by its whimsy and wistfulness." (Violet Crown Cinema, also available on VOD)