Review: Pitch Perfect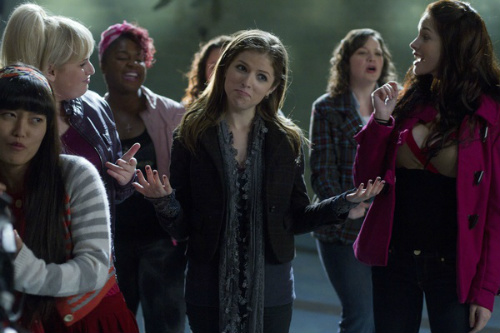 Barden College must be the ultimate blow-off school. This fictional institution is the setting for Pitch Perfect, and none of the main characters seem to attend any classes (although I did catch a quick glimpse of one character reading a textbook). For our protagonists in this musical, college is all about a cappella.
Oscar nominee -- and Tony Award nominee, lest you doubt her singing chops -- Anna Kendrick (Up In the Air) stars as Beca, an angsty newcomer to Barden. Her hobby is creating audio mashups, and her dream is to be a DJ/record producer. Her dad, a professor at Barden, is making her attend the school for a year before he'll finance any trip to L.A. Dad tells her to get involved with some campus activity, so she auditions for the Barden Bellas, the all-girl a cappella group.
Her new friend/obvious love interest Jesse (Skylar Astin, who was in Spring Awakening on Broadway) makes it into the Treblemakers (puns, this movie haz them), the award-winning male singing group led by the annoying Bumper (Adam DeVine). The feud between the Barden Bellas and the Treblemakers is the main conflict of Pitch Perfect. Will the relationship between Jesse and Beca survive the antagonism between their groups? Of course it will. This movie isn't really breaking any new ground here.
Controlling Aubrey (Anna Camp, The Good Wife, The Help) and amenable Chloe (Brittany Snow) can't be too selective in their auditions for Barden Bellas. Along with Beca, the new bunch of recruits include murmuring Lilly (Hana Mae Lee), Cynthia Lee (Ester Dean), and sexually suggestive Stacie (Alexis Knapp). These Bella singers aren't really given a chance to go beyond type. Cynthia Lee is the butt of the lesbian jokes, Stacie is the "slut" of the group and there's no way the almost silent Lilly would ever make it into an a cappella group IRL. Here she mainly serves as a way to get laughs.
Rebel Wilson's performance as Fat Amy, another new member of the Barden Bellas, might be worth the price of admission alone. She plays Amy as completely self-assured and comfortable in her own bones. She's also extremely hilarious. I don't know how much was improv or Kay Cannon's screenplay, but Wilson pretty much owns the movie with her quips.
If you are a fan of The Sing-Off on NBC, Pitch Perfect is basically like a dramatized version of that show, but with a far more overproduced sound. I went home afterwards and listened to some Pentatonix to remember how great a cappella pop can sound without too much studio interference.
Despite the flaws, Pitch Perfect is still a fun movie. My friend really enjoyed it, and the audience reaction at our screening was largely positive. People would clap after songs and Rebel Wilson got some huge laughs -- so did Elizabeth Banks (who also produced the film) and John Michael Higgins, who show up as vocal competition commentators.
Note: I couldn't really find a place to stick this in, but be warned that there are two instances of puking in the film. It's super-fake-looking, but it's there.