TAMI Flashback: In Memory of Lost Austin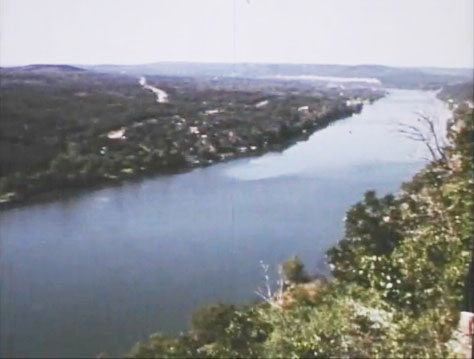 This article is the last for Slackerwood in a series about the Texas Archive of the Moving Image (TAMI) video library. For an overview of the TAMI site, refer to this article.
As Slackerwood ends its long and successful run, so does my favorite Slackerwood beat, the Texas Archive of the Moving Image (TAMI) Flashback series. In this final installment, TAMI Flashback returns to the place and time where it started: mid-20th century Austin, with two videos that capture the River City in two very different eras.
Produced by the Austin Chamber of Commerce in 1943, Austin the Friendly City shows us a friendly city, alright. The film opens with scrolling text that only someone drinking the Chamber of Commerce Kool-Aid could have written:
Austin is one of the loveliest and most advanced cities in the nation. So outstanding, indeed, that each year, hundreds of families move here in order to benefit from her fine schools, her excellent business conditions, her friendly atmosphere and to enjoy the spell of beauty which the enchanting tower lights cast over the towering oaks and moss-covered walls of a city rich in historical heritage.
Yes, Austin was so outstanding that hundreds of families moved here every year. (Go ahead and laugh, modern Austinites -- or maybe cry.)
The film then introduces us to one such family, Mr. and Mrs. John Smith (this being 1943, Mrs. Smith has no first name) and their children, Billy and Betty. And boy, is Austin ever friendly to the Smiths! They attend a chamber of commerce orientation session and even meet the governor, who gives Billy his hat! (I suspect most newcomers weren't welcomed this warmly.)
As the Smiths get to know their new city, Austin the Friendly City takes us on a sightseeing tour of the expected places of interest -- the Capitol, the University of Texas Tower, museums, moonlight towers, Barton Springs, Mt. Bonnell (with a view of totally undeveloped hills) and all the usual suspects. But the film also highlights odd and far less interesting places, among them the Texas Federation of Women's Clubs and a rabies research lab at the Texas Department of Health.
While a great time capsule, Austin the Friendly City is also very much a product of its time -- and not in a good way. Unsurprisingly, everyone in the film is lily white. So white, in fact, that the audience would never know people of color lived in Austin if not for a painfully myopic statement from the narrator: "Austin has prospered as a Christian community; 94 white and 44 colored churches of every denomination serve the spiritual needs of our citizens." Apparently no Jews, Muslims or other non-Christians lived in Austin, either.
Like Austin the Friendly City's racial and spiritual worldview, the soundtrack is also quaintly archaic. Austin had a thriving local music scene in the Forties, but you wouldn't know it from the film's generic and irrelevant background music, a stuffy old-time mix of marches, symphonies and patriotic songs. Either the Chamber of Commerce folks had never heard of Kenneth Threadgill or been to the Skyline Club or Victory Grill, or they thought popular music was just too edgy (or too ethnic) for the film's presumed target audience of boring white Christian families.
[View original at Texas Archive of the Moving Image.]
A far more accurate picture of Austin is Austin: The View from Here, a 1965 film about the city's struggles with growth, urban planning and historic preservation.
Produced for Austin's KTBC-TV by iconic local media figures Cactus Pryor and Gordon Wilkison, Austin: The View from Here is a lament over Lost Austin and a plea for careful growth management. Local experts praise Austin's natural beauty and occasionally great architecture, but are sharply critical of the city for demolishing or neglecting many of its historic buildings and paving over its green spaces. ("Quite frankly, I weep for it," says University of Texas architecture professor Patrick Horsbrugh, calling Austin "a great concept going to waste.")
In person-on-the-street interviews, Austin residents echo the experts' complaints, if in less academic language. These ordinary Austinites seem less concerned with planning for growth than with improving Austin's uglier areas, especially the decaying neighborhoods in East Austin. The film also features city officials such as beloved Parks and Recreation Director Beverly Sheffield, who emphasize the need for parks and environmental renewal.
There are a lot of talking heads in Austin: The View from Here, but it's also stunningly shot and a fantastic visual record of Sixties Austin. From the glistening waters of Barton Springs to the view from Mt. Bonnell (sadly, already partially developed) to a surprisingly clean and inviting Hancock Center, Austin never looked more dazzling.
However, Austin: The View from Here isn't afraid to show the worst of Austin's urban blight. Burnet Road is a sign-polluted mess. (It's now a sign-polluted mess with luxury condos.) Sixth Street is a trashy strip of crumbling old buildings, years before its renaissance as a bustling entertainment hub. Neighborhoods are full of rotting shacks, traffic clogs Congress Avenue, and parking lots cover the sites of long-gone historic buildings. But the most distressing images may be the bulldozers knocking down trees along Barton Creek.
For all its cinematic beauty and aching nostalgia, Austin: The View from Here is hard to watch. It's bad enough to see gorgeous hills now covered in garish McMansions and iconic buildings now razed; even worse is the thought that Austin will lose much more of its beauty and history in the future. Austin's development battles never end, and Austin: The View from Here is a timeless film with a timeless message, as relevant now as it was in 1965.