Noir City Austin 2015: Friday Dispatch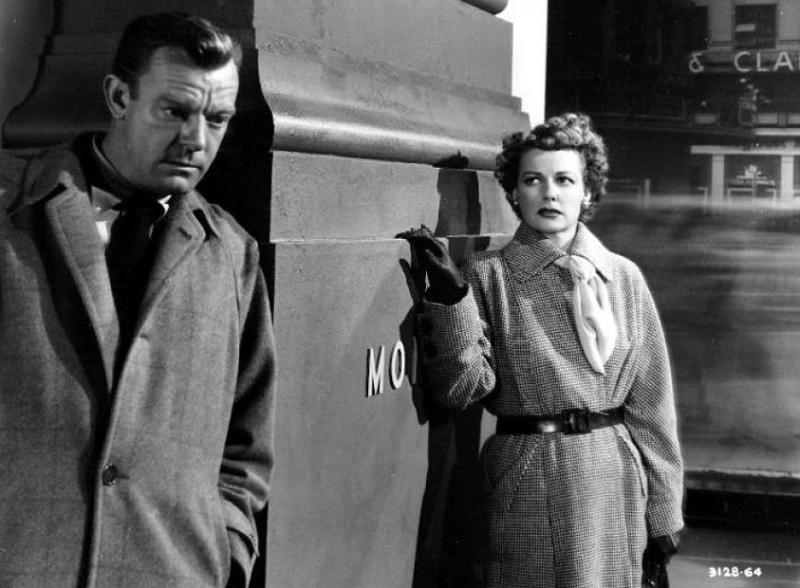 Noir City got well underway Friday night at the Alamo Drafthouse Ritz after too long of a wait since last year's inaugural festival. The three-day fest features a dizzying collection of film noir lost treasures, almost all of which are unavailable anywhere else. Friday's selections included Woman on the Run and Street of Chance.
Eddie Muller, president of the Film Noir Foundation (my interview), was on hand once again to kick off the festival, introduce each movie and praise both the Drafthouse and the attendees.
"I'm a huge supporter of the Alamo Drafthouse and what they do to keep the moviegoing experience alive," said Muller. "Movies are essential to what happens in the culture and our efforts to preserve these films are helped enormously by those of you who continue to come to the movies."
The festival kicked off with the Film Noir Foundation's latest pride and joy, Woman on the Run (1950). Starring Ann Sheridan, the film tells of a San Francisco artist (Ross Elliott) who witnesses a murder one night while walking his dog. After he flees from the police, his estranged wife (Sheridan) embarks on a citywide search for her husband.
This was a gripping film from start to finish. The portrait of a fractured marriage, the excellent use of San Francisco locales and the great plot twist midway through, made for quality noir storytelling. It was especially great to see Sheridan in one of her most diverse roles. Whenever I think of Sheridan, I always go back to her turn as a pampered stage actress in the hilarious The Man Who Came to Dinner (1942) where she manages to steal scenes from both Bette Davis and Monty Woolley. Woman on the Run gives Sheridan the kind of role that Davis herself would have killed for, and its easy to see why. The central character is cynical, sarcastic, strong and steadfast. Sure, a number of actresses could have conveyed those emotions easily. Yet none of them could have played it quite like Sheridan.
Woman on the Run's bumpy road to restoration is full of tragedy and luck with Muller discovering a lone print of the film, which was destroyed in a fire at Universal Studios, then resurrected by sheer luck thanks to a negative remaining at the British Film Institute. This summer, the long-lost film will make its appropriate debut when it screens as part of Muller's summer series for TCM titled "Summer of Darkness." I sincerely hope everyone reading this will watch it!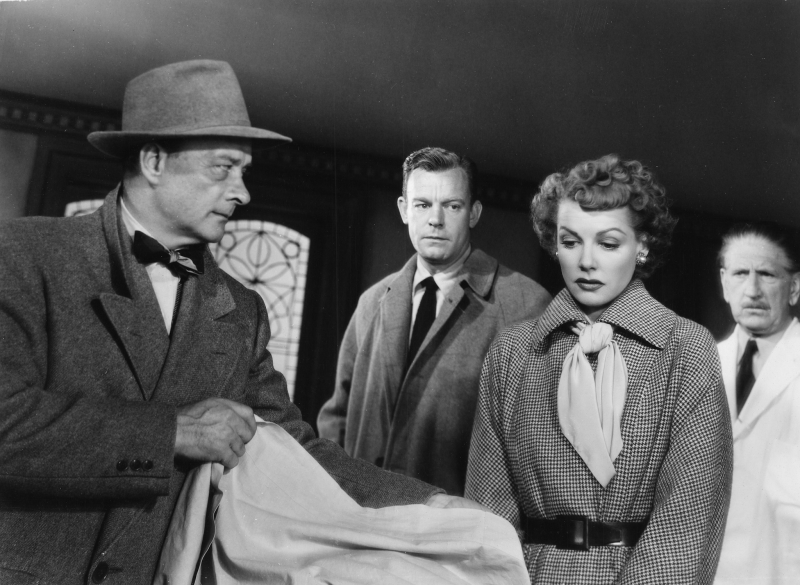 The second film of the night, Street of Chance (1942), led Noir City's theme this year of screening films based entirely on the works of pulp novelist Cornell Woolrich. One of the masters of the noir genre, this year's Noir City here in Austin represents the first collective showcase of the writer's work by the Film Noir Foundation.
Street of Chance stars noir favorite Claire Trevor and in a rare leading role, Burgess Meredith in a tale about an ordinary man who, after escaping a harrowing accident, discovers he's lived the past year as someone else thanks to a bout of amnesia. In order to clear himself of a crime he didn't commit, he must venture into an old mansion where a recent murder took place and a lovesick maid (Trevor) resides.
Street of Chance is a perfect Woolrich story to begin with, in that it offers up the hard-to-capture feeling of being trapped in a nightmare. The story quickly swerves in many different directions, yet each one is so fascinating that it leaves the viewer feeling more invigorated than exhausted. Woolrich knows how to spin a yarn that contains layer upon layer and he never lets anyone know what he's up to. The ahead-of-its-time camera work and Meredith's finely tuned performance contribute to making Street of Chance one of those films noirs you will remember for years to come.