Movies This Week: April 17-23, 2015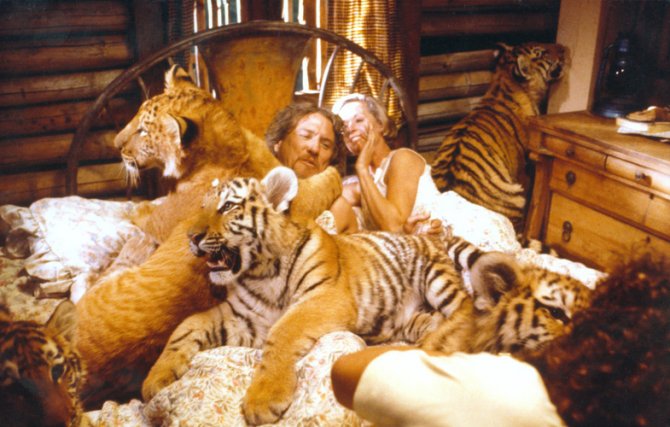 The Austin Film Society's "French Noir" series continues tonight with a Free Member Friday screening at The Marchesa of Henri Verneuil's The Burglars, starring Jean-Paul Belmondo, Omar Sharif, and Dyan Cannon. Based on the pulp novel by David Goodis, tonight's digital screening is free for all AFS members, and the movie will also screen on Sunday afternoon at The Marchesa.
Monday night, SXSW alumni Above All Else (Don's review) is presented by The Texas Observer. Austin filmmaker John Fiege and two subjects from the documentary about the Keystone XL pipeline protests in East Texas will be on hand for a post-film panel discussion with Forrest Wilder, associate editor of The Texas Observer. The current Essential Cinema series, "Songs Of The South," continues this week on Tuesday night with a screening of To Kill A Mockingbird. Richard Linklater is taking the week off from the new installment of "Jewels In The Wasteland," but it will return next week.
Over at the Violet Crown Cinema, the "Asian Movie Madness" series features Patrick Leung and Corey Yuen's Hong Kong classic Blade Of Kings this week. This 2004 feature was nominated for four Hong Kong Film Awards and is a sequel to The Twins Effect. Donnie Yen, Jackie Chan and Jackie's son Jaycee Chan star in this action-packed film that will play Tuesday night.
Checking in at Alamo Drafthouse, here are some of the best specialty showings scheduled over the next week. Alamo Slaughter Lane has digital showings of James Cameron's Aliens on Sunday and Tuesday. The theater will also be hosting an open-caption screening of Furious 7 on Monday evening for audience members who are deaf or hard of hearing. Alamo Village has Hal Needham's 1977 Smokey And The Bandit on deck this week, with showtimes on Sunday and Wednesday.
The Alamo Ritz is warming up their 70mm projector for a handful of rare Ultra Panavision 70mm screenings of It's A Mad, Mad, Mad, Mad, Mad World on Saturday, Sunday and Wednesday. This is one of those super widescreen films that deserves a big-screen viewing. In fact, Alamo had to track down special lenses to project this classic because of the extra wide aspect ratio. The Orson Welles retrospective is continuing with 1946's The Stranger on Saturday afternoon and 1947's The Lady From Shanghai on Monday night. Also booked this week, Andrei Tarkovsky's 1975 non-linear feature The Mirror. Sunday's screening will be hosted by author Geoff Dyer and there will also be unhosted screenings on Tuesday and Thursday afternoons.
The Alamo South Lamar is using Raw Milk Appreciation Day (yes, really) to team up with Antonelli's Cheese Shop for a special event to accompany Truffaut's masterpiece, Jules And Jim. The movie will be paired with four cheese plates included with every $35 ticket, each one served with a different wine or beer. They've also got a special 21+ screening of True Grit on Sunday night featuring John Wayne's son Ethan Wayne in attendance along with world renowed bartender Francesco Lafranconi. Each ticket includes a sample of The Duke Straight Bourbon and will offer cocktail specials developed by Francesco. After the movie, there will be a Q&A with Ethan and then all attendees can head to The Highball for more drink specials. Monday brings a few 4/20 shows of Half Baked and Tuesday night will have two special screenings of Barry Gordy's The Last Dragon with Taimak (Leroy Green) for a live Q&A. Wednesday night, South Lamar is hosting two screenings presented by Austin musician and artist Chepo Pena. He's picked two of his favorite films, Airplane and Star Trek: First Contact. All box-office proceeds from both movies will benefit Chepo's ongoing cancer treatment.
Yet again, loads of free screenings of Hitchcock's The Birds are going on this week at various Alamo locations exclusively for members of their Victory rewards program. Check the website listing for dates and venues.
Movies We've Seen
Ex Machina - This British sci-fi thriller marks the directorial debut of Alex Garland, the screenwriter of 28 Days Later and Sunshine. Domhnall Gleeson (About Time) stars as a computer coder who gets wrapped up in an artificial intelligence experiment at the secluded homestead of his employer's CEO (Oscar Isaac, A Most Violent Year). Mike says "Ex Machina is richly beautiful and smart, thought-provoking sci-fi ... that only suffers from a viciously sexist underlying theme." Look for Mike's review this weekend. (Alamo Slaughter Lane, Alamo South Lamar, Regal Arbor, Violet Crown Cinema)
Roar (pictured above) - Noel Marshall recruited his family (including his wife Tippi Hedren, stepdaughter Melanie Griffith, and sons John and Jerry) to craft this mindblowing film about a family who lives with wild animals in their home, including over 100 lions, tigers and cheetahs. The film took 11 years to produce and resulted in the severe injuries of over 70 crew members. A massive bomb upon its original release in 1981, the movie has been rescued from obscurity by Drafthouse Films, which is reissuing it this weekend at select theaters across the country. Frank contributed a great piece about the movie earlier this week and says that the movie has "a definite voyeuristic quality that no other movie can ever come close to possessing." (Alamo South Lamar)

Also Opening In Austin
Child 44 - Even with a strong cast that includes Tom Hardy and Gary Oldman, it's never a great sign when a studio holds a movie back from critics in advance of its release. This thriller, based on Tom Rob Smith's 2008 novel, takes a fictionalized approach to the story a real-life Russian serial killer. Summit has done very few press screenings across the country on this title and they're only pushing it out to about 500 screens this weekend, which doesn't exactly illustrate confidence. Over at The Dissolve, Vadim Rizolv reports that "everyone overacts, leaning heavily on moments of unexpected shouting" and that "the film ends up feeling like a long pilot for a series about the Moscow homicide department." (Alamo South Lamar, AMC Barton Creek, Cinemark Hill Country Galleria, Regal Gateway, Tinseltown North)
Monkey Kingdom - Every year for Earth Day, Disney releases a new nature documentary. This time around, Tina Fey narrates the lives of monkeys in Sri Lanka. Variety's Andrew Barker calls it the "cheekiest, funniest, and most purely entertaining entry in the Disneynature series." (wide)
Paul Blart: Mall Cop 2 - Kevin James reprises his role in what must be one of the most unnecessary sequels of all time. There are not many reviews filed for yet (I know you're shocked, but this one wasn't screened in advance either), but within 24 hours of release it had a jaw-dropping 0% rating on Rotten Tomatoes. (wide)
True Story - James Franco and Jonah Hill step away from comedy for this based on a true-life drama about a New York Times reporter who befriends a suspected murderer. There are some pretty mixed reviews out there for this one, but even the negative reactions often make comparisons to Capote's In Cold Blood, which could make this of interest. (Alamo Lakeline, Alamo South Lamar, Cinemark Hill Country Galleria, Regal Arbor, Tinseltown North, Violet Crown Cinema)
Unfriended - SXSW hosted the US Premiere of this "found footage" horror film earlier this sSpring. Developed by Russian filmmaker Timur Bekmambetov (Night Watch, Day Watch, Wanted), the entire movie takes place on a computer monitor with the terror unfolding through Facebook, Skype, and instant messages. (wide)