Box-Office Alternatives: Hitchcock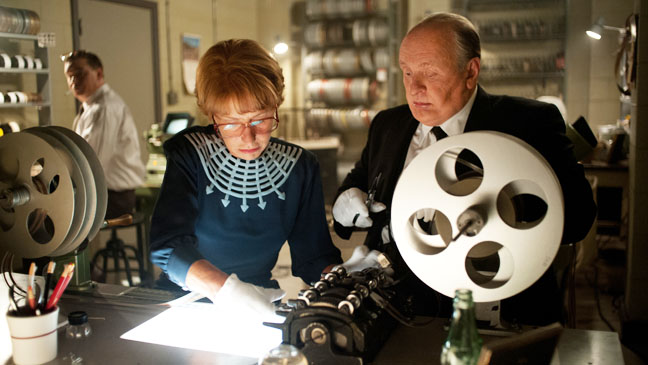 Helen Mirren is perhaps the only actress of her generation who can come close to matching Meryl Streep in terms of still finding quality film roles and delivering spellbinding performances. This week, she takes on the role of a real-life Austrian immigrant, seeking justice for her family by reclaiming a lost piece of art stolen during WWII, in the drama Woman in Gold (2015). Early reviews have been mixed, yet Mirren, as usual, has been showered with praise for another stunning portrayal from the Oscar winner.
For all the nuance that Mirren no doubt brings to Woman in Gold, it surely won't be able to hold a candle to her finest post-Queen role, as the wife of the master of suspense in Hitchcock (2012). Based on the book by Stephen Rebello, Hitchcock chronicles Alfred Hitchcock's (Anthony Hopkins) long journey in bringing the now-classic Psycho (1960) to the screen. The film depicts the legendary director's battles with studio heads, censors and actors over the shocking content of the movie as well as the strain it put on the relationship between his wife/collaborator Alma Reville (Mirren).
Like many films based on the making of Hollywood movies and the people behind them, Hitchcock spent many years in development (with the two leads firmly attached) while producers decided which story they wanted to tell. In the end, they opted for both.
The first is a chronicle of the many roadblocks and obstacles Hitchcock faced in bringing Psycho to the screen. It begins with the creative crisis the master felt following the success of North by Northwest (1959), then leads to his discovery of the Robert Bloch novel and his immediate obsession with seeing it come to life. With many of the vital facts coming courtesy of Rebello's book, and with plenty of obscure details that only the purest of Hitchcock-philes would know, the film does a great job in showing how one of the most famous movies of all times was created.
Some poetic license is taken (this is Hollywood after all) with the suggestion that Hitchcock was losing his grip on reality, shown through the various imaginary encounters Hitch has with Ed Gein (Michael Wincott). Balancing this, though, are the fun parade of faces cast as many of the key players in Psycho's production -- not least of all Scarlett Johansson as Janet Leigh, who, though she looks and sounds nothing like her, manages to embody the actress perfectly.
The second story in Hitchcock is that of the marriage between Hitch and Alma. Yes, everyone's heard the stories of Hitchcock's supposed maniacal obsession with the actresses he cast, but Hitchcock is one of the rare films that actually cares enough to spotlight the deep love and devotion between the director and his wife. In real life, Alma was not just Hitchcock's confidant, wife and mother to their child, but she was also his most fruitful collaborator. From approving properties for a film to actually rewriting scripts and exercising her uncanny talent at editing, Alma was as responsible for her husband's career as he was.
Hitchcock is one of the few instances which manages to show what an instrumental presence Alma was in Hitchcock's life. Explored with great touches of devotion, yet slight unhappiness, Mirren perfectly captures what it's like to be a woman married to and living in the shadow of greatness. Hopkins naturally does great work going back and forth between dry humor and silent frustration as the title character, but it's Mirren that gives Hitchcock its true heart in the midst of classic Hollywood tidbits and well-written one-liners.

Hitchcock was not the awards juggernaut many had expected it to be, which is a shame given the film's many plusses. Mirren did generate a great amount of Oscar buzz for her work, however, and was a fixture at virtually every awards ceremony that season. Yet the film's sole nomination at the Academy Awards that year was a nod for its impressive makeup. Even if it didn't have many of the feel-good qualities as the similarly themed My Week with Marilyn (2011) or Saving Mr. Banks (2013), Hitchcock remains an extremely enjoyable tale behind one of the most successful marriages in Hollywood and one of the greatest films ever made.

Check out Debbie's 2012 interview with Hitchcock director Sacha Gervasi for more details about the production. You can also read Rod's review of the film when it was released theatrically in Austin.
Where to watch: Hitchcock is currently available for online streaming via Amazon Instant Video and iTunes. It's also on DVD and you can rent it locally from Vulcan Video.