Movies This Week: March 27 - April 2, 2015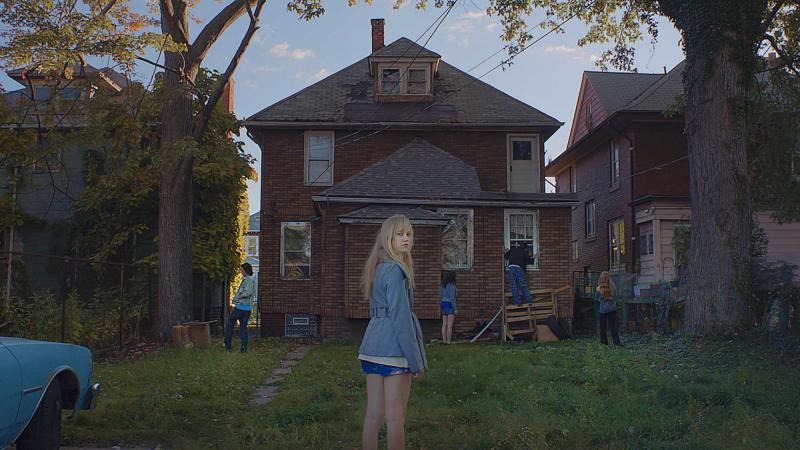 The Austin Film Society really knows the way to my heart. A brand new series begins this evening at the Marchesa called "Perfect Criminals: The '70s French Noir Connection" and you can buy a full series pass or grab individual tickets for the five French crime classics that AFS will be unspooling in the weeks to come. The first selection in the series is 1969's The Sicilian Clan in 35mm. Jean Gabin and Alain Delon star in this jewel heist thriller from director Henri Verneuil and it plays tonight and again on Sunday afternoon.
Also on Sunday, you've got one more chance to catch Lost Soul: The Doomed Journey of Richard Stanley's Island Of Dr Moreau. I caught this at Fantastic Fest last year and was utterly fascinated by it. It recently had a screening at Alamo Drafthouse Ritz, but now AFS is giving you a great opportunity to see it if you missed it (or maybe just want to take it all in again). Richard Linklater is back at the Marchesa on Wednesday to present Stuart Rosenberg's The Pope Of Greenwich Village in 35mm and host a post-film conversation. This 1986 drama stars Mickey Rourke, Eric Roberts and Daryl Hannah. Essential Cinema wraps up the screening week on Thursday night with Rachid Bouchareb's Oscar-nominated WWII film Days Of Glory.
Meanwhile, the Austin Film Festival is teaming up with A24 for "Growing Up Baumbach: A Tribute to Noah Baumbach's 20 Years in Film." Noah's new film While You're Young is opening on April 10, so AFF is taking over the Texas Spirit Theater (inside the Bob Bullock Texas History Museum) to play some of his finest work next week. On Monday night, they'll screen The Squid and the Whale in 35mm, Kicking & Screaming will screen on Tuesday night in 35mm and Frances Ha plays (digitally) on Wednesday night. Tickets are $5 for general admission and are free for AFF members and Bullock Museum members.
Over at the Paramount Theatre, they'll be celebrating April Fool's Day with a free 35mm screening of the Marx Brothers' classic A Night At The Opera. The Paramount is turning 100, but this film is having its 80th anniversary this year. Named one of the 15 funniest American films of all time by the American Film Institute, this is a great way to see the movie for the first time or for the umpteenth time!
The Alamo Lakeline and Alamo Slaughter Lane will both be presenting matinees of My Fair Lady on Saturday and Sunday while Lakeline will have Afternoon Tea on Saturday and Sunday with Joe Wright's Atonement. The Alamo Ritz has Gentlemen Prefer Blondes on deck for Broadway Brunch on Saturday and Sunday (with a Tuesday matinee added for good measure). They also have Ridley Scott's Alien booked for on Saturday, Sunday and Thursday. 1937's Preston Sturges-penned Easy Living has a Cinema Cocktails screening on Monday night and Paul Morrissey's Madame Wang will play late on Monday for the monthly Homo Arigato series.
The Alamo South Lamar has a free Kid's Club screening of Ridley Scott's Legend in 35mm on Saturday morning and Selena has three showings on Sunday. After the 7 pm show lets out, you can head next door to check out local Selena tribute band Bidi Bidi Banda at The Highball! The Shiner Soundtrack Series presents The Virgin Suicides on Monday at South Lamar and Thursday they'll have a Fast & Furious marathon of Justin Lin's four films in the popular series that leads up to the release of Furious 7.
Movies We've Seen
It Follows - This buzzworthy horror film from David Robert Mitchell (who wrote and directed) is an unlikely follow-up to his previous feature, 2010's The Myth Of The American Sleepover. Despite pacing issues, the success of the film is largely thanks to its solid young cast (including Maika Monroe from The Guest and The United States Of Tara's Keir Gilchrist) and the film's detailed and thoughtful set design coupled with the stunning widescreen framing of cinematographer Mike Gioulakis (John Dies At The End). It Follows manages to incorporate some cleverly original elements at the same time that it pays homage to classic films like Halloween. It delivers a handful of legitimate scares and is, at times, overwhelmingly creepy. This film was originally scheduled to only open at Alamo South Lamar and the Violet Crown Cinema locally, while also debuting on VOD. Because the initial limited release was so successful, the planned path for VOD has been postponed and the film goes out across the country on about 1,200 screens this weekend. (wide)
Kumiko The Treasure Hunter - Debbie caught this movie from Austin filmmakers David and Nathan Zellner at Sundance last year. It features an incredible performance from Academy Award nominee Rinko Kikuchi and Debbie's review notes, "Kumiko, The Treasure Hunter is a well-crafted tale woven from the strong visual and aural elements of cinematography, art design, and musical score. The members of Austin-based The Octopus Project -- who scored the Zellner Bros previous film Kid-Thing -- layer both traditional Japanese elements with the otherworldly sounds of the theremin and other instruments to create a score that complements the landscapes of this film. This artistic work further complements the fictional tale of Fargo that inspires its heroine through its art design, as well as the masters of Louis Malle and Billy Wilder through well-placed mise-en-scène." (Alamo South Lamar)
Also Opening In Austin
Get Hard - This "comedy" that recently premiered at SXSW has been accused of being racist, homophobic and, worst of all, horribly unfunny. Over at the Austin Chronicle, Marc Savlov's brutal half-star review reports that the "whole film is a nonstop parade of dick jokes, rape jokes, and Will Ferrell making the same goofy faces he first introduced on SNL ages ago." (wide)
Home - Based on a popular children's book called The True Meaning of Smekday, this generically retitled animated feature has the voice talents of Rihanna, Jim Parsons, Steve Martin and Jennifer Lopez. (wide, available in 2D and 3D screenings)
Queen and Country - British director John Boorman (Deliverance, Point Blank) follows his 1987 Oscar-nominated film Hope And Glory with this feature that picks up a decade after that story ends. The cast includes Callum Turner, David Thewlis and Richard E. Grant. It's unfortunate that Hope And Glory has been out of print domestically for so long that this is pretty strictly for viewers who have fond memories of that film or are fans of post-World War II era storytelling. (Regal Arbor)
Seymour: An Introduction - Ethan Hawke has directed this tender portrait of his good friend Seymour Bernstein, a concert pianist who left his career behind so he could instead teach music. The movie has a rare 100% Fresh rating on Rotten Tomatoes, marking a successful debut film from Mr. Hawke. (Regal Arbor)
Wild Tales - This anthology film from Argentina was nominated for Best Foreign Language Film at the Oscars this year. Variety called it a "wickedly delightful compendium of six standalone shorts united by a theme of vengeance -- the kind that explodes in spectacular bursts after a put-upon soul is screwed over too many times." (Alamo South Lamar, Regal Arbor, Violet Crown Cinema)
The Wrecking Crew - This documentary from Denny Tedesco (whose father was a guitarist in the Wrecking Crew band) originally premiered at SXSW all the way back in 2008. The backing musicians profiled in the film recorded on the West Coast with artists like Frank Sinatra, The Byrds, The Beach Boys and Nat "King" Cole, driving many of the biggest hits of the 1960s and early 1970s. The film. which has a whopping 92% Fresh rating on Rotten Tomatoes, is finally hitting theaters from Magnolia Pictures. (Violet Crown Cinema, also available on VOD)