SXSW 2015: Elizabeth's Focus on Female Filmmakers Leads Her to DuVernay, Prince-Bythewood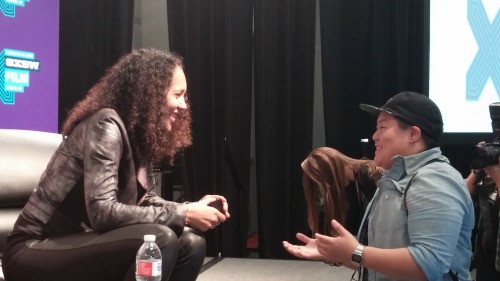 I took the Monday of SXSW off work as soon as I heard Gina Prince-Bythewood was scheduled to appear that day. This was the first SXSW I was drawn to attend any of the conference events at the festival -- usually I just stick to the movies. But getting to hear the director of Beyond the Lights (including one of my favorite performances of the year) speak a couple days after director Ava DuVernay was to deliver a keynote seemed like too much goodness to pass up.
On Saturday, I arrived two hours early for DuVernay's keynote, assuring myself a spot on the (side) front row. My friend Christina and I chatted with other folks in line, talked about other films on our schedule and spied actor Stephen Root walking past the line as the time grew near.
Hearing DuVernay speak was relevatory. You can view her speech below:
I was too entranced to take many notes, but here's some of what I did observe:
"If the dream's just about you, it's too small."
DuVernay went into making Selma with a sense of bewilderment and wonder, trying her best to "serve this story."
"Don't limit the dream with the small stuff."
She decided that the Oscars was "not the moment that determines the worth of my work."
After making the larger-scale Selma, "I still want to make small-budget films."
Before the Q&A, Stephen Root (who played Col. Al Lingo in Selma and was at the fest for Hello, My Name Is Doris and 7 Chinese Brothers) quietly walked in and sat on the floor. I sneakily snapped this picture: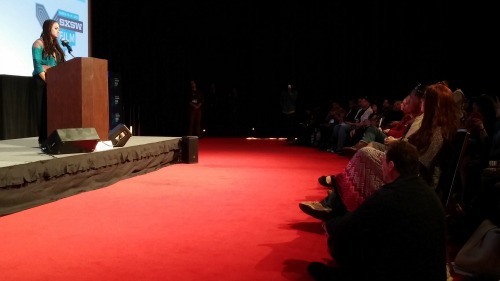 And after her speech ended and Du Vernay was mobbed by excited fans at the front of the Vimeo Theatre, my friend April snagged Mr. Root for a picture and I was able to praise his work in NewsRadio and King of the Hill.
Gina Prince-Bythewood's conversation on Monday afternoon attracted a small, dedicated crowd; I was honestly surprised more people didn't show up. Those of us who did learned much about the filmmaker and her process. Kimberly C. Ellis, Ph.D. (aka @drgoddess) led a comfortable talk with the director, despite some video glitches. Many of us tweeted during the discussion. Debbie wrote about the event for Indiewire, and here is what I noted (when I wasn't tweeting):
Prince-Bythewood said, "Overcoming no is what has driven my career." She talked about her continued determination despite setbacks, like not getting into film school on her first try or making the writing staff of A Different World on her initial attempt. She appealed her rejection from film school and went on to write for the show.
"Please put your daughters in sports," she urged, speaking of the confidence she gained from playing sports. Later on she told us that Sanaa Lathan hadn't played much basketball before winning the main role in Love & Basketball.
She discussed how she approaches new projects. While working on a script, she will create a playlist specifically for that film. "I write to direct," she said. Early in her screenwriting career, she decided, "I never want to look up on screen and see my name on something I didn't believe in."
On creating great love stories, Prince-Bythewood states that she wants "to put love up on screen with people who look like me." She added, "We just don't see ourselves loving each other." We were shown a romantic montage sequence from Beyond the Lights, and she explained that the best love scene should tell the story. You have to find out during the casting process how far actors are willing to go and what their limitations are, she said. She spoke of a particular actor in her earlier work who was disrespectful to the actress cast as his love interest.
During the Q&A, an audience member asked about the director's inspirations, and she pointed out that "As a director, you want to be inspired by actors as well."
As soon as the conversation was over, people flocked to the front of the room. Prince-Bythewood stayed onstage to chat with fans as long as she could.
Needless to say, I was awestruck and impressed by these directors. I hope SXSW continues to offer opportunities to hear such valuable creative voices.
[Photos of Gina Prince-Bythewood's SXSW session and Ava DuVernay's keynote by Elizabeth Stoddard]