SXSW Review: KRISHA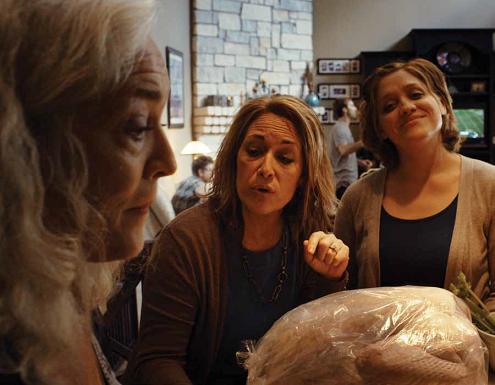 KRISHA is why we go to film festivals.
In a world full of great films that are very much alike -- even indie movies at festivals -- KRISHA rises above the been-there-seen-that noise with a truly unique style and vision. Trey Edward Shults' odd but arresting drama is a thoroughly original twist on a well-worn genre, the family holiday film.
KRISHA rose far enough above the noise at this year's SXSW Film Festival to take home the Narrative Feature Competition Grand Jury Award. Those who had the foresight and good sense to attend the film's world premiere at SXSW (which did not sell out, but should have) know it certainly deserves the honor.
Based on Shults' short film of the same title, which won the Narrative Short Special Jury Award at SXSW 2014, KRISHA is a story many of us know too well. The film's titular character arrives at a family Thanksgiving gathering after an absence of more than 10 years. Krisha (Krisha Fairchild) is a gloriously dysfunctional middle-aged woman who barely keeps it together (and frequently doesn't) while battling various inner demons.
Krisha's mission on this holiday is to begin the long process of reconnecting with her family. If that bar is too high, she'll settle for surviving the day with no meltdowns and minimal drama. Even the lesser goal will be a challenge. As the story unfolds, we learn that Krisha has given her family plenty of reasons to keep their distance and few reasons to give her another chance.
Krisha's loved ones aren't unsympathetic. Her sisters Robyn (Robyn Fairchild) and Vicky (Victoria Fairchild) understand who she is and what troubles her. But they've apparently been down this road of redemption and reconciliation before, without success. Despite Krisha's promises that she really is a changed person now, they have their doubts. Her brothers-in-law, the sarcastic semi-bastard Doyle (Bill Wise) and the amiable Dr. Becker (Chris Doubek) are even less optimistic.
I'm not spoiling anything by saying that Krisha's plan does not go smoothly. (Five minutes into the movie, it becomes painfully obvious that it will be a long, long day.)
As Krisha navigates the minefield that is a family get-together, KRISHA tells its tale of family strife with dead-on observations about the family dynamic and brilliant creative touches, from rule-breaking cinematography to scenes that skewer family holiday film clichés. (Caution: You'll never look at an uncooked turkey the same way again. You may never eat a cooked one again, either.)
KRISHA is a family drama with comic moments, but much of it feels like a horror film, with wide-angle distortion, unflattering close-ups and a nerve-jangling, slightly creepy soundtrack. This genre mash-up works very well and creates a powerful effect; we get a great sense of Krisha's twisted mental state, as if she can't quite make sense of her world. Her most manic scenes feel disoriented and short of breath; her saddest ones are claustrophobic and smothering. (Shults uses a deceptively simple trick to achieve the claustrophobic effect. I won't reveal his secret -- and I'll admit I didn't notice it until he mentioned it in the post-screening Q&A.)
Its horror-show elements aside, KRISHA is a wholly authentic document of a family gathering, largely because the film is literally a family affair. Shults plays a slightly younger version of himself as a college student about to graduate, Krisha and Victoria Fairchild are his aunts, and Robyn Fairchild is his mother. Even Shults' grandmother, Billie Fairchild, is in on the act, playing the sweet but confused family matriarch. The story is based on an actual incident at a family holiday, and KRISHA was shot -- in a mere nine days -- in Shults' parents' house in Montgomery, Texas.
The other cast members are professional actors and Shults' friends, but they interact so naturally with the filmmaker's kin that they seem like family also. The scenes of small talk and holiday cooking and kids goofing off while the adults do all the work have a documentary-like quality.
Krisha Fairchild may share her name with her character, but isn't playing herself. She's an actress of formidable talent, ferociously inhabiting the fictional Krisha with unsettling stares and manic energy. The character is a horrific mess, the kind of relative whose company we dread and almost fear, even as we feel sorry for her and wish we could help her.
The rest of the cast has far less to do, but the pros and non-actors are all terrific. Robyn Fairchild is especially good as Krisha's frustrated sister, who would like to bring Krisha back into the fold but doesn't know how to make it happen. Wise is also a standout as the wisecracking, overly candid Doyle, everyone's favorite acerbic uncle and the source of most of KRISHA's comic relief.
An astringent antidote to most holiday films, KRISHA is terrific. It deserves wide praise and wider distribution.
(For more about KRISHA, see Elizabeth Stoddard's interview with Trey Edward Shults.)
Austin/Texas connections: KRISHA was filmed in Montgomery and features many Texas actors. Trey Edward Shults was born in Houston.
KRISHA screens at SXSW again on Friday 3/20 (tonight) at 7:30 pm at Alamo Drafthouse South Lamar, and has an encore screening (because of the grand jury award) on Saturday 3/21 at 5 pm at the Marchesa. Do not miss it.