Sundance 2015: Partying with the Lone Star State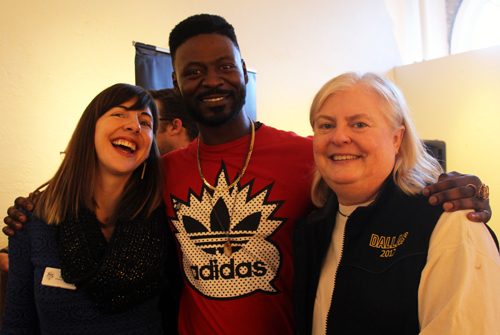 The number of parties in Park City, Utah, during Sundance and Slamdance Film Festivals can be overwhelming for any festgoer who wants to experience more than just the extensive film programming available. To balance between screenings, interviews and parties, I select a few events to attend each year.
Most important are the film commission events, which provide a great opportunity to network with industry colleagues and learn about movie projects supported by the film associations. The Texas Association of Film Commissions hosted their annual Film Texas reception last week, with representatives from various film commissions including Kim LeBlanc from the Texas Film Commission and Janis Burklund, director of the Dallas Film Commission, both seen above with Results star Tishuan Scott.
The San Antonio Film Commission also hosted an event with director Drew Mayer-Oakes in attendance. Both events provided a great opportunity to discuss the Texas Moving Image Industry Incentive Program. Many of the conversations that I took part in focused on filmmakers expressing their concern about the impact of legislative changes that could come about in the upcoming legislative session under a new governor. A reduction or elimination of the incentive program could result in the relocation of film projects that are currently on hold.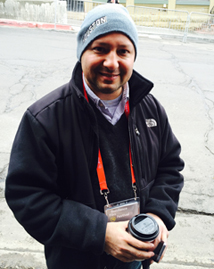 The most film commission representative I spotted most often in Park City this year was Alfred Cervantes, deputy director of the Houston Film Commission. He's responsible for promoting the greater Houston and Harris County area to film producers, production executives and independent filmmakers, as well as providing assistance with location scouting and facilitating local film productions.
Cervantes has worked in various capacities in film for over 20 years, and as a freelancer in the past he worked on several films including Reality Bites and Apollo 13. Recently he's assisted with Hellion, The Retrieval, The Great Invisible and was also supporting the Houston-based horror comedy Clinger, which premiered at Slamdance Film Festival this week.
Cervantes provided me with some information that I'd missed for our annual Sundance/Slamdance 2015: Austin and Texas Connections feature. The LA shot comedy Tangerine features Houstonite Mya Taylor. I also learned from Cervantes that the Entertainment production team included Austin's Arts+Labor producer Andrew Logan.
While in Park City, I met a Salt Lake City-based filmmaker who was born and raised in Houston, and has interest in developing a narrative film project based upon iconic Houston places and historical figures. On the spot, Cervantes was able to offer some initial advice for the project. It will be interesting to see if the project comes to fruition, with the seed planted at the San Antonio Film Commission event.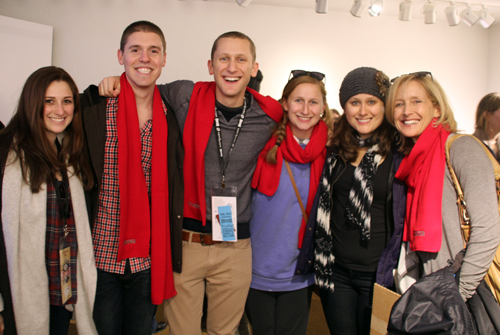 Several filmmakers representing Texas films attended the receptions, including Clinger co-writer Bubba Fish (seen above in the middle) with Clinger social media coordinator Alexis Mosier, Halo game engineer Aaron Lieberman, as well as his sisters Stacy and Stephanie, and mother Shari Fish.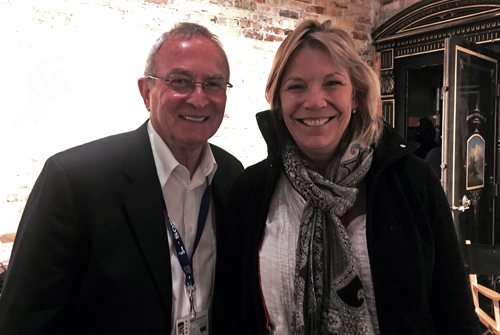 Texas wasn't the only state represented in these two events, which were held in the Association of Film Commissioners International (AFCI) "Beyond Cinema" host venue. While there, I was fortunate to meet AFCI members Ralph Singleton, Entertainment Industry Liaison for Savannah Economic Development Authority, and Karen Carberry Warhola, Director of the Maine Film Office (seen above).
With over 35 years in the entertainment industry, Singleton is focused on expanding the economic impact of film in his new community. His expansive knowledge of television and film production ranging from location scouting for French Connection to unit production for Taxi Driver, Last Man Standing as well as iconic television series Kojak and Cagney and Lacey should prove an asset to Savannah. Singleton will be travelling to Austin for SXSW to check out various film-related events, and you won't want to miss his engaging stories should your paths cross.
Warhola -- who will also be in Austin for SXSW next month -- has over 20 years of hands-on production experience in the film and television industry, having started her television career as a camera operator. She later worked for as a freelancer at Buena Vista (Disney) before joining the staff in Burbank for several more years. Warhola went on to manage Touchstone Television's Prime Time Awards and their Emmy Awards campaign.
My conversations with both Singleton and Warhola provided insight into the importance of both marketing and financial support for film and television industries in local communities. Warhola shared details about Maine's film incentive program which seems quite generous and flexibility, and served as a further reminder of the critical importance of Texas' own incentives program.
[Photo credits: All photos by Debbie Cerda, for use by request with accreditation]