Lost in the Awards Rush: Hollywoodland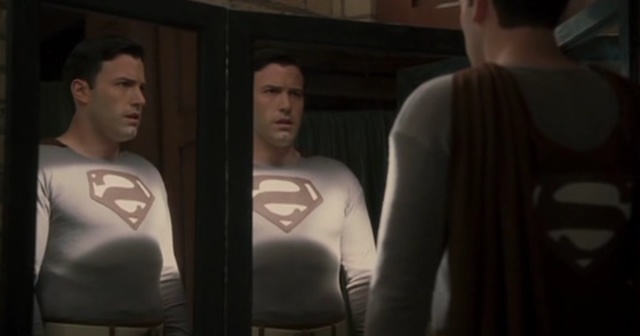 "Lost in the Awards Rush" is a new weekly series Slackerwood is running during the awards season, to suggest lesser-known but excellent alternatives to popular frontrunners for big movie awards.
From the instant the first trailer debuted this summer, there was never any doubt that David Fincher's adaptation of Gillian Flynn's bestselling mystery novel Gone Girl would be one of the year's breakout movies. With Fincher at the wheel, Flynn's gripping tale of a missing suburban wife (Rosamund Pike) and her accused husband (Ben Affleck) was exquisitely transferred to the silver screen and resulted in huge box-office receipts as well as critical praise for Fincher, Flynn, producer Reese Witherspoon and Pike (who also collected an Oscar nomination).
While Gone Girl finally provided Pike the perfect showcase for her continuously untapped talents, it seemed a shame that her brilliant work overshadowed Affleck's quietly intense turn as a man slowly losing his already shaky hold on reality. Affleck's first-rate work in Gone Girl ranks close to what some might consider his best and certainly most acclaimed performance to date: that of late actor George Reeves in Hollywoodland (2006).
Hollywoodland is based on the the true story of Reeves (Affleck), who rose to meteoric fame as the original man of steel in the TV series Adventures of Superman (1952) before dying tragically and mysteriously from a gunshot wound in his Beverly Hills home in 1959. The stunningly shot film follows a detective (Adrien Brody) as he traces Reeves' beginnings, subsequent fame, romance with the wife (Diane Lane) of a studio mogul (Bob Hoskins) and other key events leading up to the actor's still-unsolved death.
A few years in the making, Hollywoodland manages to be two films with shared elements, told simultaneously. The first is an earnest A Star is Born-like tale in which we see Reeves' ambitious, yet somehow un-ruthless bids to climb the Hollywood ladder. It's here we also bear witness to his complex and highly co-dependent romance with Toni Mannix (Lane). The second is an old-fashioned noir-ish mystery where Detective Louis Simo (Brody) endures beatings, starlets and lies in his quest to discover what happened on the fateful night Reeves was found dead.
No matter which storyline is playing onscreen, director Allen Coulter and cinematographer Jonathan Freeman have given such an elegant look and feel to Hollywoodland that it pulls its audience back into the era it's depicting. It would have been perfectly natural to make Hollywoodland appear as bleak and grim as the story it tells. Miraculously though, the filmmakers have found a way to present this dark corner dark of showbiz history in a classic cinematic fashion.
For all of its virtues, however, Hollywoodland's greatest strength remains Affleck's performance. It was reported that the actor went to great lengths to portray Reeves, including watching all episodes of Adventures of Superman, talking to those who knew the late actor and spending hours upon hours listening to CD recordings of the actor's voice. The efforts paid off as critics were impressed with Affleck's masterful work and the actor was recognized with both a Golden Globe nomination and the Venice Film Festival's Best Actor award.
It's hard not to wonder, though, if the reason Affleck's work is so brilliant in Hollywoodland is because he related to Reeves' frustrations in terms of wanting to distance himself from the disposable blockbusters that had plagued him for some time. It's a tad ironic that he should escape the clutches of typecasting by beautifully and fearlessly portraying a man who was, sadly, unable to do so.
Where to watch: Hollywoodland is currently available for online streaming via Amazon Instant Video and iTunes. It's also on DVD and you can rent it locally from Vulcan Video.