The Stars at Night: Desk Set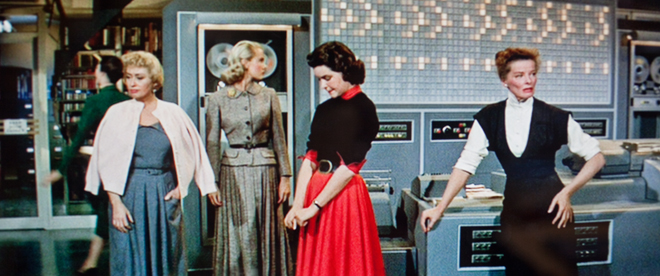 By the 1950s, Texas-raised actress Joan Blondell (see earlier column) must have resigned herself to filling supporting roles in film. In 1952, the former Miss Dallas received her lone Oscar nomination for her work as supporting actress in The Blue Veil. Five years later, she appears as Katherine Hepburn's wisecracking best friend, Peg Costello, in Desk Set. Her character may not be the focus of the comedy, but Blondell helps make the movie memorable.
I chose Desk Set for this month's column as a sort of counterbalance to the hoopla surrounding the 2014 film The Imitation Game (Marcie's review). This movie is a more humorous take on the early days of computing machines, and actually includes more than one woman in its plot -- whereas the British biopic ignores the many women who worked at Bletchley Park.
In the 1957 film, four reference librarians work for the fictional Federal Broadcasting Company, answering random questions that come up in TV productions. Hepburn's Bunny Watson is the managing librarian, stuck in a static years-long relationship with a network executive (Gig Young, That Touch of Mink, They Shoot Horses, Don't They?). Spencer Tracy plays a curious older man named Sumner whom the women assume is preparing to cancel out their jobs and replace them with a machine.
The witty, and at times silly, screenplay comes from Phoebe and Henry Ephron (aka the parents of Nora and her sisters), based on the original stage play by William Marchand. We know as soon as the opening credits roll that Tracy and Hepburn will end up together, and then scenes between Young and Hepburn lack any oomph. Meanwhile, Sumner and Bunny are charmed by each other's idiosyncrasies.
Along with Blondell and Hepburn, a crisp Dina Merrill (The Courtship of Eddie's Father) and TV actress Sue Randall fill out the team of women who worry about the impact of new technology on their positions in the company. Sumner's MRAC system (he calls it "Emmie") is tempestuous and finicky, run by computer expert Miss Warriner (Neva Patterson, An Affair to Remember).
It's funny to see these librarians cut loose at the Christmas party after giving up hope of keeping their jobs; the drunken rapport between Blondell and Hepburn is especially giggle-inducing. Desk Set comes across as a light, breezy comedy, but given that many women were let go from their positions when the men came back from the war about a decade beforehand, this element of the story likely struck a particular chord with female cinemagoers.
Want to watch? I actually checked out a DVD from the Austin Public Library, but Netflix also has the DVD. Vulcan Video has copies at both north and south locations. The movie is also available on Amazon Instant Video.