What's Streaming: We're Back!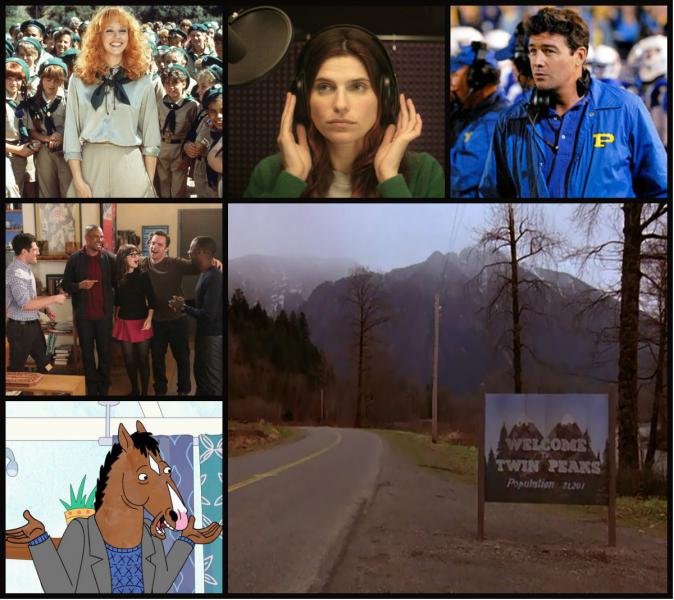 A new year, a new you and a new Slackerwood! I took a break from this article for a while, but now I'm back and ready to bring you recommendations of films you might have overlooked.
In looking through my Netflix history, I discovered that 2014 was a big TV year for me. It seems like the website stepped its game up this past year, cranking out the latest season of current shows faster than before. (Except for Downton Abbey -- get on it, Netflix!) Here are a few television shows that came across my radar these past few months.
Twin Peaks -- When I learned writer/director David Lynch was creating a new season for the now 25-year-old show, I saw this as the sign to bring it up from the bottom of the list. FBI agent Dale Cooper (Kyle MacLachlan) is sent to the town of Twin Peaks to investigate the mysterious death of a teenage girl. His journey along the way takes him through a slew of oddball characters, creepy places and out-of-this-world situations. Although a little confusing towards the end, the story leaves you wanting more. I'm excited to see what Lynch will bring back in the new season! Available on Netflix, iTunes, Amazon Instant and Hulu Plus.
BoJack Horseman -- I scoffed at the idea when this series was recommended to me. Although I like animated shows a la Bob's Burgers, the premise of BoJack didn't really hook me. I decided to give it a shot and, a week later, had already gone through season one. BoJack (voiced by 30 Rock, Arrested Development vet Will Arnett) is a washed-up struggling actor, whose fame from his 1980s sitcom Horsin' Around didn't carry him to full stardom in the present day. Amidst friends both human and animal, he sets out to write an autobiography, all the while trying to find a project that will cast him back into the limelight. Featuring the voices of other talent like Amy Sedaris and Aaron Paul, this is a show you could easily binge on some Sunday afternoon. Available on Netflix.
Friday Night Lights -- All of the recent discussion of Texas filmmaking got me interested in TV shows that were shot here in the Lone Star State. I remembered all of the times people told me "You live in Austin and you've never seen Friday Night Lights?!" and, lo and behold, another Netflix binge was born. Following football coach Eric Taylor (Kyle Chandler) and his wife Tami (Connie Britton), the series focuses on the Taylor's transition not only to small-town Texas life, but the struggle of successfully coaching/mentoring a high-school football team. Featuring a great ensemble cast and some beautiful shots of Austin, this show is so much more than just "a show about football." Check it out if you missed it the first time around. Available on Netflix, iTunes and Amazon Instant.
New Girl -- Okay, this one was a big stretch for me. I'm not a huge Zooey Deschanel fan and normally not quick to jump into sitcoms. But, like with BoJack Horseman, I decided to give it a shot. And now here I am, recommending it to you! The show follows Jessica Day (Deschanel) after a breakup with her boyfriend forces her to look for a new apartment. On a whim, she decides to move in with three guys. Each episode focuses on their struggle of living together, as well as the budding friendship that grows between each of them. It's great comedic timing paired with witty writing and recognizable scenarios that most twenty- and thirtysomethings can relate to. Consider giving it a watch -- I was pleasantly surprised. Available on Netflix (up to Season 3), iTunes, Amazon Instant and Hulu Plus.
FILM:
In A World… -- I don't often regret missing film events here in Austin, but AFS's screening of this movie with Lake Bell in attendance was one I now realize I should have checked out. (Elizabeth wrote a great review in 2013.) Bell plays Carol, a female voice coach trying to make a career doing voiceover work for film trailers. Her biggest competitors are Gustav (Ken Marino), the current male lead in the industry, and Carol's father Sam, played by real life vocal artist Fred Melamed. This film seems relevant to our current media situation, depicting Carol's struggle as a woman trying to succeed in a male-dominated industry. Lighthearted and full of humor, this one should make its way to the top of your list. Available on Netflix, iTunes and Amazon Instant .
Troop Beverly Hills -- Fellow Slackerwood contributor Elizabeth Stoddard reminded me of this movie when she gleefully tweeted that it was now streamable online. (I have to thank all of my fellow contributors, as they are so great at posting when new films are available online!) It's a quirky little tale about Phyllis Nefler (Shelley Long), a "bougie" Beverly Hills mom who decides to take charge as her daughter's Wilderness Girls troupe leader. Not one for the outdoors or anything wilderness related, her and her girls set out to prove to the other troupes that there's more to them than just fashion and good looks. Featuring some recognizable faces including a young Jenny Lewis (of the band Rilo Kiley), this is a great pick-me-up film. Available on Netflix, iTunes, Amazon Instant and Hulu Plus.
[Photos in the above collage are stills from Twin Peaks, BoJack Horseman, Friday Night Lights, New Girl, In A World... and Troop Beverly Hills.]