Lost in the Awards Rush: Grand Piano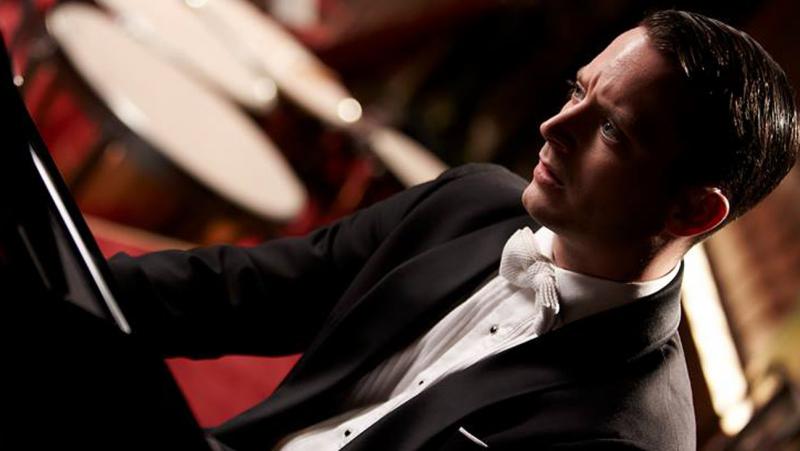 "Lost in the Awards Rush" is a new weekly series Slackerwood is running during the awards season, to suggest lesser-known but excellent alternatives to popular frontrunners for big movie awards.
Whiplash's journey to the big screen is the kind of stuff indie dreams are made of. From a short at Sundance to one of the most acclaimed films of 2014, writer/director Damien Chazelle's passion project about a young drummer (Miles Teller) at a prestigious music academy and his tyrannical instructor (J.K. Simmons, in a career best performance) who pushes him beyond all limits, has been hailed by critics' groups everywhere.
In the rush to praise the near-perfection that is Whiplash, its easy to forget Chazelle's script for the taut and stunning thriller Grand Piano (2013), which was released earlier this year and screened at Fantastic Fest 2013 (Jette's review). Directed by Eugenio Mira from Chazelle's original screenplay, Grand Piano stars Elijah Wood as Tom Selznick, a once-revered concert pianist who entered semi-retirement after a crippling bout with stage fright. Shortly after beginning his comeback concert, Tom discovers a note on his sheet music stating that unless he gives a flawless performance, the note's author (John Cusack) will shoot him.
Grand Piano has elements of Hitchcock and touches of De Palma wrapped up in a heightened B-movie sensibility. This is a B-movie made by individuals who love B-movies. From the word go, Grand Piano is fraught with the kind of tension and suspense that seems hard to find in contemporary thrillers. The different twists and turns the plot takes shows Chazelle's skilled grasp of the genre. That, coupled with sharp pacing, a great directorial hand and Wood's committed performance account for Grand Piano's immense watchability, not to mention some of the best reviews for a film of that genre.
Chazelle's illustration of the villain as a dark and (for a large majority of the film) faceless tormentor is the perfect embodiment of the kind of life-threatening stage fright artists feel while performing. Most dedicated musicians feel as if they will literally die if they hit a wrong note. It is a fear no one understands but them. For Tom, that fear has become so powerful and intense that it's actually come to life. In some ways, Grand Piano serves as a spiritual cousin to Whiplash. There's the use of impressive music (almost a character within the film), a dark, looming shadow hanging over a troubled, yet determined musician and the life and death factor (figurative in one, literal in the other) that drives the young, talented artist to attempt a seemingly unreachable level of greatness he has always dreamed of.
Where to watch: Grand Piano is currently available for online streaming via Netflix, Amazon Instant Video and iTunes. It's also on DVD and you can rent it locally from Vulcan Video.