Movies This Week: January 9-15, 2015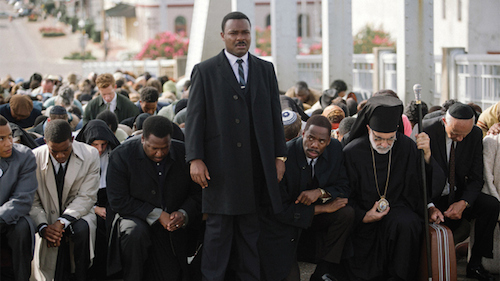 As we head into a chilly weekend, it may be tempting to curl up at home with a stack of rented movies or fire up Netflix streaming. That would be a great idea if it weren't for the fact that two of the most acclaimed films of 2014 are getting nationwide releases and hitting area theaters: Selma and Inherent Vice.
As if that wasn't enough, Austin Film Society is ramping back up with their January programming and it starts in fine fashion this evening with phenomenal Canadian documentarian Ron Mann (Grass, Comic Book Confidential) visiting the Marchesa with his movie Altman (which recently premiered on Epix). Several rare Robert Altman shorts will play before the feature and then you're also encouraged to buy a ticket for a 35mm screening of Altman's California Split, which follows.
Speaking of incredible documentary filmmakers, National Gallery focuses on the London-based museum and is the latest effort from Frederick Wiseman. AFS is featuring it Sunday afternoon and then has a sneak preview screening of Two Days, One Night exclusively for AFS members in the evening. Marion Cotillard is getting a lot of awards buzz for this new drama from the Dardenne Brothers, which isn't opening in town until January 30. Essential Cinema closes out the week with a 35mm screening of Jacques Rivette's 1974 French classic Celine And Julie Go Boating.
Alamo Drafthouse Ritz has opened one of only a handful of 70mm prints in all of North America for Inherent Vice (with a DCP for a few screenings in Theater 2), but that doesn't mean they are sitting out on specialty screenings. AGFA is presenting a "lost smut film" from Ed Wood on Saturday afternoon, The Naked Gun trilogy is featured on Sunday, Michael Mann's Manhunter is playing as part of the "A Mann's World" series on Monday, Cinema Cocktails has 1936's My Man Godfrey on Tuesday and a fascinating new documentary called Through A Lens Darkly: Black Photographers and the Emergence of a People plays Wednesday night. Alamo South Lamar is bringing back Hedwig And The Angry Inch in 35mm on Sunday and will be offering an advance screening of Hitoshi Matsumoto's R100, a kinky new release from Drafthouse Films, Wednesday night. The Austin Film Festival's Audience Award Series is continuing at the Alamo Village and they'll be showing 2014's "Dark Matters" awardwinner The Suicide Theory Monday night.
Movies We've Seen
Inherent Vice - Paul Thomas Anderson's adaptation of Thomas Pynchon's novel is a wild, if not occasionally incoherent, ride. Joaquin Phoenix gives an inspired performance as Doc Sportello, a private investigator who tries his best to solve cases, but that doesn't always work so great since he's continually stoned out of his gourd. The film is packed with an eclectic supporting cast (Reese Witherspoon, James Brolin and indie rock princess Joanna Newsom, to name a few) and is a journey that left me completely entertained, even if I didn't completely "get" it. Despite its lengthy running time, this is a story that should benefit from repeat viewings, especially if you are not 100% sober. (70mm at Alamo Ritz, digital screenings at Alamo Slaughter Lane, Alamo Lakeline, AMC Barton Creek, Cinemark Hill Country Galleria, Regal Arbor and Regal Metropolitan)
Selma (pictured above) - Ava DuVernay's little seen Middle Of Nowhere was one of my favorite films of 2012. After making two micro-budget indies, she took the reins of this big studio picture (that for Hollywood standards is still modestly budgeted). A historical biopic of one of the most pivotal moments in the civil rights movement, Selma is a rousing success. David Oyelowo becomes Martin Luther King Jr. right before our very eyes and it's a performance that should earn him an Academy Award nomination next week. Elizabeth has our review and calls it "an elegant construction, inspiring and heartwrenching in its portrayal of these events." It made my personal Best of 2014 list at #2 and I'm very much looking forward to a repeat viewing this weekend. (wide)
Also Opening In Austin
Taken 3 - Liam Neeson, I know you have worked really hard to stay busy since the tragic death of your wife, but you somehow just keep making the same movie over and over and it's getting depressing. You were in Schindler's List, do we need to have an intervention? (wide)