Tix on Sale for Rodriguez's 'Shorts' Premiere at Paramount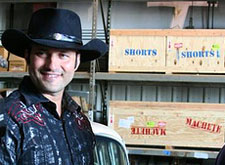 The splashy movie premieres that the Paramount sometimes hosts are rarely for family films. However, you now have an opportunity to take your children to a kid-friendly gala premiere, when Robert Rodriguez's upcoming film Shorts gets the red-carpet treatment.
Tickets just went on sale this morning (10 am) for the Sunday, August 16 regional premiere of Shorts at the Paramount. Tickets are $30 plus service charges, and include not only the movie but a children's carnival nearby on Congress Ave. afterwards. There are also VIP badges you can buy ($125), but I don't know what extra perks they provide apart from better seats. Proceeds from ticket sales benefit a local nonprofit, Thoughtful House Center for Children.
Shorts, written and directed by Rodriguez and produced by Elizabeth Avellan, was shot here in Austin. The PG-rated film is about a mysterious Rainbow Rock that falls from the sky and grants people unlikely wishes. The cast includes Rebel Rodriguez (Robert Rodriguez and Elizabeth Avellan's son), Kat Dennings, Jon Cryer, William H. Macy, Leslie Mann, and James Spader.