Our Holiday Favorites 2014: It Happened on 5th Avenue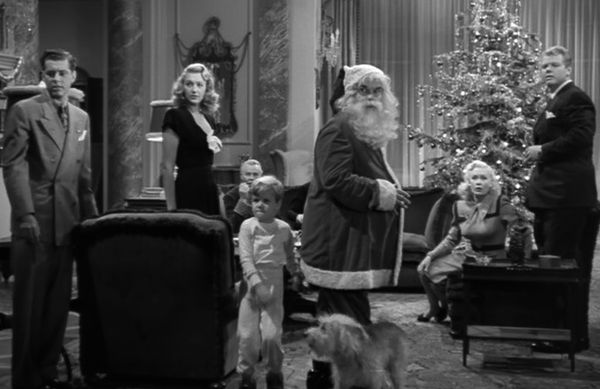 Welcome to Holiday Favorites, a series in which Slackerwood contributors and our friends talk about the movies we watch during the holiday season, holiday-related or otherwise.
Not many remember, or even know of, this touching holiday comedy's existence. I suppose that's fair enough since the release date for this Christmas-set film was actually Easter. It also didn't help that It Happened on 5th Avenue (1947) was released in between future classics It's a Wonderful Life (1946) and Miracle on 34th Street (1947). As if this weren't enough, the movie went out of circulation in 1990 without even a single TV airing until a low-key DVD release several years ago saved it from holiday movie obscurity.
It's a real shame, since It Happened on 5th Avenue is not only just as good an offering as those other two classics, but it is also one of those rare films with a blend of humor and pathos that washes over you without warning. Each winter when millionaire Michael O'Connor (Charles Ruggles) leaves his 5th Avenue mansion for his home in Virginia, a warm-hearted drifter named Aloysius T. McKeever (Victor Moore) moves in and makes the large estate his own for the duration of the season. This season however, Aloysius has taken in a young war veteran (Don DeFore) as well as two of his fellow soldiers and their families. When circumstances force Michael back to his New York mansion, he is appalled, but proceeds to conceal his identity as he finds himself spending the holidays with his unexpected guests.
All the traditional Yuletide moments by the fire accompanied by Christmas carols appear in It Happened on 5th Avenue, but there's also some fine work by a collection of great character actors, solid comedy sequences (mainly featuring the disgruntled millionaire trying to play the part of a homeless person) and engaging dialogue, courtesy of the film's Oscar-nominated screenplay.
Beyond that, the movie contains some honest social commentary concerning the lack of post-war opportunities for veterans and the overall face and image of the homeless person is altered in the different sorts of characters which populate the mansion. Even I still had the picture of a beggar in tattered rags in my mind when I thought of the word "homeless" before seeing It Happened on 5th Avenue.
An overall humanity flows through the film, which proves a great substitute for overt sentimentality. Quiet moments featuring the re-assessment of values and perspectives on life are explored and the ending provides that specific brand of comforting warmth that only the best of holiday films can provide. A testament to humanity as well as a fun comedy, It Happened on 5th Avenue is the true holiday classic waiting to be discovered again and again.
Where to watch: It Happened on 5th Avenue is available on DVD, Amazon Instant Video and at both Vulcan Video locations.