Other Worlds Austin: Fest Has Lift-Off!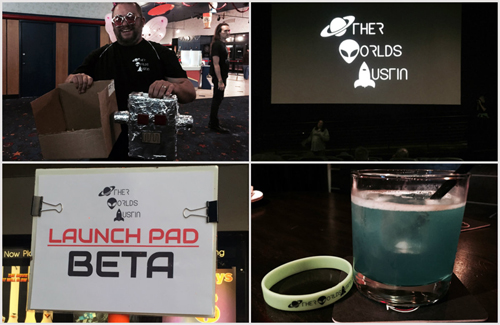 The Other Worlds Austin science-fiction film festival blasted off to a great start last Thursday, with a pre-apocalyptic happy hour at The Tigress cocktail bar where several of us tried the Pan Galactic Gargle Blaster. I really appreciated that social events were scheduled around the screenings. Saturday morning's "2014: A Brunch Odyssey" was held at The Goodnight, and provided a great opportunity to network with other attendees including filmmakers.
Despite the fact that this was the first year for this film festival, which only spanned Thursday and Friday evenings and all day Saturday -- primarily at Galaxy Highland -- I was impressed by the number of filmmakers who traveled from as far as Los Angeles and New York to support their films. Just a few of the filmmakers in attendance included writer/director Cidney Hue (Odessa), director Bryan Costanich (Slumptown), and Apt 3D writer/director/actor Zack Imbrogno and editor/actress Maxxe Sternbaum.
I also met filmmaker Troy Bernier, a co-founder of the Miami International Science Fiction Festival (MiSciFi), which takes place January 23 - 25, 2015. What makes MiSciFi unique is that not only have the founding members worked together on science-fiction independent films for years, but they also work in scientific fields -- Bernier himself is an isotopic hydrologist. The science-fiction festival also includes some fantasy and horror themed films, as well as "microdocs" -- short documentaries featuring informative science content.
The quality of films at Other Worlds Austin were outstanding including the opening-night feature The Well, a post-apocalyptic drama well supported in science facts -- check out my review here. Other features I highly recommend include The Perfect 46, a film that is part-documentary and part-thriller; the clone-centric The Reconstruction of William Zero; and Time Lapse, a science thriller that folks were talking about long after the screening.
I enjoyed the first two of the three short film programs immensely, with the following standouts: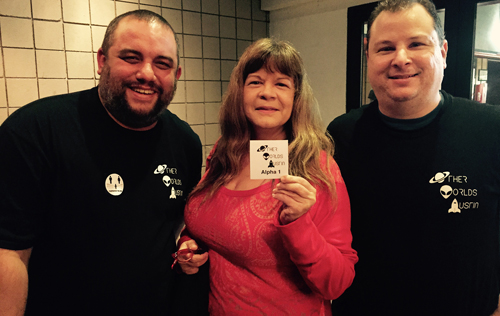 The setup for the festival was well planned, with holding areas outside for each of the theaters and queue cards distributed prior to the screenings. Friday night's drizzling rain didn't deter festival attendees as the Galaxy Highland management placed several tents outside to keep everyone dry and comfortable.
The festival founders including Programmer and Event Coordinator Dan Repp and Director of Marketing and Development Don Elfant (seen above) were quite accessible and welcoming to all. I look forward to seeing more science-fiction content that the organizers have planned throughout the year.
[Photo credits: "Repp at the Ballot Box," "Other Worlds Austin on the Big Screen," "Pan Galactic Gargle Blaster," "Launch Pad Beta," "Dan Repp, Debbie Cerda, and Don Elfant at OWA" by Debbie Cerda.]