Other Worlds Austin Review: The Well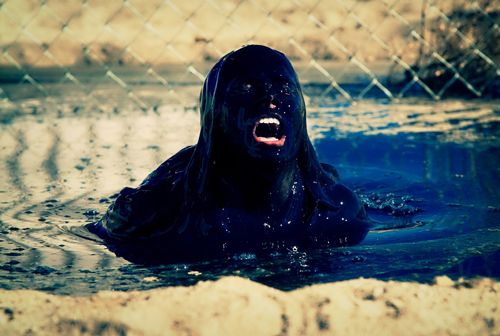 A recent New York Times article reports that droughts are intensifying across the United States western and southwestern regions, with California, Nevada and Oregon bearing the brunt. Texas is also experiencing drought across much of the state, and prolonged dry conditions put a considerably strain on water supplies for all uses. Many states are using innovative technologies -- aquifer storage and recovery, desalination, water "scalping" -- but are still forced into placing restrictions on water use, with fights over water rights ensuing between local government, landowners and consumers.
This contemporary scenario supports the premise of production designer Thomas Hammock's (The Guest, You're Next) writing and directorial debut The Well, a "science factual" post-apocalyptic film thattakes place in a barren Oregon valley ten years after the last rainfall. Seventeen-year-old Kendal (Haley Lu Richardson) hides away in the attic of The Wallace Farm for Wayward Youth caring for fellow orphan Dean (Booboo Stewart), venturing out to check on the few remaining neighbors while scavenging for resources including water from their well and a vital piece of equipment to power an abandoned Cessna. Kendal and Dean dream of escaping in the plane, but they are thwarted by Dean's ailments and both vagrants and hunters that roam the valley in search of any remaining water.
Greedy water baron Carson (Jon Gries) lays claim to what little of the precious resource remains underground. Anyone found alive is presumed a threat to his intended legacy for his daughter Brooke (Nicole Fox), with death brought swiftly by his companions including the fallen priest Cadiz (Michael McCartney) and his masked henchmen. When their well runs dry, Kendal must decide whether to turn herself in for relocation to a refugee camp, or fight for survival on her own terms.
The Well is a well-written commentary about how a vital resource could result in the devolution of the world that we know. Hammock presents a strong female lead with a strong moral compass, who can survive and fight while showing compassion for others. A refreshing aspect of The Well is the absence of "rapey" violence. Too often post-apocalyptic films are quick to employ violence against women through sexual assault, but that is thankfully absent in this movie. Violence is still rampant, but it's the single focus for control of the resources that the villainous Carson employs physical violence and brutality upon others, regardless of age or gender.
The cinematography and the production/set design are amazing, displaying dry and desolate conditions in a valley that still evokes the landscape of the intended setting of Oregon. At times the visual imagery evoked a response of dehydration, as well as building the tension in pivotal moments. The smart dialogue written for both Kendal and young Alby (Max Charles) is well suited for their characters, who have learned how to survive on their own without adults.
The cast of The Well really delivers, from Richardson's expressiveness to Gries' villianous nature. Although the final act contains a few implausible moments -- most notably Kendal's proficiency with a samurai sword and the idea that a distributor cap can be interchangeable between a Jeep and a Cessna -- these minor flaws can be overlooked for the provocative view that Hammock provides of a world that could be.
Dark Sky Films has picked up The Well with no release date set, but a theatrical/VOD release is expected for 2015. Watch the official trailer for The Well below:
Local connections: The Well producer Seth Caplan is an Austin filmmaker. Writer/director Thomas Hammock was a production designer on the Bastrop-shot All The Boys Love Mandy Lane.