TXMPA Board Gains Four Austin-Area Board Members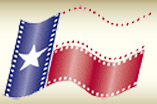 On Saturday, many Texas Motion Picture Association (TXMPA) members braved the heat to network and do some committee brainstorming after local caucuses voted for new local representatives earlier this month. The Central Region, which includes Austin, voted for Paul Alvarado-Dykstra as the regional board representative and Shelley Schriber as the alternate. Alvarado-Dykstra is a film producer, vice-president of Villa Muse, and a co-founder of Fantastic Fest.
TXMPA initiated an online election system for last week to allow all members in good standing to vote for At-Large board members, regardless of whether they would attend the meeting in San Marcos on Saturday. In previous years, members had to be present at the annual meeting to vote, which took up most of the general member meeting time.
This year, the meeting included an announcement of the election results, focused on caucuses for producers and Animation/Video Game/Visual Effects members -- both of which have industry board seats -- and encouraged networking to build stronger relationships within the membership.
All three At-Large nominees from Central Texas were elected to the TXMPA board -- each region is limited to up to three At-Large board seats, to avoid an imbalanced board. Craig Berlin, Rick Olmos, and outgoing Central Region Representative Jeanette Scott were elected. Berlin is a former treasurer and founding board member of TXMPA. Olmos is currently the Director of Communications at E3 Alliance and has worked on extras casting for Friday Night Lights. Outgoing board members include Rodney Gibbs and Clark Richardson.
Austin's Oge Young of Sony Online Entertainment was elected as the Video Game, Animation & Visual Effects Representative. TXMPA recognizes that "motion picture" is not exclusively film and television.