AFF 2014: Meet the '61 Bullets' Filmmakers

After years in the making, the documentary 61 Bullets will screen at Austin Film Festival next weekend. The film, which won an AFS Grant and was partially backed through Kickstarter, is the latest project from Austin director David Modigliani (Crawford). He and co-director Louisiana (Lucy) Kreutz worked with producer Yvonne Boudreaux to delve into the story behind the death of famed Louisiana governor/controversial figure Huey Long.
Before AFF kicks off, the filmmakers answered some questions for me via email about what led them to make the film and the process involved.
Slackerwood (for Boudreaux): Can you talk about your connection to this historical event, and what drew you to look deeper into the circumstances of Huey Long's death?

Yvonne Boudreaux: "No one has ever told the story right," my grandmother Ida Boudreaux said to me when I was an eighth grader studying Louisiana history. I was working on a report of the shooting of Huey Long, and had learned from my mom that my great uncle, Carl Weiss, was the alleged assassin.
I was fascinated that the subject was never spoken about in the family, and even more so by the mystery that I sensed in the official version of the story. Obviously, this film and the characters are very close to me personally. As production went on and I approached the ages of Carl and Yvonne [Carl Weiss's wife] at the time of the shooting, I began to connect with her story very deeply.
I worked hard to wrap my head around the consequences for Yvonne and her young son after losing the man she loved, leaving family behind, and raising a child alone. The pain that she must have endured and the strength that she showed in moving on were both heavy on my mind. I still think about and admire her often, and will continue to do so as my life unfolds.

Slackerwood (for Modigliani): How did you become involved in this project?

David Modigliani: My friend from graduate school in Austin, Yvonne Boudreaux, brought the story to me. She had seen my first feature documentary, Crawford, and she knew I was interested in exploring political stories through the eyes of the people they impacted. As I learned about the mystery, about the extraordinary, larger-than-life history of Huey Long, and about the families seeking to find closure over the death of their patriarchs, I knew we had a compelling film to make.

We reached out to Lucy [Kreutz] in January of this year to co-direct the film and to spearhead our push through post-production. Lucy is a terrific force, both creatively as a director and tactically as a producer. She directed the film's last shoot, which includes the shots of the Louisiana State Capitol hallways that we use as visuals when describing competing versions of the story.

How much time did you spend in Louisiana for filming and research?

Modigliani: We made the film over the course of five years, from an initial shoot in 2009 to our final shoot in 2014. In addition to our production, we conducted research at LSU and also at the National Archives in Washington DC.

Were the people you interviewed generally eager to talk to you all?

Modigliani: In some ways, Carl Weiss Jr.'s willingness to discuss the death of his father with us mirrors his arc in the film. As you see in the film's opening, he literally pulled the mic off during our first interview. By the end of the film, he's up on stage speaking to a packed house at the Old State Capitol in Baton Rouge.
Lt. Don Moreau, who re-investigated the case for the Louisiana State Police in 1991, was willing to talk with us and views it as his responsibility to respond to anyone who has questions about the investigation. Russell Long Mosely was extremely gracious in being willing to interview with us. His grandfather, Huey's son, and the rest of his family, have specific reasons about why they believe the official version of the story, largely relating to the proven honesty of one of the key bodyguards, the testimony of Judge Fournet. None of their rationale involves anything disparaging to the Weiss family. Like Carl Weiss Jr., Russell shares the challenges of defending a legacy and both the honor and the burden that come with it.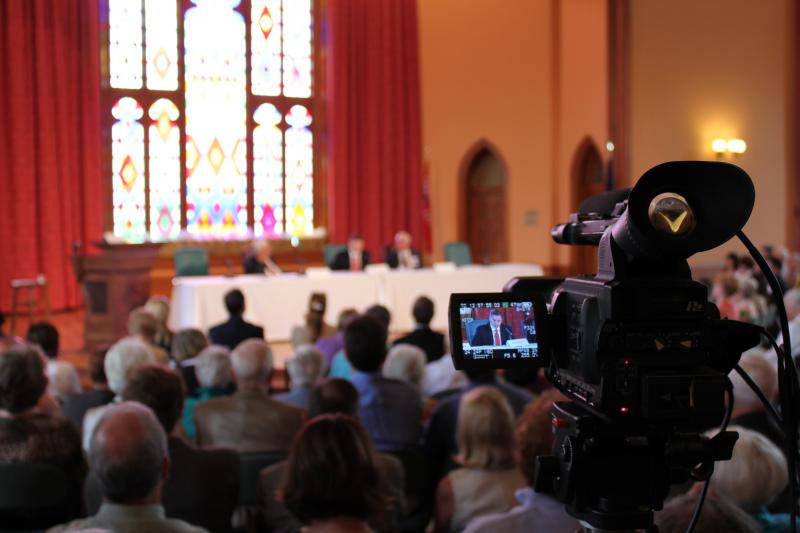 Did you run into any difficulties/obstacles during filming? If so, how did you work around them?

Modigliani: The film has taken so long to make because we had to put it on pause for several periods because of our other commitments. My company Flow Nonfiction has recently made a 12-part documentary series about post-9/11 veterans as well as other work, and it has often consumed me. For example, at the time of the symposium at the Old State Capitol during which Carl Weiss Jr. spoke publicly for the first time, I was traveling in Haiti and working on a film with my partners at Flow. Ever the intrepid, committed collaborator, Yvonne grabbed our friend Jonny Mars, who is not a trained cinematographer, and sped all the way to Louisiana and captured footage that became central to the final film.

Lucy Kreutz: Of course there are some challenges to making a movie where the two main characters are 75 and 89! Knowing how much to push these two relatives of the alleged assassin, Dr. Carl Weiss, on the subject of his guilt and of the effect it had on their lives, was hard to judge. In the end they both opened up about this hard part of their past. We are grateful for their candid and emotional interviews; they help to lend a unique perspective to the events, which has never been shared before.

Boudreaux: As I said earlier, my family wasn't exactly thrilled to talk about this story. In fact, when we began to shoot, we found ourselves crashing weddings, struggling to get anyone to even sit down and speak with us. Of course, those first interviews were pretty rough.
Over time, everyone became much more comfortable and invested. Funny enough, whenever I see family now they're always asking when their next interview is happening! Finishing this film is a massive triumph for me, but specifically because my grandmother will be able to see it on the big screen. Our relationship has never been stronger, and I have this film to thank for that connection.

Are you pleased with your Kickstarter experience? Do you think the fundraising tool is helpful for independent filmmakers?

Modigliani: Our Kickstarter campaign was enormously helpful to us. It was wonderful to see how many people -- many of whom we did not know -- were interested in the story and wanted to learn more. When we met our fundraising goal, we felt supported not only monetarily, but also creatively. It felt similar to when Richard Linklater called to tell us we'd won a grant from the Austin Film Society. It showed people believed in the project.
Kickstarter is not to be taken lightly; it involves a lot of effort and creates a high bar of accountability. That's part of why we were so proud to deliver the news to our Kickstarter backers that the film is already set to reach such great festival audiences in New Orleans, Austin and beyond.
61 Bullets premieres at the New Orleans Film Festival this weekend. It will screen during Austin Film Festival on Saturday, Oct. 25 at 4:15 pm at the Rollins Theatre in the Long Center, and Wednesday, Oct. 29 at 7 pm at Galaxy Highland 10.