Fantastic Fest 2014 Wrap-up: An Epic Adventure
The tenth anniversary of Fantastic Fest was a memorable and thrilling rollercoaster ride full of familiar faces including diehard genre film fans, filmmakers, and stars including Keanu Reeves and Adrianne Palicki -- pictured above at the John Wick Q&A. Perhaps the mark of a decade of this film festival that continues to please its attendees fueled everyone's excitement, but I can confirm that the film slate and scheduled events were better than ever. My one complaint to Alamo Drafthouse and Fantastic Fest co-founder Tim League? "It's difficult to decided between so much in one time slot!" Between MondoCon, signature events, and films from all over the world and across several genres I was hard pressed to decide what to do. Not a bad problem to have.
The layout of the new Alamo Drafthouse along with sporadic rainstorms made moving around and taking breaks between screenings somewhat daunting in the first few days, but Fantastic Festival director Kristen Bell and her staff were quick on their feet to adjust the crowd-control process. Quite a bit more social interaction took place between attendees this year than ever before, with a designated smoking zone reminiscent of my high school's non-official smoking zone behind our football field bleachers.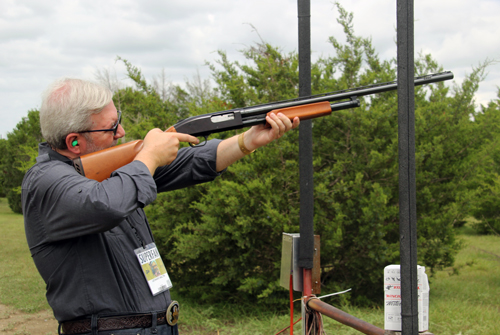 My most exciting interaction was meeting film critic Leonard Maltin (pictured above) during a much needed break from the fest at the skeet range. Maltin was quite relaxed and approachable, and Jette and I had a great time competing against him during the Maltin Game break at the Highball. (He won.)
I can't pick a favorite movie from the fest this year, although the black comedies really stood out -- In Order of Disappearance (Jette's review), aptly described as "a Norwegian version of Fargo," was darkly funny and featured many familiar actors from Ragnarok and A Somewhat Gentle Man. Jacky in the Kingdom of Women reminded me of a dark and twisted version of The Handmaid's Tale.
A personal and fan favorite this year was the documentary Lost Soul: The Doomed Journey of Richard Stanley's Island of Dr. Moreau. Fans of last year's Jodorowsky's Dune will really appreciate this underdog story about "the worst movie that shouldn't have been made" -- as Stanley not only attended the festival and Q&A, but was present for part of the Master Pancake battering of The Island of Dr. Moreau. There may have been a mild injury during the film break's live comedic performance, but Alamo Drafthouse programmer Brian Salisbury took it in stride.
I barely survived myself, with late nights fueled by liquor and midnight movies and fun limited only by my budget of time and money. Stay tuned for some capsule review of Fantastic Fest films including some movies coming to a theater near you soon.
[Photo credits: "Adrianne Palicki and Keanu Reeves," "Maltin on the Range" by Debbie Cerda, all rights reserved.]