aGLIFF 2014 Dispatch: 'Queens & Cowboys' and 'Regarding Susan Sontag'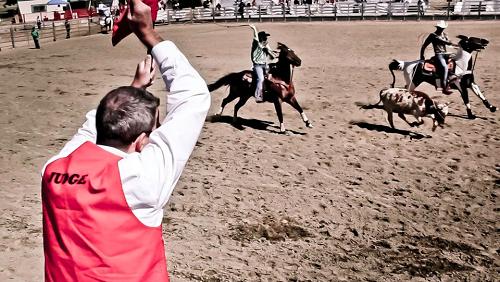 aGLIFF's lineup is heavy on documentaries, and on Saturday I saw two outstanding ones: Queens & Cowboys: A Straight Year on the Gay Rodeo and Regarding Susan Sontag.
Queens & Cowboys is an enlightening look at 2011 season of the International Gay Rodeo Association (IGRA), following a group of cowboys and cowgirls as they compete to qualify for the association's World Finals.
The most enlightening aspect of the film may be the way it portrays the gay rodeo circuit as, well, rodeo; the circuit emphasizes the sport more than the cultural politics. The men in drag and rainbow paraphernalia give the festivities their own personality, but they're a sideshow to the real business at hand: bull and bronc riding, calf roping and the usual assortment of bone-jarring competitions. Aside from allowing women to compete in all events, a gay rodeo is essentially the same as any other rodeo.
The movie centers on Wade Earp, a native Texan who lives near Dallas (and yes, he's related to legendary Old West lawman Wyatt Earp). An IGRA veteran, Earp is a cowboy to the core, tending to the animals on his few acres of land whenever he's not competing. He's also openly gay in a subculture not known for tolerating homosexuality; while Queens & Cowboys is largely about the sport, it also explores the bigotry Earp and his competitors face both personally and professionally. Fortunately, the IGRA is a welcoming community for those who are unwelcome elsewhere.
Along with Earp, Queens & Cowboys introduces us to a handful of other rodeo competitors with great stories to tell, many of which are about coming out to families and friends. Given the stereotypes of conservative rural America, the families are surprisingly tolerant, especially the parents. The bonds of family seem to be stronger than religious dogma and cultural tradition, and the parents' expressions of unconditional love for their children give Queens & Cowboys a reassuring tone.
Queens & Cowboys is beautifully shot and briskly edited, with as much suspense and action as any other good sports film. (The aGLIFF screening had some unfortunate soundtrack problems, with lots of distortion in louder scenes. Although these problems were distracting, they didn't diminish the film's appeal.) But aside from Queens & Cowboys' wonderful, thundering depictions of rodeo and its culture, it's also a great collection of character studies and a poignant plea for tolerance and understanding. The winner of four film festival awards, it's a terrific debut from first-time filmmaker Matt Livadary.
Few movies are more cerebral than Regarding Susan Sontag, an insightful, slickly produced look at the revered if controversial writer and filmmaker. A social theorist and cultural critic famous for books such as On Photography, Styles of Radical Will and Illness as Metaphor, Sontag was a brilliant observer of the human condition. Regarding Susan Sontag perfectly captures her views on global issues such as war, the media and feminism, as well as personal matters such as her long battle with cancer.
The film is a mix of conventional documentary techniques and experimental elements, telling Sontag's life story though interviews, generous archival footage, readings of her work by Patricia Clarkson, and intriguing, slightly avant garde images. This eclectic approach is appropriate for a film about an eclectic woman.
Regarding Susan Sontag's greatest strength is its focus on cultural context, placing Sontag's life and work within the cultural tumult of the mid and late twentieth century to help us understand her world view and impact. The film portrays Sontag as a lifelong provocateur, bucking societal convention and groupthink from her teens in the 1950s (when she raised hackles as editor of her high- school newspaper) until the final stages of her life and career (when she said the 9/11 terrorist attacks were a consequence of U.S. alliances and actions).
Sontag's personal life was no less intriguing than her work. Regarding Susan Sontag spares us few details, but filmmaker Nancy D. Kates thankfully avoids titillation as her film explores Sontag's unhappy childhood, marriage at 17 to a much older professor, struggle to balance superstardom and motherhood, and many relationships with men and women. (Among her notable partners and lovers were photographer Annie Leibovitz and artist Jasper Johns.)
Regarding Susan Sontag is reverential -- as it should be -- but honest. It's frank about Sontag's career failures -- critically lambasted novels, impenetrable art films and times when her unfiltered outspokenness provoked legitimate questions about her credibility. This unvarnished approach strengthens the film by showing us a complete picture of Sontag, celebrating her role in shaping our culture while also cutting her no slack. Like the film's eclectic visuals, this approach is completely appropriate; Sontag no doubt would have appreciated -- actually, demanded -- such honesty.