Lone Star Cinema: A Mighty Heart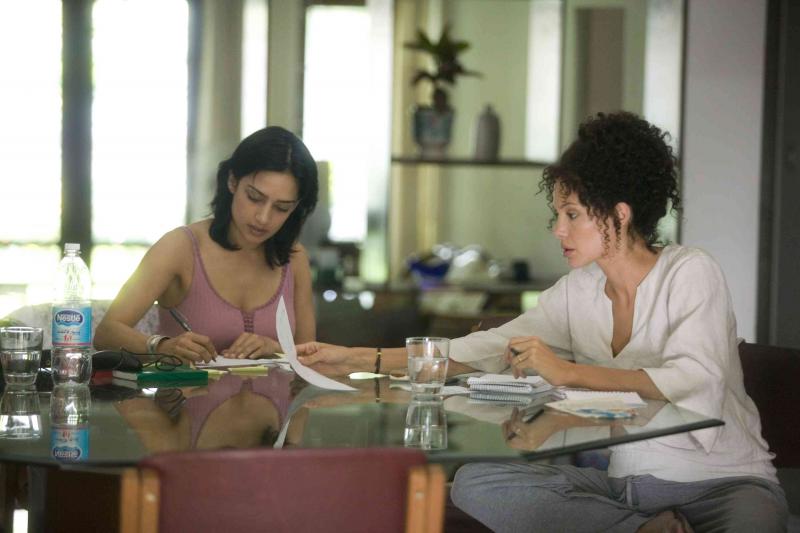 While working as a journalist in Karachi, American Daniel Pearl was kidnapped and beheaded in early 2002. It seemed timely to watch the 2007 film A Mighty Heart, based on his wife Miriane's memoir of the experience, as similar attacks by ISIS have been in the news in recent weeks.
The main reason I'd been hesitant to see A Mighty Heart is the casting of Angelina Jolie. Nothing against her as an actress, but having a white actress play a mixed-race woman continues a long history of "whitewashing" in film. Jolie does a fine job here, mimicing well Mariane Pearl's French accent and cadence. She plays Mariane as contained and determined during the search, then fierce and raw when she receives the tragic news of her husband's death. Logically I know that if Jolie hadn't been involved, the movie might not have ever received wide release. Yet I couldn't help wondering what qualities an actress of color might have brought to the role.
Jolie anchors the film, which includes a cast so large that it's nigh impossible to keep track of all their names. Reporters Mariane and Daniel Pearl look forward to leaving Pakistan as they prepare for their first child. The night Daniel (Dan Futterman, actor in Judging Amy, but also screenwriter of Capote and Foxcatcher) disappears while working on a story, Mariane hurriedly begins calling his contacts and the authorities. A team of sorts is formed to search for her husband, including acclaimed Indian actor Irrfan Khan (The Lunchbox, Life of Pi) as a Pakastani officer, and two familiar faces from The Good Wife -- Archie Panjabi and Denis O'Hare -- as an Indian-American writer and a Wall Street Journal editor, respectively.
From the get-go, director Michael Winterbottom (24 Hour Party People, The Trip) uses quick edits as we see both reporters at work and the events that led them to Karachi. The unsettling feeling of the frantic open tempers some as more cast members show up, but the music by Harry Escott and Molly Nyman helps keeps the pace heightened. A Mighty Heart benefits from a timeline that bounces between current events and memories, especially useful in allowing the viewer to learn more about Daniel and Mariane's history.
Winterbottom primarily filmed in India over a period of five weeks; in real life, Pearl was missing for four weeks. So how does A Mighty Heart qualify for Lone Star Cinema? The second team worked in Austin, with the offices of the Austin American-Statesman standing in for a Wall Street Journal bureau. I'm not sure if the interior scenes with Daniel's parents were filmed here, but the exterior scenes on their street certainly were. Tom Spencer, formerly of KLRU and currently executive director of I Live Here, I Give Here, shows up as a news reporter.