aGLIFF 2014 Dispatch: Short Films and BFFs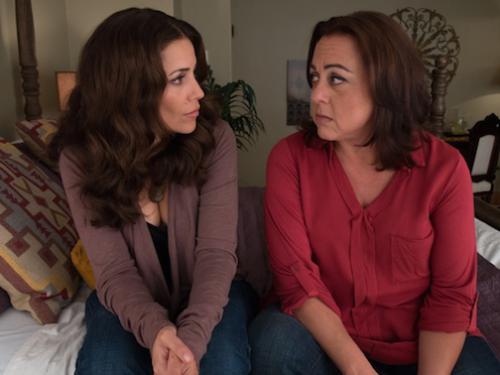 After two successful sold-out screenings of opening night film Matt Shepard is a Friend of Mine on Wednesday, aGLIFF continued Thursday with a full day of programming.
Short films usually offer a fun way to dive into a festival (they let you explore a lot of ground in an hour and a half or so), so I decided to go the Dramatic Shorts Program #1 and the Comedy Shorts Program #1.
The dramatic program included eight shorts from six different countries. Half focused on teens and pre-teens learning to navigate a world that's less than welcoming to their sexual orientation, while the other half showed that adults still struggle with internal and external factors in their relationships, as well.
Here were the standouts from this program:
As for the comedy shorts, this program was scheduled to include four films but ended up being just three because A Slice of My Life, from Austin filmmakers Mickey and Gibby Cevallos, wasn't quite completed in time to show. The largely local crowd was disappointed but understanding, and hopefully we'll have the chance to see the short soon.
Luckily two of the films in the program were well worth the time:
Madonna fans will be smitten by If We Took a Holiday, which features a Madonna impersonator who agrees to act like the Material Girl for the duration of her bestie's birthday. It is a hilarious and often silly short film that also includes a few poignant moments that nicely balance the comedy.
99.7% is a whimsical and heartfelt piece about the pitfalls of online dating and the rewards of moving beyond your preconceived notions of what happiness may be. The two lead actresses, Sheelagh Darling and Darwin Lyons, were in attendance and participated in a Q&A that revealed their inspirations (Mike Leigh, for one) and their process (they come from an improv background). Here's the trailer:
This leads to
BFFs
, a feature film that screened Thursday evening (pictured at top). Any number of stock descriptors -- buddy comedy, rom-com, whatever the female version of "bromance" is (wait, why is there no word for this?), can be used to describe this offbeat charmer. It has its flaws, sure, but there is something to be said for a movie, in the vein of
Bridesmaids
,
Frances Ha,
Obvious Child
and
Broad City,
that doesn't underplay the importance of female friendship.
BFFs is about human connections more than it's about being straight or gay, and judging by the fact that this theme has come up quite a bit so far at aGLIFF, it's time for all of us to become more comfortable with turning the idea of traditional romantic couplehood on its tired old head.
A few updates from aGLIFF going into the weekend:
Attendance has been good so far, which means those hoping to buy individual tickets may not have a lot of luck. aGLIFF advises that you buy a badge and show up early if you're serious about seeing the remaining films. Here's a refresher on the line system.
If you missed Matt Shepard is a Friend of Mine on Wednesday night, there will be a repeat screening on Sunday at 2:30 pm at the Stateside Theatre.
Take a look at the aGLIFF schedule to plan the rest of the weekend, and remember that all films are at the Alamo Drafthouse South Lamar except for closing-night films Dior & I and Appropriate Behavior, which screen at Stateside.