aGLIFF 2014 Dispatch: Opening Night with 'Matt Shepard Is a Friend of Mine'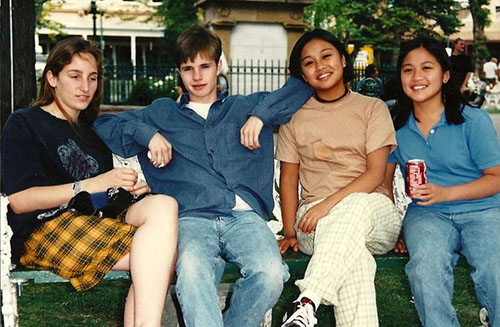 Oh, what a difference a year can make, especially for aGLIFF.
The Austin Gay and Lesbian International Film Festival has reclaimed its original name -- retiring its short-lived Polari moniker -- and moved back to its most successful venue, the newly reopened (and debatably improved) Alamo Drafthouse South Lamar. And while not all change is good, these changes certainly are; if the crowd at aGLIFF's opening night on Wednesday is any indication, the festival has regained much of its footing after a couple of sparsely attended years.
aGLIFF couldn't have chosen a better opening night film than Matt Shepard Is a Friend of Mine, a powerful and poignant documentary about the titular Wyoming college student who was tortured and murdered in 1998. Shepard's killers admitted killing him because he was gay, and his murder became one of America's most notorious hate crimes.
The film's title is apt, as writer/director Michele Josue and Shepard became close friends in high school. The movie reflects Josue's close relationship with Shepard in many ways; it's a strikingly intimate look at Shepard's life, a story that only a good friend could tell.
Thanks to a well-researched script, extensive interviews with Shepard's parents and friends, and generous use of home-video footage, Matt Shepard Is a Friend of Mine paints a detailed picture of its subject. Josue's film portrays Shepard as a sensitive, curious, extroverted young man trying to find his way in the world, generally comfortable with his sexual orientation (at least by his late teens) but always dealing with the cruelties of bigotry and intolerance. Shepard made friends easily, and the interviews pay great tribute to his outgoing personality and love for life while not glossing over his struggles.
Matt Shepard Is a Friend of Mine is an often upbeat movie celebrating Shepard's life. But the third act turns inevitably darker, relating the gruesome details of Shepard's death and condemning the media circus that made him a tragic national figure and a target of homophobic hatred. Josue, who appears frequently in the film, doesn't hide her contempt for the media and the haters; the former exploited Shepard for ratings, she tells us, and the latter thoroughly dehumanized him.
While the third act's raw anger and sadness can be hard to take, they make Matt Shepard Is a Friend of Mine one of this year's most affecting documentaries and an outstanding debut from first-time filmmaker Josue. A sequence of particularly compelling scenes explore themes of justice, forgiveness, compassion and redemption. Can we -- and should we -- ever forgive Shepard's killers? Are the killers' sentences appropriate justice? A few opinions expressed in the film are surprising, almost shocking, and Matt Shepard Is a Friend of Mine is at its best and most provocative when it asks these questions.
Unsurprisingly, Matt Shepard Is a Friend of Mine was a hit with the aGLIFF audience, who gave it a well-deserved standing ovation at the first (and presumably the second) of two opening-night screenings. Josue attended both screenings along with Shepard's parents, Judy and Dennis. The post-screening Q&A was no less emotionally charged than the film, but the filmmaker and the parents answered sometimes difficult questions with honesty and admirable grace. They reminded the audience that while Shepard's horrific death became a symbol of humanity at its darkest, it also became a call for tolerance and acceptance of gays and lesbians. Of course, despite the widespread acceptance of same-sex marriage and other advances in civil rights, there remains much work to do.
Due to the great response to Matt Shepard Is a Friend of Mine, a third screening has been scheduled at 2 pm Sunday at the Stateside Theatre.