Lone Star Cinema: Spy Kids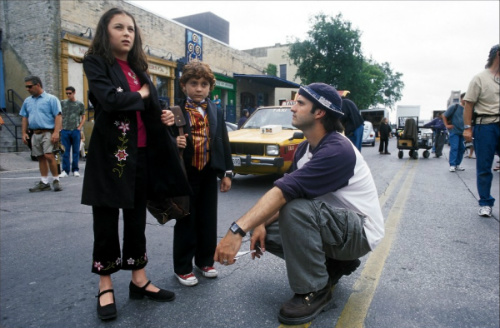 When the recent news broke that Alexa Vega will play a recurring character on the upcoming season of country music soap Nashville, now seemed like a perfect time to revisit the original Spy Kids. I tend to picture Vega as she appeared in the Robert Rodriguez film, but she has grown much since then. She's even married... twice.
In 2001, she and co-star Daryl Sabara (whose first role was as Murphy's baby on '90s cultural touchstone, Murphy Brown) played Carmen and Juni Cortez, troubled private-school kids. Their parents Ingrid (Carla Gugino, Karen Sisco, Sucker Punch) and Gregorio (Antonio Banderas) are consultants who have not yet admitted to the children that they used to be secret agents (who met cute at the Hotel Belen, better known as the Omni Hotel downtown).
When evil genius/children's TV show host Floop (a colorful Alan Cumming, The Good Wife, X-Men 2) and his Minion (Tony Shalhoub, post-Galaxy Quest, pre-Monk) capture the elder Cortezes, their secret comes out. Carmen complains to family friend Felix (Cheech Marin, Up in Smoke, Nash Bridges), "My parents can't be spies -- they're not cool enough!" Of course it is now up to the younger generation to save the parents, using tech made by Machete (Danny Trejo, Machete, From Dusk 'til Dawn).
The tech in Spy Kids seemed futuristic at the time, but now comes off as outdated as the spy equipment in Sneakers. The novelty of a GPS coordinates tool that gives barebones information and Juni's translator watch pales when compared to current apps for our smartphones. The script hasn't aged much better. There are still humorous sequences, but oh my goodness, the amount of potty humor. Well, it is a kids' movie.
Watching this 13-year-old film can be an exercise in Austin nostalgia. This is the second Lone Star Cinema movie I've reviewed that includes a Dillo, the green streetcar-like buses Capitol Metro used to operate downtown. Carmen and Juni navigate a transport device on Lake Travis, pursued by bad guys. They walk down 4th Street (see photo above), and the skyline (as it once was) is visible from Machete's roof.
Do I laugh at Spy Kids as much as I did many years ago? Perhaps not. But these kid actors are a sight more talented than others I've seen (*cough cough*Extremely Loud and Incredibly Close*cough cough*), and I have to admit that Alan Cumming, even in his goofy attire here, is handsome enough to keep my attention.
Austin/Texas connections: Director Robert Rodriguez is from Austin and Spy Kids was filmed here.