Lone Star Cinema: Miss Congeniality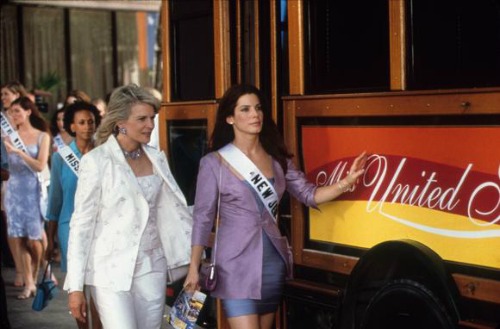 Miss Congeniality, released in 2000, was filmed in New York City and San Antonio, but mostly in Austin. I recall it was a big deal when they filmed the movie in town because they closed down a section of Congress, and people attempted to catch a glimpse of the stars around town.
The Sandra Bullock feature has her playing FBI agent Gracie Hart, assigned to a team investigating a threat to the Miss United States pageant. Benjamin Bratt plays her colleague/team leader/love interest Eric Matthews, who decides Hart will go undercover at the beauty pageant. Overseeing her entry into the pageant world is Michael Caine, who camps it up in this movie. Candice Bergen is the pageant -- er, scholarship program -- coordinator, and Heather Burns almost steals the show as a clueless Miss Rhode Island.
Miss Congeniality is your standard ugly-duckling-gets-turned-into-a-lovely-swan-by-federally-sponsored-beauticians tale. Hart is initially abrasive and female friend-less and by the close of Miss Congeniality has come to know and appreciate her fellow contestants ... after they have bonded over neon-paint-drumming (!!), Mr. Gatti's pizza and a makeover. The film aims for a girl power message, but it is far too muddled.
The writing in Miss Congeniality tends towards unoriginal, with a fairly predictable plot. As soon as this movie begins, you can pretty much figure out how it will end. The only real mystery is who is planning the attack on the Miss United States pageant. While you attempt to piece together who the culprit might be, there are a few slightly enjoyable moments along the way.
I've seen this movie a few times now (my sister loves it), but it is fairly forgettable. It's true that Sandra Bullock's catchy taunt to her partner, her water-glass playing, and Miss Rhode Island's description of a perfect date earn a few chuckles. However, Miss Congeniality doesn't require your full attention. My favorite distraction is figuring out the filming locations!
It's obvious that the Bass Concert Hall stands in for the San Antonio Convention Center -- you can even see the UT room numbering on the janitor's closet. Since much of the movie is set in San Antonio, scenes were filmed in front of the Alamo and along the Riverwalk. Although a few scenes were filmed in NYC, at times downtown Austin stands in for the Big Apple; this is especially obvious when Hart's car speeds by a Schlotzsky's Deli (the one that used to be on Congress). I'm less certain about some of the other Austin sites, but Wikipedia has the Driskill standing in for the inside of the St. Regis, and the Hyatt downtown as the hotel hosting the ladies.
Basically, Miss Congeniality would be a good movie to have on while you're doing housework or playing on the internet. It's fun to spot familiar locations and watch Sandra Bullock (who lives in Austin herself) breeze through the film, but don't expect anything witty, surprising or feminist. You won't find it here.