Site News: Slackerwood Goes Independent, Again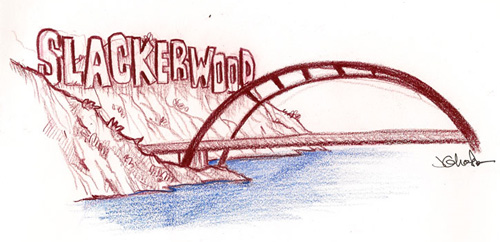 For more than two years now, the Austin Film Society has been publishing Slackerwood. It's been an excellent relationship for everyone involved, and I've enjoyed the collaboration.
However, it's time for a change. As of September 1, 2014, I've taken over the reins again as the publisher of Slackerwood. AFS decided earlier this summer that it would make more sense for the nonprofit to pursue its own editorial voice, so we've worked out a very amicable separation.
I cannot stress enough how grateful I am to have had the Austin Film Society publishing Slackerwood for more than two years. AFS staff members have been extremely supportive and enthusiastic. In fact, I hope they'll continue to help us with previews and event coverage. I also want to thank ex-AFS-staffer Agnes Varnum, who met with me in a coffeehouse nearly three years ago to start hatching the collaborative scheme.
Now, what's on the horizon for Slackerwood? After weighing options available to me for possibly securing funding, I realized I'm first and foremost a writer. I love writing and I love editing articles to bring out the best in them -- these endeavors are an enjoyable use of some of my spare time. (And I love watching movies, but I don't have to tell you that.)
Things I don't love doing in my spare time: grant writing, soliciting ads and/or sponsors, extensive bookkeeping and tax prep, running crowdfunding campaigns. Therefore, at least in the short term, Slackerwood will return to what I call the "labor of love" model. All my contributors are on board with the change, everyone is staying, and I wish I could offer this level of loyalty a bigger reward.
I'm disappointed that I can't financially compensate my contributors now -- it was major factor in my original decision to join forces with AFS. I've always felt our writers should be paid what they deserve, and I'm happy I was able to work with AFS to make that happen. At some future time, I may seek another publisher for exactly that reason.
On the other hand, without a publishing entity, we have more freedom to write what we like, publish when we like, and design the website as we like. I'm working with our contributors and our webmaster, Chip Rosenthal, to determine what kinds of changes we might want to make to the Slackerwood. What do we want to write? How do we want the site to look?
But right now, Slackerwood is publishing mostly in the usual way. We're covering all the local fall film festivals we can. Mike wants to cover the hell out of Fantastic Fest (as do Debbie and I), and Caitlin's ready for aGLIFF and Austin Film Festival. Don is still poking through the Texas Archive of the Moving Image website looking for hidden gems. Elizabeth wants to find Texas connections in classic movies. Matt wants to tell you about special screenings in town. You know Debbie will continue to write about the beer-and-film scene, and we all like showcasing local film crowdfunding campaigns. And I need to find time to revisit Kid Blue and tell you why you should find it and see it.
Because we don't have a budget, Slackerwood will probably include fewer articles of the type that people aren't excited about writing without compensation. Mostly this means "breaking" film news -- but fortunately, other Austin sites have the resources to post local news immediately. I'm working to add more websites to our Film News Mega-Feed, to help you find links to those articles here on Slackerwood.
So stick with us. Slackerwood has been growing and improving since my first little posts in 2006, and I know it'll get even better from here.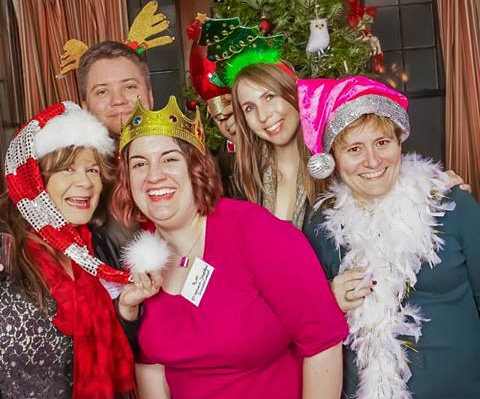 [Image credit: Alternate Slackerwood logo by John Gholson in 2009. Photo of Debbie, Mike, Elizabeth, Caitlin and Jette at the Leagues/Drafthouse/Fons holiday party, 2013 ... the most Slackerwood contributors we've ever had in a single picture.]