Movies This Week: July 11-17, 2014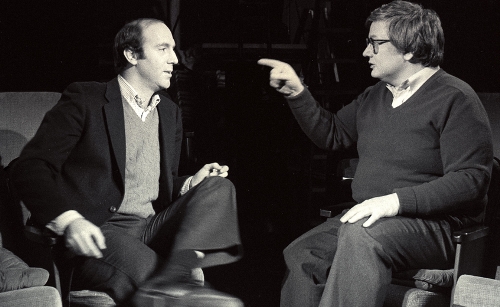 The Austin Film Society is kicking off the weekend with another Free Member Friday event. Tonight, AFS Members can enjoy a program of short films at the Marchesa for free, including Kat Candler's original 2012 short Hellion (recently adapted into a terrific feature) and Todd Rohal's Rat Pack Rat, which won a special jury prize at Sundance this year. Come on out even if you're not a member for $10 general admission tickets.
AFS is also hosting some special advance screenings of Richard Linklater's acclaimed new film Boyhood (Debbie's review) this weekend. The 1 pm screening on Sunday at the Marchesa is already sold out, but a 7 pm show still has VIP tickets available that include a private dinner with the director and cast. The acclaimed documentary Manakamana is screening at the Marchesa on Tuesday evening while Sweet Dreams folows on Wednesday. Essential Cinema closes out a busy week with a 35mm print of Ingmar Bergman's Cries And Whispers on Thursday night.
Fresh off a Presidential visit, the Paramount's Summer Classic Film Series gets back on track with King Vidor's silent classic The Big Parade tonight at the Stateside. The Paramount will fire up the 70mm projectors this weekend as Lawrence Of Arabia returns in all its big-screen glory tomorrow night and twice on Sunday. On Tuesday and Wednesday evenings, the Paramount will pay tribute to Montgomery Clift with a 35mm double feature of Red River and The Heiress and then the Stateside will have a couple of great Westerns on Thursday night with a double feature of The Magnificent Seven and The Misfits.
The Alamo Drafthouse Ritz is cranking it up to 11 this week with some great music docs. Gimme Shelter, a document of the Rolling Stones at Altamont in 1969, is playing tomorrow and Sunday afternoon. Jonathan Demme's classic Talking Heads' concert film Stop Making Sense will also play on Monday, Tuesday and Thursday. Cinema Cocktails will be serving up tasty drinks to go along with Billy Wilder's Some Like It Hot on Sunday night and David Lynch's Dune screens in 35mm on Tuesday afternoon and Wednesday evening. The Alamo Village has Amelie on tap for Girlie Night on Monday and the Eastern Fury series will spotlight Jackie Chan's Little Big Soldier on Tuesday. Also on Tuesday, the Alamo Lakeline is featuring a one-off screening of High Fidelity as part of their music-themed programming this month.
Finally, while it continues on with full showtimes at the Alamo Lakeline and now iPic at the Domain, it's worth noting that Radius is pushing out Snowpiercer (my review) to VOD this weekend instead of expanding it theatrically. Eric Kohn has an interesting article over on Indiewire that explains why. While we always recommend a big-screen viewing, sometimes you just want to watch from the comfort of home. If so, it's now available from all the standard cable and digital providers.
Movies We've Seen
Coherence - A winner for Best Screenplay at last fall's Fantastic Fest, Debbie's review calls this a "a cerebral thriller reminiscent of Sliding Doors, as well as Twilight Zone episodes like "Mirror Image" and "Death Shop" that deal with doppelgangers and alternate realities." (Alamo Lakeline, select evening showtimes only. Coming to VOD on August 5.)
Dawn Of The Planet Of The Apes - Preview audiences have been pretty excited about this summer blockbuster, but Jette has a dissenting view -- "Dull and cliche-ridden, this was a disappointing film, with Andy Serkis the only highlight." Look for her review this weekend. (wide, screening locally in 2D, 3D, digital IMAX 3D and D-Box Motion Seating in select theaters)
Also Opening In Austin
Le Chef - Not to be confused with Jon Favreau's recent indie hit (although I suspect tiny distributor Cohen Media won't mind if you do), this light French comedy stars The Professional's Jean Reno as a Three Star chef who teams up with a younger, less experienced chef to turn his classic French restaraunt into a trendier spot that specializes in molecular gastronomy. (Regal Arbor)
Life Itself (pictured above) - Film critic Roger Ebert and wife Chaz fearlessly opened up to filmmaker Steve James (Hoop Dreams) during the last few months of Roger's life for this touching documentary. It dives into his life and career, warts and all. (Violet Crown Cinema, also available on VOD)