Lone Star Cinema: The Newton Boys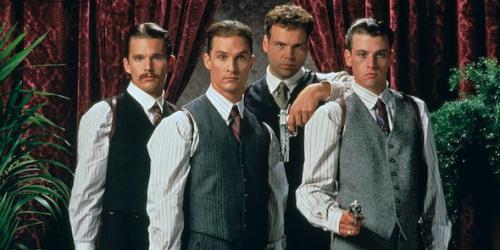 After Slacker and Dazed and Confused but before Bernie, Before Midnight and the soon-to-be-released Boyhood, Richard Linklater made a charming little movie called The Newton Boys. Filmed in Texas and featuring a band of charismatic actors (most of whom have gone on to considerable success in film and/or television), this true story depicts the bank-robbing exploits of four entrepreneurial and adventure-loving brothers in the early 20th century.
Raised in Uvalde County, Texas in a cotton farming family, the Newton brothers are an unruly bunch whose lives tell a one-of-a-kind story of American idealism and brash (but mostly non-violent) outlaw behavior. After Dock and Willis, the oldest two brothers (Vincent D'Onofrio and Matthew McConaughey), experience various real and perceived injustices (including class-based discrimination, wrongful imprisonment and general mistreatment by authority figures), they give up on trying to live lawful lives and instead decide to take what they think should be theirs.
This means emptying banks ("it's just little thieves taking from big thieves") and lying whenever necessary but vowing never to kill anyone. Thanks to the nitroglycerin supplied by cohort Brentwood Glasscock (Dwight Yoakam) and the endearingly slow transportation and communication systems of the 1920s, Dock and Willis (also joined by their younger brothers Jess and Joe, played by Ethan Hawke and Skeet Ulrich) are able to become incredibly successful bank robbers, and they proceed to spend several years joyfully blowing up and clearing out dozens of safes and trains from Texas to Canada.
The brothers wreak havoc across the country and of course their fun doesn't last forever, but because of their commitment to peaceful pillaging the movie remains breezy and lighthearted. Even knowing it's based on a true story and even when events take a more serious turn (the men seriously bungle things at one point), The Newton Boys remains a cheerful and winking celebration of rebelliousness.
It's also a hoot to see actors like McConaughey, Hawke and Julianna Margulies (the elegant love interest of McConaughey's character) before they reached today's level of onscreen confidence and notoriety. They all give enjoyable performances even when the script becomes muddled at times, and as a director Linklater does an admirable job of handling an ensemble piece so prone to chaos.
In a way The Newton Boys makes an excellent Independence Day selection thanks to its anti-establishment themes, freedom-loving outsiders and the occasional explosion. At one point Hawke's character Jess, the most hot-tempered and colorful of the bunch, even calls out Uncle Sam by name (not in a nice way, but we all know America is a complicated place).
Be sure to watch the credits to see footage of the real Joe and Willis Newton, still owning their actions in old age and embodying the stubborn, cranky exuberance of true Texans.
Austin/Texas connections: The Newton Boys was filmed all around Texas, specifically in Austin, Buda, Lockhart, Midland and a few other places. The "Omaha Hotel" featured prominently is the Iron Star Hall in Bertram (revamped for the film), and the outdoor scenes representing Toronto and Chicago were filmed in San Antonio. Linklater, Hawke and McConaughey were all born in Texas.